There are lights, there are models, there are photographers, there are journalists, there are well-dressed ladies, many curious and even more people doing everything to "see" a fashion show to feel part of the glossy world.

But what's the use? What's the use to have more than 30 fashion weeks in a year that has 52 ones? And we don't want to mention the participation costs that are imposed on each designer: especially when young, a stylist is unable to attend or to have a feedback statement that at least offset the costs of participation.

No doubt: it's prestigious. No doubt: it's a great thrill. No doubt: you buy more visibility, but then what? In a wonderful fashion system not very supported, what kind of success may be opened for designers?

Ferré, Kenzo, Baldinini are just examples of big stylish names (quality undisputed!) that have closed or moved.

The true is that there isn't an economic and "moral" support to young people who are too often abandoned by their "muses", used in some coveted stage to "increase curriculum", and then they find themselves regularly to the same point. So another paragraph, and another and they sooner or later would turn the page, too!
So thank you, Franca Sozzani (Vogue Italia) to confirme here http://www.vogue.it/magazine/blog-del-direttore/2014/03/11-marzo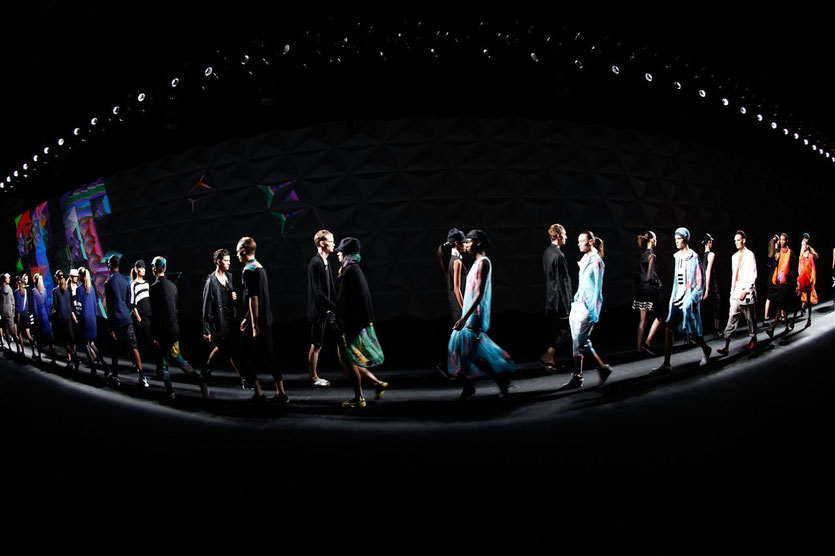 PERCHÉ LE FASHION WEEK SONO EFFETTIVAMENTE UN PO' TROPPE
Ci sono le luci, ci sono le modelle, ci sono i fotografi, ci sono i giornalisti, ci sono signore ben vestite, molti curiosi e ancora di più persone che per sentirsi parte del mondo patinato fanno di tutto per "vedere" una sfilata.

Ma a che serve tutto questo? A che serve avere oltre 30 settimane della moda su un anno che ne conta 52? Per non parlare dei costi di partecipazione che gravano su ciascun designer che, specie se giovane, non riesce a parteciparvi oppure ad avere un feedback economico che almeno compensi i costi di partecipazione.

Senza dubbio è prestigioso, senza dubbio è una grande emozione, senza dubbio si acquista maggiore visibilità, ma poi? In un sistema moda tanto splendido quanto poco supportato, quali spiragli di successo possono aprirsi per gli stilisti?

Ferrè, Kenzo, Baldinini sono solo alcuni esempi di grandi firme dallo stile e qualità indiscussi che hanno chiuso oppure si sono trasferiti.

La realtà è che manca il supporto sia economico che morale ai giovani che si sentono troppo spesso abbandonati dalle loro "muse ispiratrici", utilizzati  in qualche agognato stage per "fare curriculum", e che poi si ritrovano puntualmente punto e a capo.

Perché dopo essere andati a capo tante volte, si dovrà pur girare pagina prima o poi!
Grazie, Franca Sozzani (direttrice di Vogue Italia) per aver ribadito tutto qui http://www.vogue.it/magazine/blog-del-direttore/2014/03/11-marzo
©Pitian per Because The Style
Photocredits