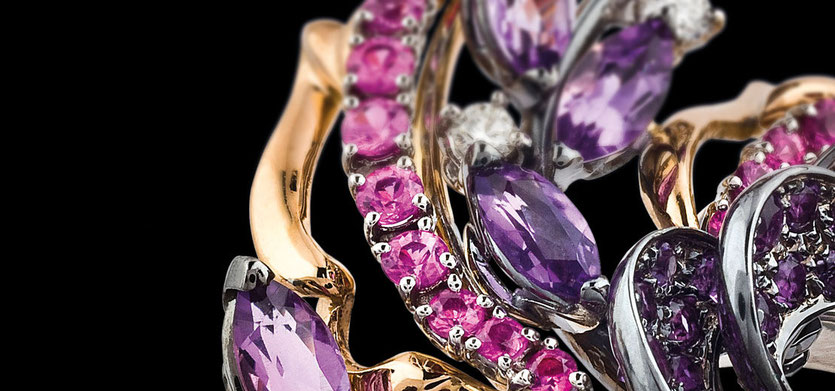 1924-2014 : 90 years of history and stories of war and successes, carat and family. Because the well-known jewelry brand was founded by Enrico Grassi Damiani, current owners' grandfather. Damiani, in fact, is the only international jeweler where we can seee still founder's heirs as leaders. A history of family and families for which the skilled goldsmiths have created wedding rings and fine pieces that have marked the story of an important event in customers' lives, but also in the stories of cinema.
In these 90 years we've had jewels (hand-crafted one at a time) that have shown that even if you have in your hands beautiful diamonds you have to be able to compose them and send, in the end, a the general emotion that gives them a sense and a meaning to be preserved.
In this way the hardness of the inanimate stones softens and slips in direct contact with the skin and they seem its emanation and reflection. But only if mind and hands worked well them.

Pure and bright lines run along lobes and around neck and fingers, in a lights' swirl calculated and measured by a design that combines luxury and elegance, without ever falling into excess.
Echo the words of the company's testimonial - godmother for excellence, Sophia Loren: "Speaking of jewellery does not necessarily mean only luxury, but also beauty. A jewel is beautiful to see, to touch, to possess".
PERCHÉ LE COSE NON CAMBIANO IN 90 ANNI
1924-2014: 90 anni di storia e storie, di guerra e successi, di carati e di famiglia. Sì, perché il noto brand di ricercatissimi gioielli fu fondato da Enrico Grassi Damiani, nonno degli attuali proprietari. Damiani, infatti, è l'unico gioielliere internazionale al cui timone ci sono ancora gli eredi del fondatore. Una storia di famiglia e famiglie per cui gli abili maestri orafi hanno creato fedi e pregiati pezzi che hanno segnato la storia di un evento importante nella vita dei clienti ma anche nelle storie del cinema.
In questi 90 anni si sono susseguiti gioielli (lavorati artigianalmente uno ad uno) che hanno dimostrato che anche se hai tra le mani bellissimi diamanti devi saper comporre alla fine un'emozione generale che dia loro un senso ed un significato da custodire. È così che la durezza inanimata delle pietre si ammorbidisce e scivola a diretto contatto con la pelle di cui sembra emanazione e riflesso. Ma solo se ben lavorate da mente e mani.

Linee pure e luminose scorrono lungo i lobi e attorno a collo e dita, in un turbinio di luci calcolate e valorizzate da un design che coniuga armoniosamente lusso ed eleganza, senza mai cadere nell'eccesso.
Risuonano le parole della testimonial-madrina per eccellenza dell'azienda, Sofia Loren: "Parlando di gioielli non parlerei di lusso, ma di bellezza. Un gioiello è bello a vederlo, a toccarlo, a possederlo".
©Pitian per Because The Style
Photocredits