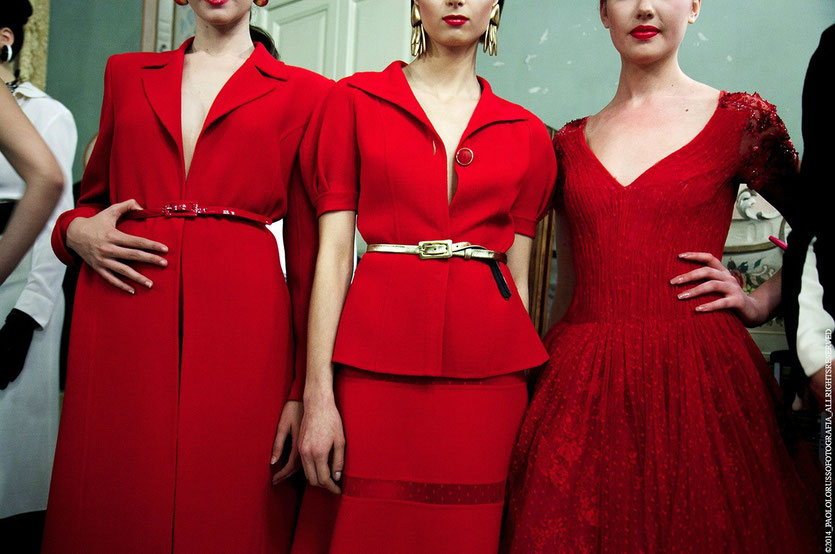 On a Sunday in May, the Muses did magic. They opened their Hall's doors in the "Circolo Unione" in Bari, located in the famous Petruzzelli Theater, allowing an event titled "The Magic of Muses", Gala Fashion Show. In the first time, we saw creations of Mimmo Burdi, jewelry designer, who proposed a proud and elegant woman, crowned queen of the observers and of herself, with creations that alternated stones and gems, cameos and corals.
PERCHÉ LE MUSE FANNO MAGIE
In una domenica di maggio le Muse hanno fatto magie. Hanno aperto le porte della loro Sala del Circolo Unione di Bari, nel rinomato Teatro Petruzzelli, concedendo la possibilità di realizzare un evento intitolato appunto "La Magia delle Muse", Gala Fashion Show.
Hanno sfilato per prime le creazioni di Mimmo Burdi, designer di gioielli, che ha proposto una donna fiera ed elegante, incoronata regina di chi l'osserva e di se stessa, con creazioni che alternavano pietre e gemme a camei e coralli.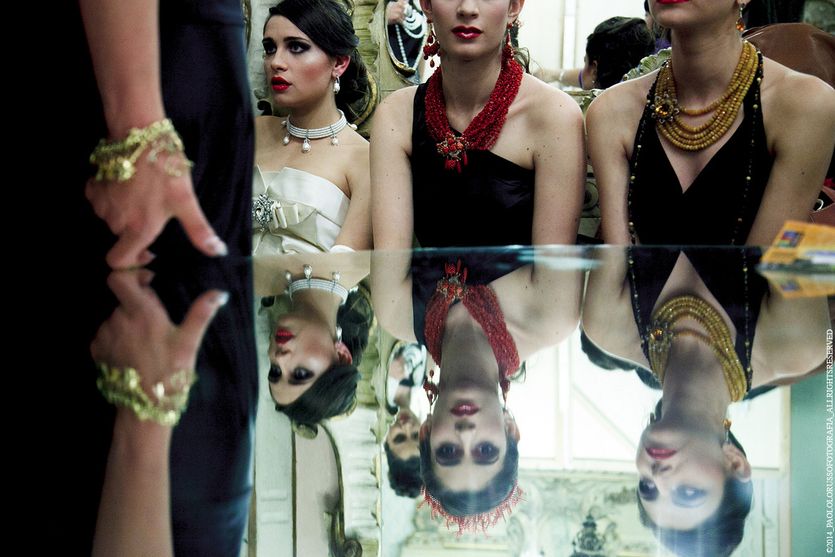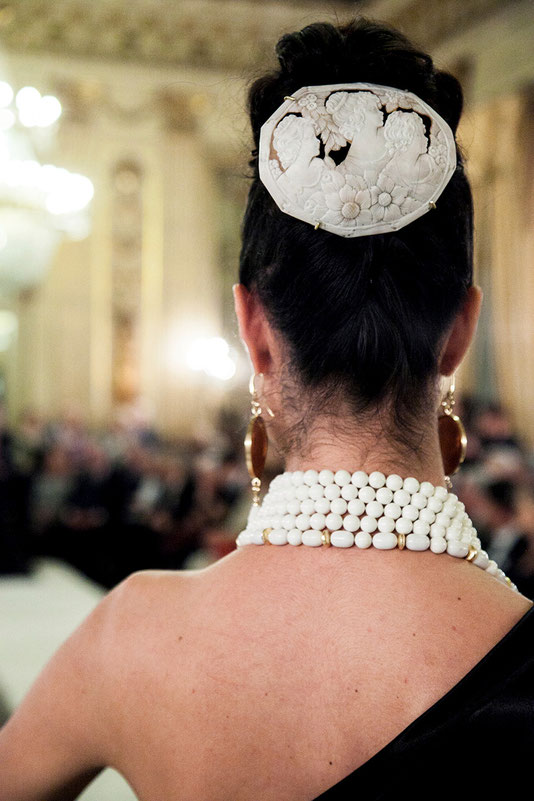 Interesting the dragonfly, already admired on other occasions: it doesn't have the strength and charisma of  "Shocking" Elsa Schiaparelli , but it rests gracefully on the dress. For Burdi, nature is inevitably a "treasure chest of images". Impeccable location for rubies.

Interessante la libellula, già ammirata in altre occasioni, che pur non avendo la forza ed il carisma di "Shocking" Elsa Schiaparelli, si posa con molta grazia sull'abito. Per Burdi la natura è inevitabilmente un "forziere di immagini". Impeccabile la posizione dei rubini.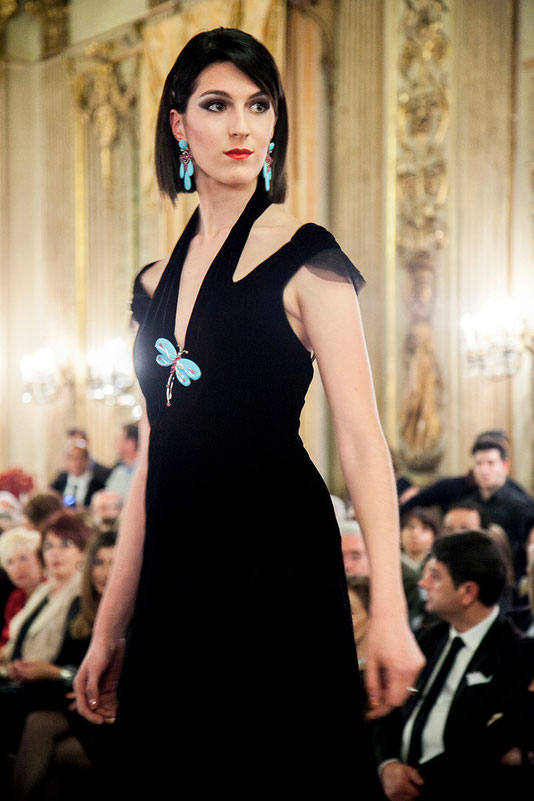 The fashion show continued, accompanied by the sound of Francesco Mancini on the piano and the presence of Carmen Martorana who managed to present in a non- invasive and gentle way and to create an "artistic cocktail" so exciting, the result of "closeness in doing and thinking" with Roberto GuarducciThe great hall was perfumed by spring air with fresh flowers on the corsage by Luciana Galletta, Art & Nature Designer, but all were waiting for Michele Miglionico's clothes.
La sfilata continua accompagnata dal suono di Francesco Mancini al pianoforte e dalla presenza di Carmen Martorana che è riuscita a creare e presentare in maniera non invasiva e delicata un "cocktail artistico" molto interessante, frutto della "vicinanza nel fare e nel pensare" con Roberto Guarducci. Aria di primavera ha profumato la sala con il corpetto in fiori freschi di Luciana Galletta di Art & Nature Designer, ma tutti attendevano gli abiti di Michele Miglionico.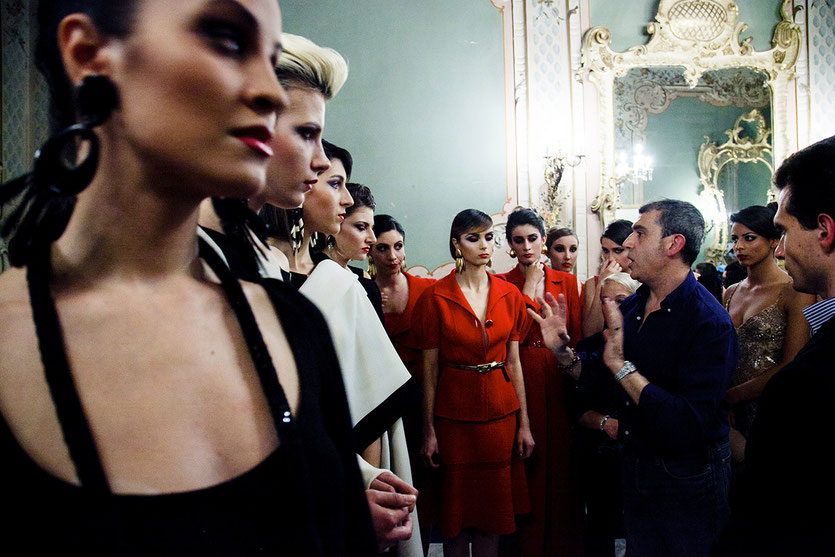 Leaving aside some clothes replicated , the designer always keeps his touch sober and never excessive, sensual but also strong-willed, devoted to a sophisticated woman marked by a strong allure. After diving in the Black & White with a geometric motif and in the thrill of seeing a pair of gloves that agonized in Rochas' Paris fashion show for A/W 2014-2015 (saved in extremis by masterfully Miglionico with some swarovski and decorations), the designer makes a fine show of lace with some nostalgic flavor and worked with jais and swarovski; crepe double tissues presence testifies processing's difficulty, because true luxury is tailoring.
Delicate drawings, always projected to portability, wrapped models' bodies, dressed and run over by a strong red that stands out on a jacket with a frog and its hypnotic movement that expands without fear in flirty ruffles, pleats and never vulgar transparencies.
A parte alcuni abiti riproposti, lo stilista mantiene sempre il suo tocco sobrio e mai eccessivo, sensuale ma anche volitivo, dedicato ad una donna sofisticata contraddistinta da un'allure decisa.
Dopo un'immersione nel Black & White d'impronta geometrica ed il brivido nel vedere un paio di guanti che hanno per un attimo angosciosamente ricordato Rochas alla sfilata parigina per A/I 2014-2015 (salvati in extremis magistralmente da Miglionico con alcuni swarovski), lo stilista fa bella mostra di pizzi dal sapore talvolta nostalgico lavorati con jais e swarovski, tessuti in crepe double, la cui difficoltà di lavorazione testimonia che il vero lusso è quello sartoriale.
Delicati disegni, sempre proiettati alla portabilità, racchiudono i corpi delle modelle, vestite ed investite da un rosso che si staglia su una giacca con l'alamaro dal movimento ipnotico e che si espande senza timore in vezzose balze, plissé e trasparenze mai volgari.
Right appreciations for Miglionico and also for Guarducci, with his dress "Angel Wedding" that flooded the hall of poetry, but we could admire and understand it better because some persons started to get up early and because we were behind all but happily in the company of other bloggers and journalists.

Giusti apprezzamenti tributati sia a Miglionico che a Guarducci che col suo abito "L'angelo sposa" ha inondato la sala di poesia, se non fosse stato per coloro che hanno iniziato ad alzarsi precocemente, impedendoci di ammirarlo e capirlo meglio, data l'ultima fila assegnataci ma felicemente in compagnia di altri bloggers e giornalisti.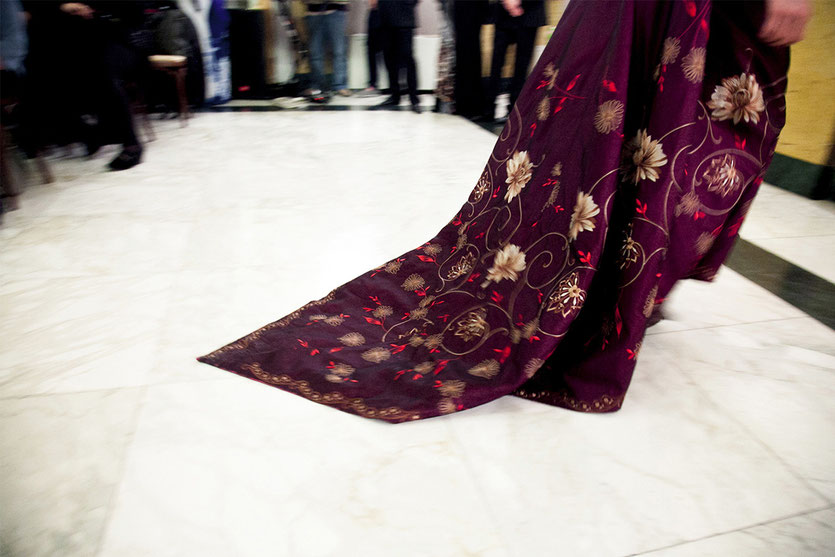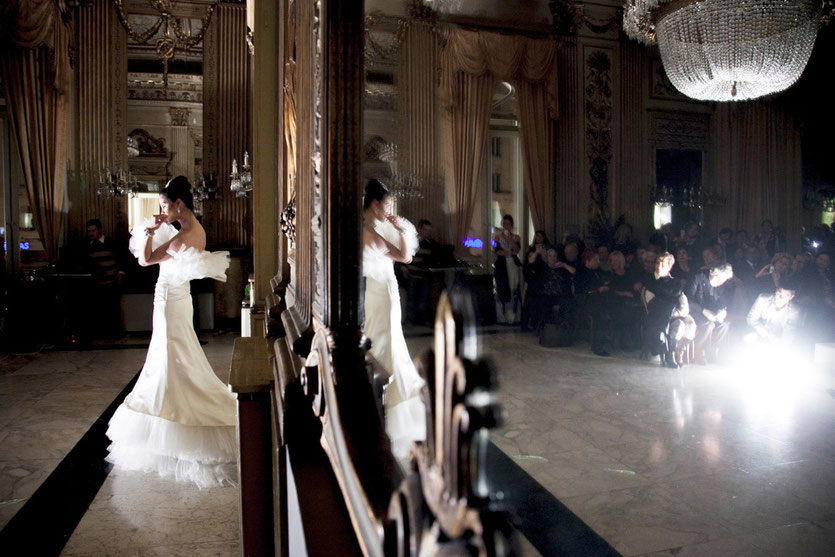 We noticed the makeup artist Pablo art director Gil Cagnè with his staff, and hair stylists Amatulli for Medavita: target elegance without bore perfectly centered.
Grande attenzione merita il make up artist Pablo art director Gil Cagnè con il suo Staff e per l'hair style gli acconciatori Amatulli per Medavita: obiettivo eleganza senza mai annoiare perfettamente centrato.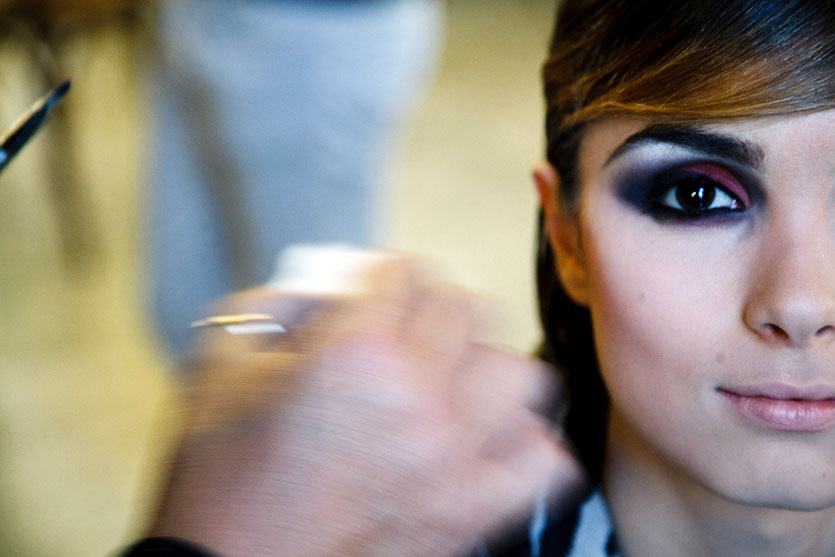 Always exciting and intuitive photos of Paolo Lorusso; we also want to highlight the model Chiara Giordano: when beauty and (above all) charm and skill match.
Location for true magic Muse style.

Sempre emozionanti ed intuitive le foto di Paolo Lorusso, di cui vi proponiamo una selezione, ed una nota speciale va assolutamente evidenziata per la modella Chiara Giordano: quando bellezza ma soprattutto fascino e bravura coincidono. Location da fiaba d'altri tempi, dove le vere Muse di stile fanno magie.
©Pitian per Because The Style
Photocredits