So many stories told in the shade of the GRA, the most important artery that as a ring around for seventy kilometers the city of Rome. The GRA, on which is poured out daily traffic of who for work, study or love goes in the Capital becomes, under the watchful eye of Gianfranco Rosi, a documentary film .
Awarded with a Golden Lion at the 2013 edition of the Venice Film Festival, participating as first non-fiction films in competition, present at the most important international film festivals this year, the SACRO GRA collects a large plot of stories told in a nonlinear way,  highlighting the heterogeneity under one sky. Faithful who observe the eclipse,  a noble who lives in a castle for rent as a set for soap operas, a botanist who takes care of palm trees affected by parasites, a fisherman. A unique backdrop where the individual stories with their characters are the centrality of the tale.
Gianfranco Rosi director and documentary brings to the general public common stories. He made his debut with "Boatman", a boat trip on the river Ganges to the discovery of rituals, sacredness and spirituality. In his early twenties running away from an examination of comparative anatomy at the University of Pisa the road to follow was another, and so, without their parents know, he enrolled in a film course in New York and after to a short film wins an award that allows him to access the New York University. Thanks to the work on the GRA returns to Rome, a city with which he has an adversarial relationship but who has always lived with passion and it is through the GRA has begun to love.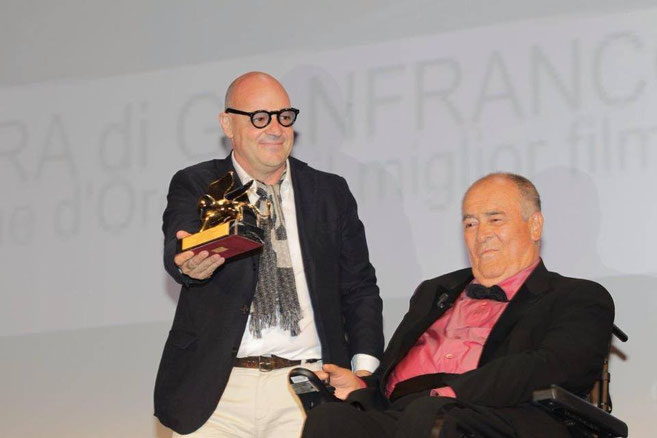 PERCHÉ IL SACRO GRA, UN FILM DI GIANFRANCO ROSI
Tante storie raccontate all'ombra del GRA, l'arteria più importante che come un anello circonda per settanta chilometri la città di Roma. Il Grande Raccordo Anulare, su cui si riversa giornalmente il traffico di chi per lavoro, amore o studio si reca nella Capitale diventa, sotto l'occhio attento di Gianfranco Rosi, un film documentario.
Premiato con un Leone d'Oro all'edizione del 2013 del festival del Cinema di Venezia, partecipando come primo film di no-fiction in concorso, presente ai più importanti film festival internazionali dell'anno in corso, il SACRO GRA raccoglie un numeroso intreccio di storie raccontate in maniera non lineare, esaltandone l'eterogeneità sotto un unico cielo. Fedeli che osservano l'eclissi, un nobile che vive in un castello in affitto come set per fotoromanzi, un botanico che si occupa delle palme colpite dai parassiti, un pescatore. Un unico sfondo dove le singole storie con i loro personaggi sono la centralità del racconto.
Nato in Eritrea, ad Asmara, Gianfranco Rosi regista e documentarista porta al grande pubblico storie comuni. Debutta con "Boatman", un viaggio in barca sul fiume Gange alla scoperta di riti, sacralità e spiritualità. Poco più che ventenne fugge da un'esame di anatomia comparata che seguiva all'Università di Pisa, la strada da rincorrere era un'altra e così, all'insaputa dei genitori, si iscrive a un corso di cinema a New York ed inseguito ad un cortometraggio vince un premio che gli permette di accedere alla New York University. Grazie al lavoro sul GRA ritorna a Roma, città con la quale ha un rapporto conflittuale ma che ha sempre vissuto con passione e che proprio tramite il GRA ha iniziato ad amare.  
©Barbara per Because The Style
Photocredit
Sharing is caring !