Telling the truth, we don't follow so much the world of telenovelas but we wish to talk of one of them: Betty la fea, or better of a group born from nothing that now amounts to almost 1800 subscribed (growing constantly). It is the Facebook group "Betty la fea italian fans club" which we know thanks to Francesca Barile, already our guest on Because The Style. What that mainly strucked about this group is the passion, or to say it better, the love which fans have for the protagonists of the most imitated and seen telenovelas in the world. Because people like ugly girls, but above all because even once in our life we too feel a bit like Betty.
A dir la verità non seguiamo molto le telenovelas, ma ora desideriamo parlavi di una: Betty La Fea, o meglio, di un gruppo nato praticamente dal nulla che giunge a contare quasi 1800 iscritti (in crescita costante). Si tratta del gruppo Facebook "Betty la fea italian fans club" che abbiamo conosciuto grazie a Francesca Barile, già nostra ospite su Because The Style.
Ciò che maggiormente ci ha colpito di questo gruppo è vedere la passione o, per meglio dire, l'affetto che i fans nutrono per i protagonisti di una telenovela fra le più imitate e riproposte a livello mondiale.
Perché le "brutte" piacciono, ma soprattutto perché, almeno una volta nella nostra vita, ci siamo sentite un po' Betty anche noi.
PERCHÉ BETTY NON È POI COSÌ FEA
Beatriz Pinzòn Solano, clever and prepared economist, assumed in a fashion firm despite of everything succeeds obtaining unexpected victories facing before a hard climbing. This is the meaning of Yo soy Betty, la fea a Colombian telenovela on air for the first time from 1999 to 2001 in the world guinness for number of imitations and even after so many years still in the heart of millions of fans all over the world. On Facebook the Italian group dedicated to the fea ( ugly in Spanish) most loved in the world amounts now almost 1800 of registered. Founded before the transmission on national channels (Vero tv and Rai premium between 2012 and 2014 firstly in Italy only on regional channels and fot the first time on a pay tv) it counts on two administators: Francesca Barile, the founder and Sara Antinozzi, definitely a living encyclopedia on the novela but the registered are the pulsating heart of the group as they animate it daily with photos, news, curiosities even in Spanish idiom and fan fictions (a literary genre which consists of inventing stories with as protagonists  the characters of a tv series), new works of the main actors.
Why a group on Betty? Because Betty is the symbol of the common person who is and does not appear, because her story is romantic and comic on the same time, it transmmits values and it is accurate on the playing side and on the dialogue setting. At last because Betty is worth and her long distance success shows that!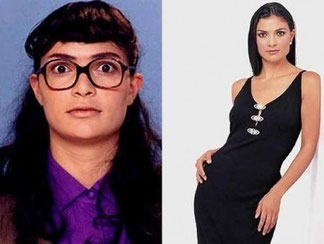 Beatriz Pinzòn Solano, intelligente e preparata economista viene assunta in una ditta di moda che a dispetto di ogni cosa riesce a ottenere inaspettate vittorie affrontando però una faticosa salita.
È questo il senso di Yo soy Betty,la fea telenovela colombiana in onda per la prima volta dal 1999 al 2001 nel guinness dei primati per numero di imitazioni e a distanza di anni ancora nel cuore di milioni di fans in tutto il mondo.
Su Facebook il gruppo dedicato alla fea (brutta in spagnolo) più amata del mondo conta ormai quasi 1800 iscritti. Fondato prima della messa in onda su circuiti nazionali (Vero tv e Rai premium tra il 2012 e il 2014 precedentemente in Italia solo su reti locali e per la prima volta su un canale a pagamento) conta su due amministratrici: Francesca Barile, la fondatrice e Sara Antinozzi , praticamente un'enciclopedia vivente sulla novela ma sono gli iscritti il cuore pulsante del gruppo che lo animano ogni giorno con foto, notizie, curiosità anche in lingua spagnola e fan fictions (genere letterario che consiste nell'inventare storie con protagonisti i beniamini di una serie tv), nuovi lavori degli attori protagonisti. Perché un gruppo su Betty? Perché Betty è il simbolo della persona comune che è e non appare, perché la storia è romantica e comica allo stesso tempo, trasmette valori ed è curata sul piano recitativo e sull'impostazione dei dialoghi. In conclusione perché Betty vale e il suo successo a lunga distanza lo dimostra!
©Francesca Barile per Because The Style
Photocredits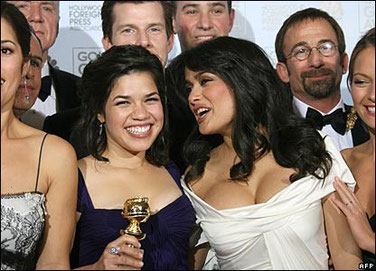 In Photo: Salma Hayek and the protagonist of "Ugly Betty", with the Golden Globe award. Salma Hayek, curious about the success of "Betty la fea", bought rights to produce a new series slightly inspired to the original Gaitan's script.
In foto: Salma Hayek e la protagonista di "Ugly Betty", serie premiata col Golden Globe. Salma Hayek, curiosa del successo, comprò i diritti di "Betty la fea" per produrre una serie lievemente ispirata alla sceneggiatura originale di Gaitan.