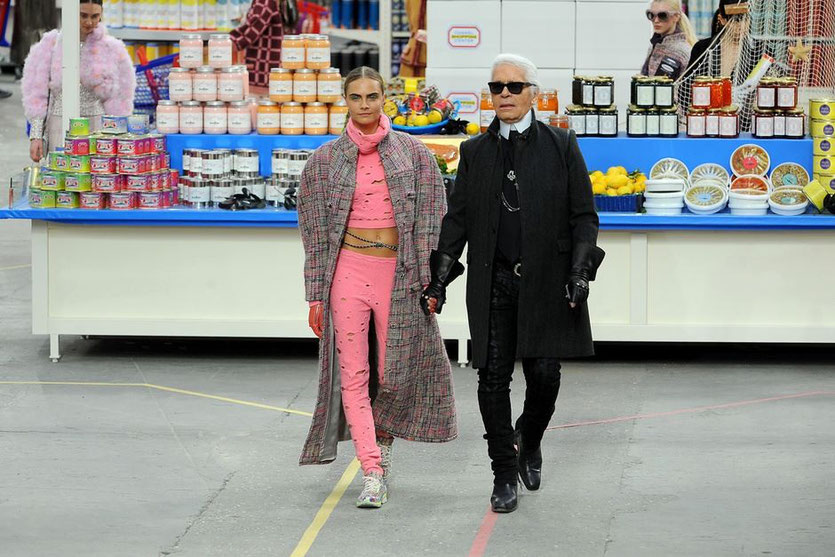 Today Because The Style hosts Silvia Berardi from So Stylish Sbys: certainly if this blogger has something to say…she says it without problem! But is she so heretical? We let you judge, because we've quite clear ideas about it!

Questa volta Because The Style ospita Silvia Berardi di So Stylish Sbys, certamente una blogger che se deve dire qualcosa…la dice senza mezzi termini! Ma sono poi così "eretiche" le cose che afferma? Lasciamo a voi il giudizio, perché noi in proposito abbiamo le idee abbastanza chiare!
We use to see, during the numerous world catwalks, fable suits, spectacular creations that it's reductive to define them, simply, suits, for their beauty, perfection and architectural structure: they are true art works (we can think to Valentino, Elie Saab, Givenchy and Iris van Herpen, for example).
We're invaded by marvelous proposals so our eyes, captured by beauty, are caught by a "beautiful loop", brusquely interrupted in the moment in which they see something that I didn't never want to see in a fashion show, clothes that I would never use, accessories of sure convenience and unusual scenographies; and contrarily to a lot of positive opinions about them, I'm not able to stop this question: "How do you approve and like everything"?!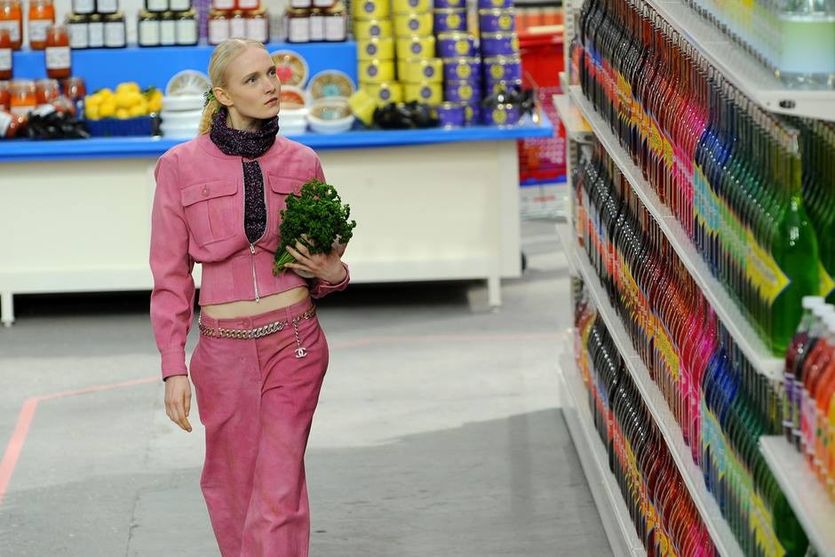 PERCHÉ ALCUNE COSE NON AVREI VOLUTO VEDERLE IN PASSERELLA
Siamo abituati a vedere sfilare sulle numerose catwalks, di tutto il mondo, abiti da favola, creazioni scenografiche che definirle, semplicemente, abiti è riduttivo, in quanto la loro bellezza, perfezione e struttura architettonica le rendono delle vere opere d'arte, e a questo punto come non citare Valentino, Elie Saab, Givenchy e Iris van Herpen, solo per ricordarne alcuni. Invasi così da proposte meravigliose al punto che i nostri occhi, abituati al bello, si trovano colti da un "beautiful loop", un loop bruscamente interrotto nel momento in cui sono stati presentati, a parer mio, capi che non avrei voluto vedere in passerella, capi che non userei mai, accessori di indubbia comodità e scenografie alquanto insolite; e contrariamente a molte opinioni positive a riguardo io non posso non chiedermi: "Come fate ad approvare e a farvi piacere sempre tutto"?!?!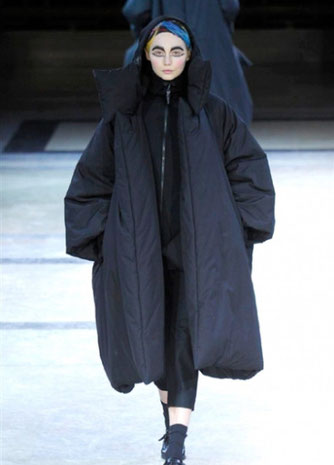 Yohji Yamamoto sustains to want us to protect from indiscreet looks; he thinks fashion isn't able to stuffed sexy so he proposes a "dress armor", but he doesn't know that no woman wants to wear a dinghy instead of the coat, no woman wants to play hide and seek with passersby  but, on the contrary, every woman wants to feel (in her own way), feminine;  for this reason, we'll continue to challenge the heels' dizzy heights and to wring our waistlines tapered high-waisted skirts,while we're wearing a man's shirt, strictly closed all up to the neck.
Yohji Yamamoto sostiene di volerci proteggere da sguardi indiscreti e che la moda non può farci sexy e lo fa proponendo "abiti armatura", ma ciò che non gli è chiaro è che nessuna donna vuole vestirsi indossando un gommone al posto del piumino, nessuna donna vuole giocare a nascondino con i passanti che dividono con lei il marciapiede, ma al contrario ogni donna vuole sentirsi, ed è a suo modo, femminile; proprio per questo continueremo a sfidare le altezze dei nostri vertiginosi tacchi e a strizzare la nostra vita in affusolate gonne a vita alta, pur indossando una camicia da uomo rigorosamente chiusa fin su al collo.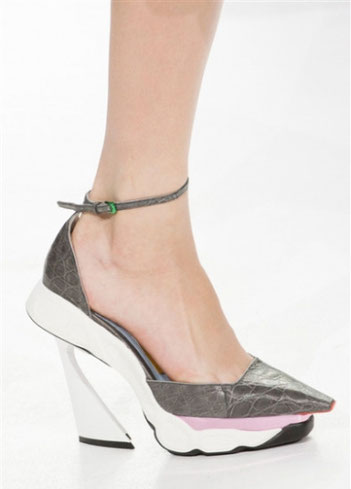 Raf Simons, for Christian Dior, instead talks us about a new woman, determined and energetic who likes to be elegant and feminine. It's a harmonious collection, with a strong Simons style; it stings to contemporaneity and future, but this strong sense of the extreme contemporary that brings all to stagger because, observing those shoes, I ask: "Raf, why?! Why that plateau?!". So, Simons unites classical Mary Jane to the sporting shoe with air. While I'm realizing the fashion speed and also his being always one step ahead with those décolléteses, I think that to be exchanged for one of Power Ranger is only matter of instants.

Raf Simons, per Christian Dior, invece ci parla di una donna nuova, decisa ed energica che ama essere elegante e femminile. È una collezione armoniosa e dal forte stile Simons che punta sempre alla contemporaneità e al futuro, ma è questo forte senso del contemporaneo volto all'estremo che porta il tutto a vacillare, perché osservando quelle scarpe non posso non domandarmi: "Raf, perché?! Perché quel plateau"?! Ebbene sì, Simons ha unito la classica Mary Jane alla scarpa sportiva con air, ma pur rendendomi conto della velocità della moda e del suo essere sempre un passo avanti con quelle décollétes l'essere scambiate per dei Power Ranger è solo questione di attimi.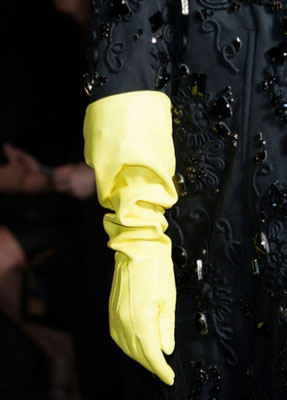 What about Alessandro Dell'Acqua's debut as creative director for Rochas? On this occasion he wanted to take everything with "delicacy", aiming at a partnership with a leader company in the cleaning industry, as you can imagine…
I never wanted to see together cashmere, silk and crystals with those leather gloves that look gloves used for household cleaning.
Che dire poi del debutto di Alessandro dell'Acqua come direttore creativo per Rochas che per l'occasione ha voluto prendere tutto con "delicatezza" puntando, come si intuisce, ad una partnership con l'azienda leader nel settore della pulizia...
Non avrei mai voluto vedere accostati al cashmere, alla seta e ai cristalli quei guanti in nappa che altro non sembrano che i guanti casalinghi usati per le pulizie.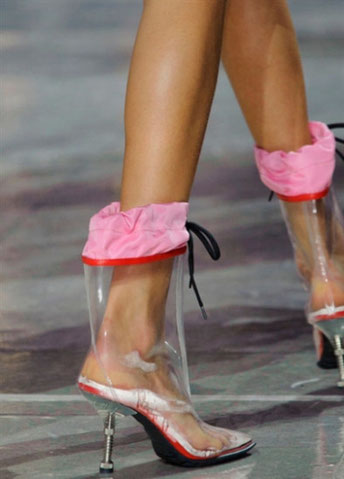 And I also wouldn't want to see those transparent PVC booties with heel, proposed by Miu Miu: Miuccia offerd them and she makes everything trendy, as the rams "over" with fur red and yellow tufts; they look traffic lights but we don't care them because Miuccia made them.
But those PVC booties, in my opinion, and I would venture to contradict Miuccia, doesn't stand for beauty,but mostly for convenience because it's well known that when it rains the air is full of moisture and that humidity with pvc that creates a natural liquid, called slippery perspiration: it isn't fashionable at all.
Come, anche, non avrei voluto vedere quei booties in pvc trasparenti con tacco proposti da Miu Miu, che pur essendo Miuccia a proporli, colei che ogni cosa che realizza fa tendenza, come i montoni over dai ciuffi di furs in rosso e giallo, che nonostante facciano tanto semaforo a noi non importa perché tanto ce lo dice Miuccia. Però quei booties in pvc, a mio avviso, e mi permetto di contraddirla cara Miuccia, non spiccano per beltà, ma soprattutto per comodità in quanto è risaputo che quando piove l'aria è carica di umidità, quell'umidità che unita al pvc crea quel liquido naturale sì, ma scivoloso chiamato sudore che non è per nulla fashion.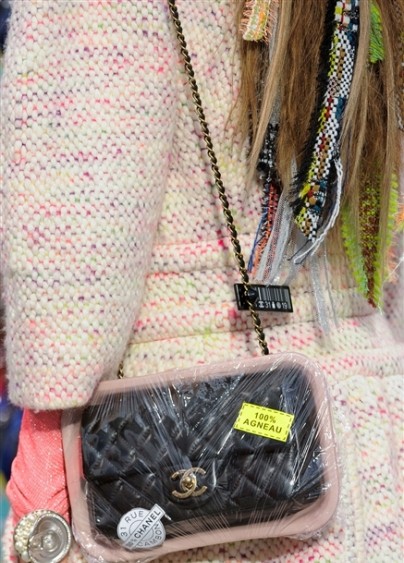 And finally, we've to forget those futuristic, cultured and surreal scenes by Chanel, but get ready for a new reality: the supermarket.
Unfortunately or fortunately, my thoughts on Karl Lagerfeld for Chanel will never be in line with the majority of the vote, real or fake, which I read and hear;in fact, I never wanted to see those aged coats in tweed and the perforated pink full dress:I honestly don't think Lady Coco would have proposed, as even the sneakers, even though she practiced practicality.
All extremely sporty but luxurious, changing and distorting what Chanel was, is and will be through the time, that is synonymous with style and elegance. In conclusion, dear Karl, after this fashion show you've legalized many unbalanced selfies in supermarket. Do you think it's worth it?! For me, honestly, no!
Ed infine, dimentichiamoci quelle scenografie avveniristiche, colte e surreali viste da Chanel, ma prepariamoci ad una nuova realtà: il supermarket. Purtroppo o per fortuna il mio pensiero su Karl Lagerfeld da Chanel non sarà mai in linea con la maggior parte dei consensi, veri o finti, che leggerò e che ascolterò, quindi non posso non essere d'accordo con le proposte di Lagerfeld, difatti non avrei mai voluto vedere quei cappotti in tweed dall'aria invecchiata e il completo rosa traforato, che con tutta onestà non credo che la Signora Coco l'avrebbe mai proposto, come neanche le sneakers, nonostante praticasse la praticità. Tutto estremamente sporty ma di lusso, modificando e snaturando quello che Chanel è stato, è e sarà nel tempo, cioè sinonimo di stile e di eleganza. Concludendo caro Karl dopo questa sfilata hai legalizzato molte squilibrate a "selfizzarsi" all'Esselunga, a Lidl e al Simply. Pensi che ne sia valsa la pena?! Per me, sinceramente, no!!!
©Silvia Berardi per Because The Style


Photocredits

Sharing is caring!