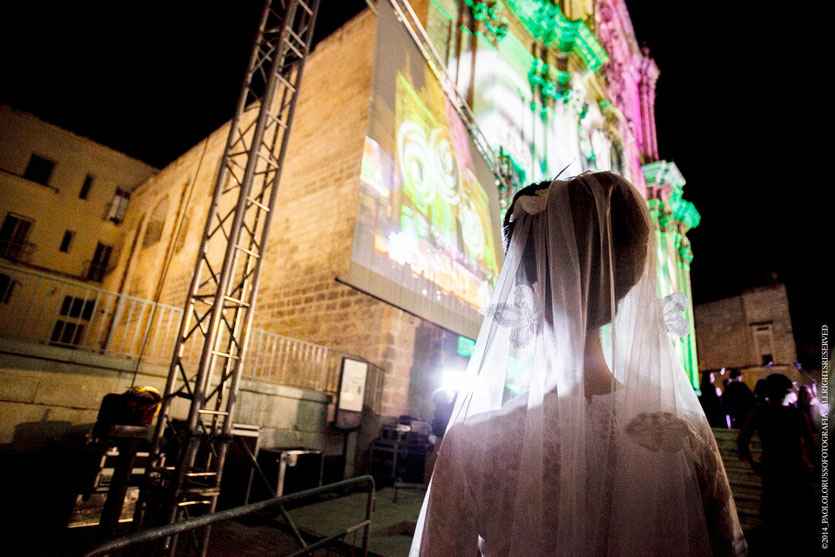 It was a concert, it was a fashion show, it was a challenge (as chief Enzo Centonze said), it was beauty: International Fashion Award "Città dei Sassi", Matera (Italy).
Without linger over the obvious mastery of Pablo Gil Cagnè and Wella and glamor models by Carmen Martorana, we admired leaders presented, photographed by the tireless Paolo Lorusso, strategically placed for us.
È stato un concerto, è stata una sfilata, è stata una sfida (come ha detto il patron Enzo Centonze), è stata bellezza: Premio Moda "Città dei Sassi", Matera.
Senza indugiare sull'ormai ovvia maestrìa di Pablo Gil Cagnè e di Wella e sulle affascinanti modelle proposte da Carmen Martorana, ammiriamo i capi presentati, fotografati dall'instancabile Paolo Lorusso, appostato strategicamente per noi.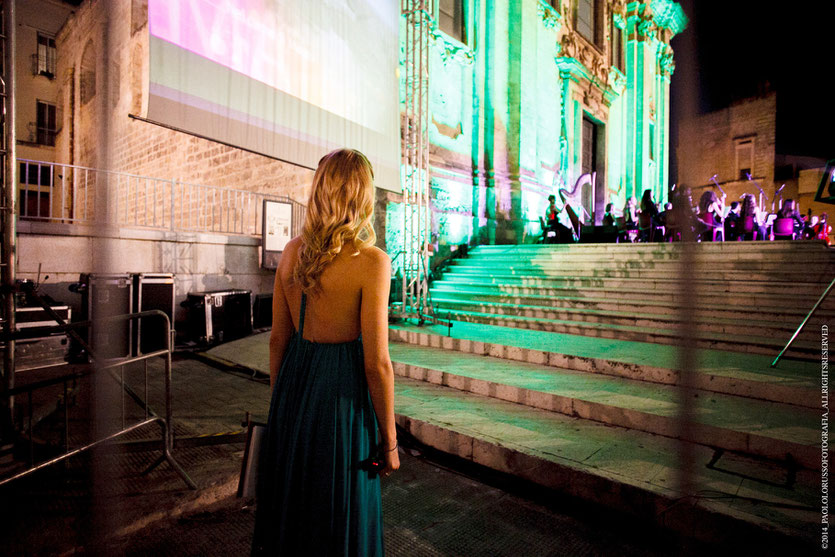 Welcome Gigliola Curiel with her color splashes, communication of our mood, of ourselves, of our souls. Be careful: the border  between  good taste and excess when we're using so vivid colors is thin and Curiel knows it. As a melody, the stylist mixes the colors harmoniously, giving to the clothes an oriental touch that never hurts. Hers colors talk about certainty and, with cunning, they're turned off by shoes that disappear, but colors ready explode in the spectators' eyes: they remain invested by pleasure.
Ben venga Gigliola Curiel coi suoi sprazzi di colore, comunicazione del proprio umore, di se stessi, della propria anima. Attenzione però: è sottile il confine che circonda il buon gusto e l'eccesso quando si usano colori così vivi e la Curiel lo sa bene. Come una melodia, la stilista mescola i colori armonicamente, donando agli abiti un tocco orientaleggiante che non guasta mai. I suoi colori parlano di determinatezza, con furbizia vengono spenti da scarpe che sembrano sparire, per esplodere poi nelle pupille degli spettatori che ne rimangono investiti di piacere.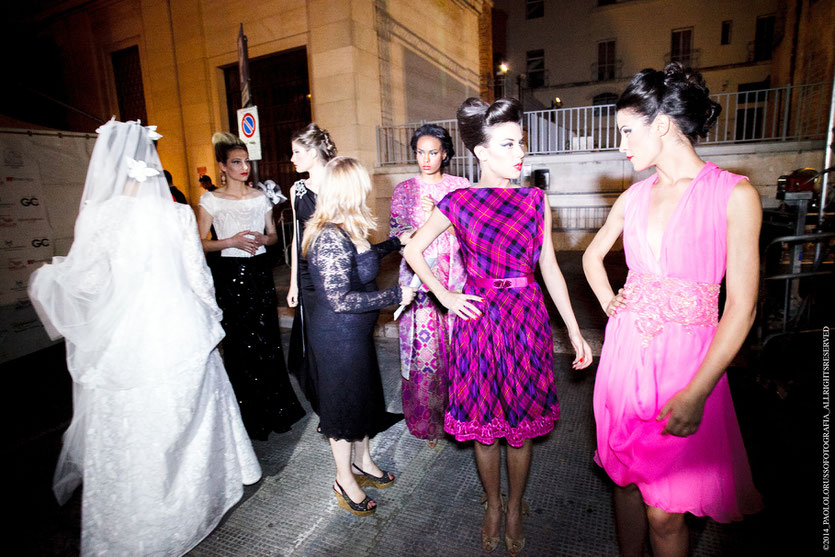 Another obvious: the dress by Roberto Guarducci. The elegance is again materialized with its shiny fabrics games that softly wrapped around the model bust and then opened themselves on the shoulders with the delicacy of a moth at night.
Un'altra ovvietà: l'abito di Roberto Guarducci. L'eleganza si è nuovamente materializzata coi suoi giochi di tessuti lucidi che fasciavano il busto della modella morbidamente, per poi aprirsi sulle spalle con la delicatezza di una falena notturna.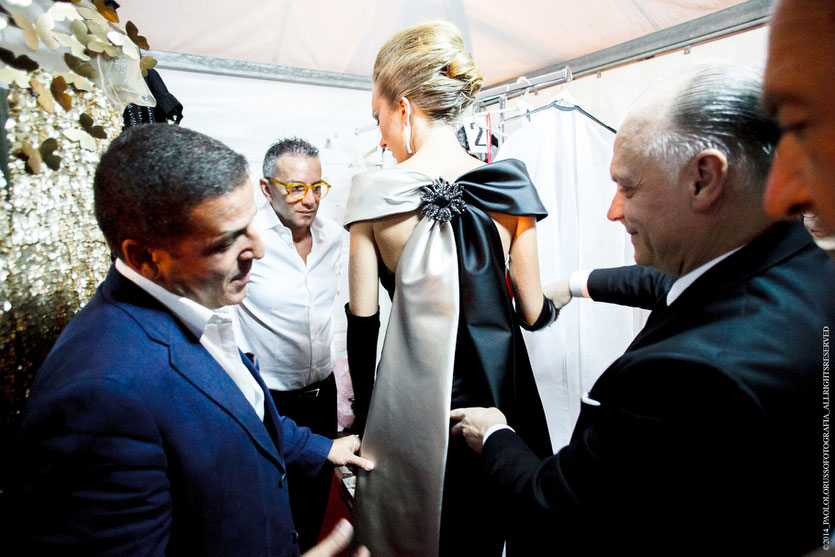 Butterflies with Gianni Sapone, too: this time they're passing on model's breast, such as gold and beautiful souls; "butterfly" in Latin is, infact, "anìmula." Sapone talk about this dark fairy woman, the dark side of her style "Maleficent" where not paillettes but small tablets of metal climb bodies, to illuminate the shadow areas of the clothing.
Sempre di farfalle parliamo con Gianni Sapone: questa volta sono di passaggio sul petto di una modella, d'oro come le anime belle e "farfalla" in latino si dice infatti "anìmula". Dell'anima di questa donna dark fatata ci racconta Sapone, del suo lato oscuro stile "Maleficent" dove si arrampicano non paillettes ma piccole pasticche di metallo, ad illuminare le zone d'ombra degli abiti.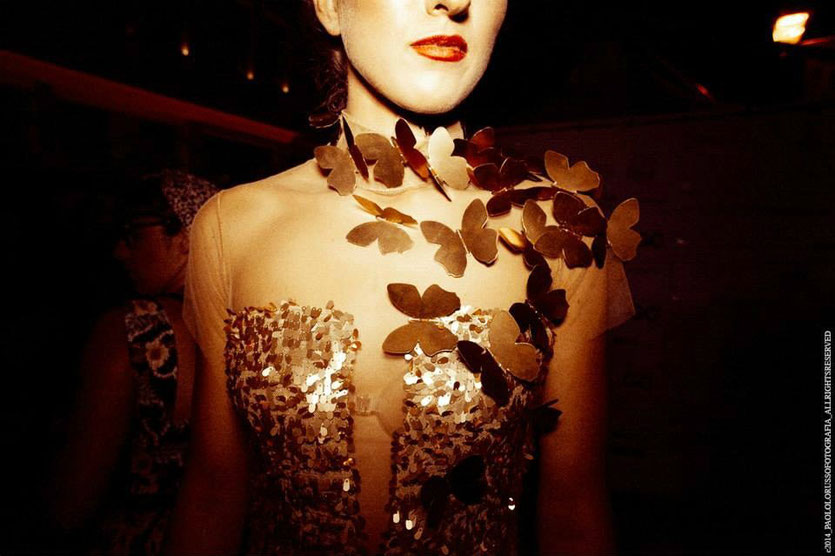 Who is the fairest of them all?

Chi è la più bella del reame?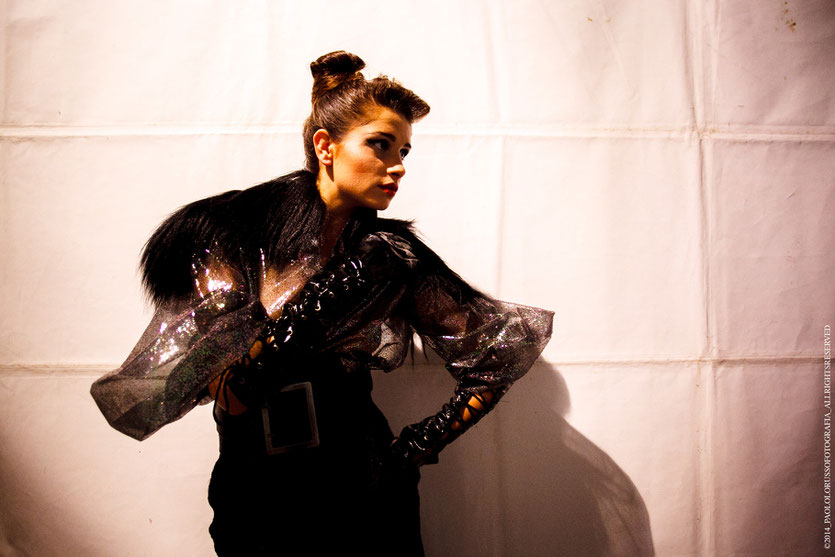 Returning from Altaroma, Nino Lettieri revisited paillettes ("Lady Haute Couture"), very light, sometimes muted to dominate them but irresistibly chic. His collection is a modern one, young,  determined to dispel red carpet clichés. Fascinating movements.
Di ritorno da Altaroma, Nino Lettieri ha riproposto invece le paillettes ("signore dell'haute couture"), leggerissime, talvolta smorzate per dominarle ma irresistibilmente chic. La sua è una collezione moderna, giovane, intenzionata a sfatare i luoghi comuni da red carpet. Movimenti affascinanti.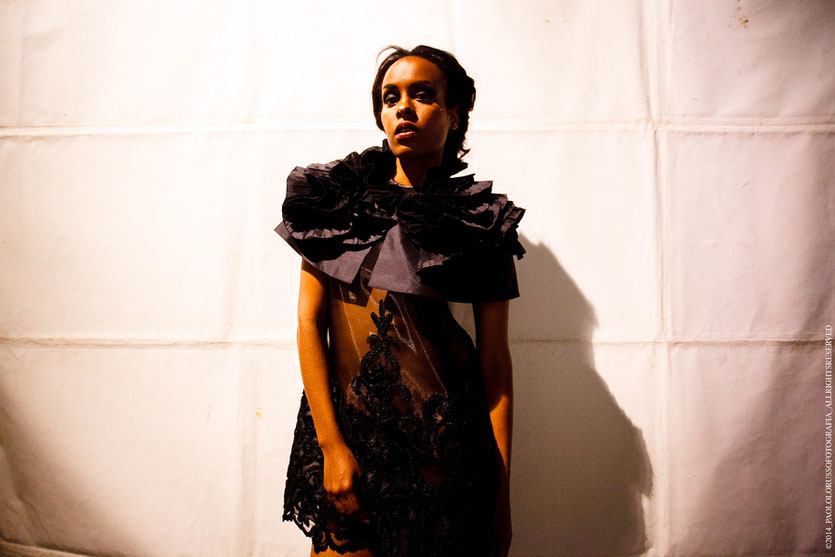 After the collaboration with Sarli, Matera has received the honor of the preview Carlo Alberto Terranova's creations, with his new brand "New Lands": he (devoted to the wearable way) with his affability, kindness and humility (typical of great person), explains he doesn't want to turn the page but to start, however, a new research in the name of continuity. He gives space to geometries and sharply closes to the redundant glories: we succumbed in front of the meticulous design study (almost scientific) of a suit '"Studio 54 style", a collection glam rock bon ton, made of heavy georgette and pence that curl up giving a discrete and non-invasive motion. Definitely smart chic: we've imagined a city woman with his clothes, a woman who doesn't surrender to blandishments. Some items should be savored with the eyes for their precision and detail because during fashion show they're unfortunately lost. We will post links to pictures that really know the deep meaning of collection.
Terminata la collaborazione con Sarli, Matera ha ricevuto l'onore dell'anteprima delle proposte di Carlo Alberto Terranova, col suo nuovo brand New Lands: votato alla vestibilità, con un'affabilità, simpatia e umiltà tipiche dei grandi, ci spiega che non desidera voltare pagina ma iniziare una nuova ricerca all'insegna però della continuità. Spazio alle geometrie e chiusura netta ai fasti ridondanti: soccombiamo di fronte allo studio meticoloso (quasi scientifico) di una tuta un po' "Studio 54", per una collezione glam rock bon ton, fatta di georgette pesante e pence che sfiocchano ordinatamente per conferire un movimento discreto e non invasivo. Decisamente smart chic: l'abbiamo immaginato indosso a city women che non cedono alle lusinghe. Certi capi vanno assaporati con gli occhi per la loro precisione e per i particolari che durante la sfilata sono andati purtroppo perduti. Provvederemo a inserire i link di foto che davvero sappiano rendere il senso profondo della collezione.
A particular attention has earned Michele Miglionico. Three women, three Lucan Madonnas: Viggiano, Bruna and Carmine. Evocative, with echoes that recall the woman opposite to Maria, Medea, identified in our minds with clothes and jewelry worn by Maria Callas in Pierpaolo Pasolini's film, even if the intention was clearly to recall another film by the same director, filmed in Matera.We don't dare here to offer our readers photos of their gait because it would mean to lose their appeal, but we'll wait portraits made "ad hoc" by the designer and we'll readily insert the link as soon as available.
Uno sguardo particolare ha meritato Michele Miglionico. Tre donne, tre madonne lucane: la Madonna di Viggiano, della Bruna e del Carmine. Evocativo, con echi che hanno richiamato alla mente la donna opposta a Maria, ovvero Medea, identificata ormai nell'immaginario con gli abiti e i monili indossati da Maria Callas nel film di Pasolini, anche se l'intento era chiaramente quello richiamare un altro film dello stesso regista, girato proprio a Matera. Non osiamo in questa sede proporre ai nostri lettori foto del loro incedere perché significherebbe far perdere il loro fascino, in attesa magari di ritratti effettuati ad hoc dallo stilista di cui prontamente inseriremo il link appena disponibili.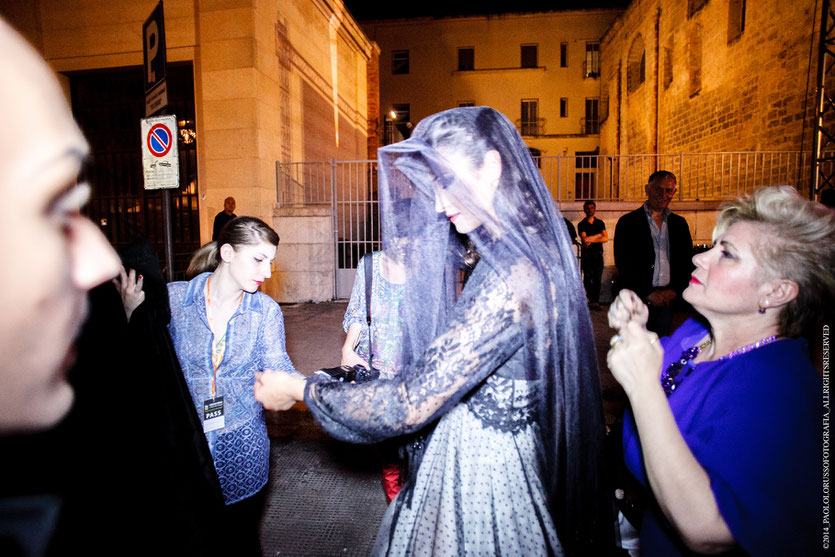 However, we insert a link to a video, just to relish the idea and atmosphere.

Tuttavia, inseriamo il link di un video, giusto per cercare di rendere l'idea e l'atmosfera.

ITALIAN MASTERS PRIDE.
MAESTRI, ORGOGLIO ITALIANO.

©Pitian per Because The Style


Soon all the young designers and the real award.
Nei prossim giorni tutto sui giovani stilisti in gara.

Photocredits

Gallery New Lands by Pitian with her phone!


Sharing is caring!