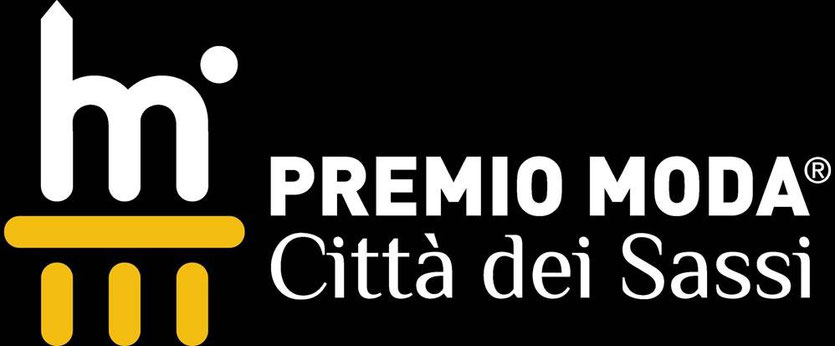 Everything looked other things but not a competition. Last year's winner (whose clothes were serenely placed next to masters' those ones, without preference or distinction) helped by a last year competitor; young designers did selfie together and, although a bit shaken, they didn't spared mutual smiles. This was the International Fashion Award "Città dei Sassi", held June 12 in Matera, in an atmosphere of mutual respect.
Tutto è sembrato tranne che un concorso. Il vincitore dell'anno scorso (i cui abiti erano serenamente collocati accanto a quelli dei maestri, senza preferenze o distinzioni) aiutato da una concorrente dell'anno scorso; i giovani stilisti di quest'anno che si selfavano insieme e, seppur un po' tesi, non si risparmiavano sorrisi vicendevoli. Questo è stato il Premio Moda Internazionale "Città dei Sassi", svoltosi a Matera il 12 giugno, in un'atmosfera di stima reciproca.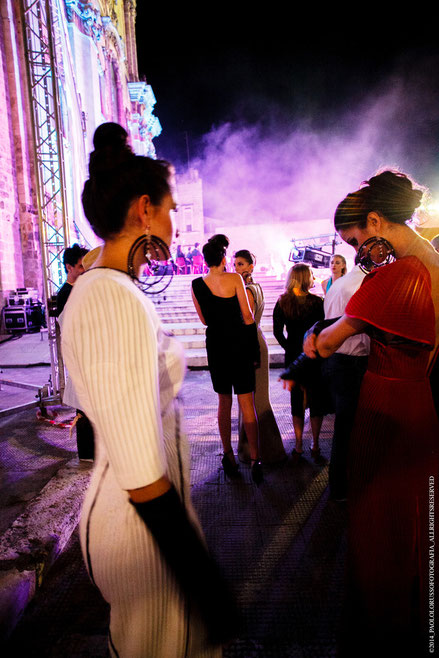 So, we can come to the last edition's winner: Giuseppe D'Urso. Unparalleled sympathy, pure energy, he shows us with great enthusiasm his duchesse silk dresses, hand embroidered. All Italian Fabrics (red one by Valentino) with quality and optical effect that donate a net allure.
Fashion Award "Città dei Sassi", Critics Award and Rendez Vous de la Mode Award assigned to the thirty-five Federico Stefanacci that pays homage with his clothes  to the Afro-British singer Sade Adu: cady fabric and sinuous movement plissè hide inside the spotted heart of Africa.
Giungiamo quindi al vincitore della scorsa edizione: Giuseppe D'Urso. Simpatia senza pari, energia pura, ci mostra nel massimo entusiasmo i suoi abiti di seta duchesse, ricamati a mano. Tessuti tutti italiani (il rosso è di Valentino) all'insegna della qualità e di un effetto ottico dall'allure netta.

Premio Moda Città dei Sassi, della Critica e Premio Rendez Vous de la Mode assegnati al trentacinquenne Federico Stefanacci che omaggia con i suoi abiti la cantante afro-britannica Sade Adu: tessuto cady e movimento sinuoso plissè nascondono al loro interno il cuore maculato dell'Africa.
The Special Award Margutta was instead assigned to Sergio Tamburrino, whose clothes, from the line slipped aimed at the enhancement of the exclusive designs signed to printed fabrics, pointing to an original recognition. Hypnotic the ruche of black and turquoise cloths.
Il Premio speciale Margutta è stato invece assegnato a Sergio Tamburrino, i cui abiti, dalla linea scivolata finalizzata alla valorizzazione degli esclusivi disegni firmati dei tessuti stampati, puntavano ad un'originale riconoscibilità. Ipnotica la ruche dell'abito nero e turchese.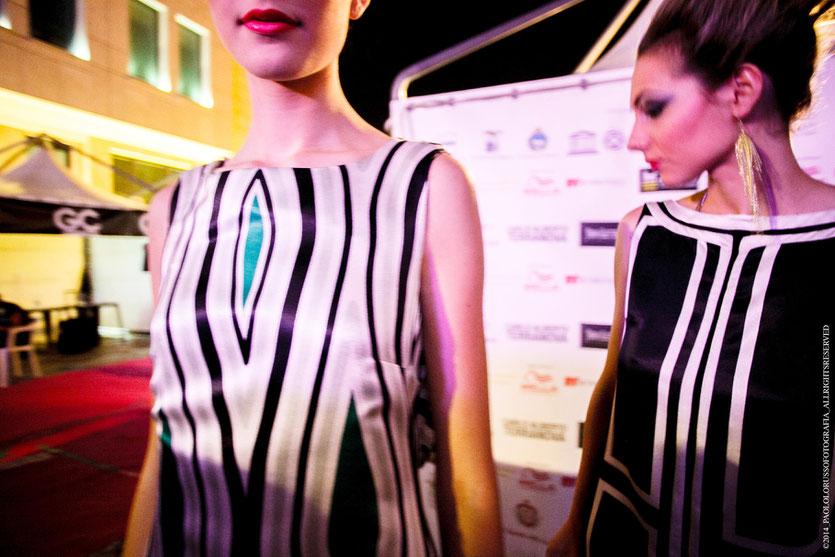 Finally, the Fashion Award at the Cinema, dedicated to the actress Rita Hayworth (Terranova honestly confessed the lack of consistency of the presented clothes in competition with the character), was awarded to Brigida Lorusso who proposed new applications of the mosaic, made with self-produced sequins of fabric glued onto acetate.
Infine, il Premio Moda al Cinema, dedicato all'attrice Rita Hayworth (di cui onestamente lo stesso Terranova ha confessato la poca coerenza degli abiti presentati in concorso con il personaggio), è stato assegnato a Brigida Lorusso che ha proposto nuove applicazioni del mosaico, realizzato con paillettes autoprodotte di tessuto incollato su acetato.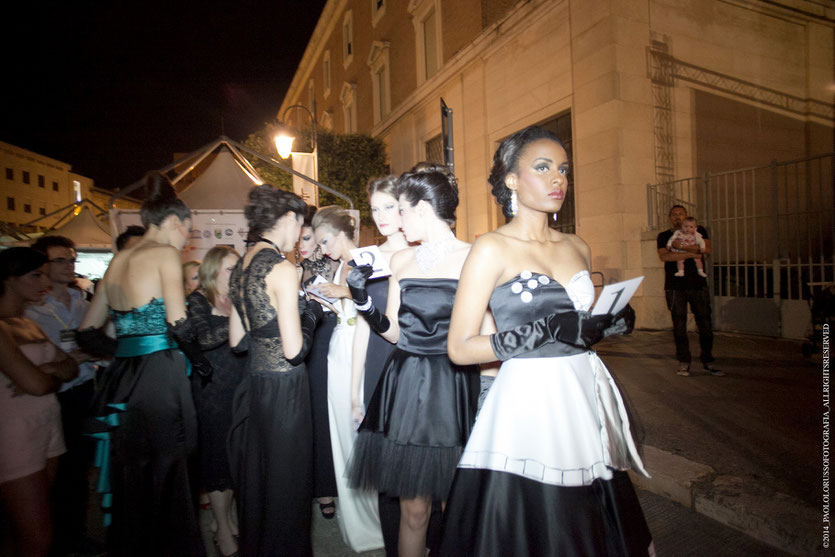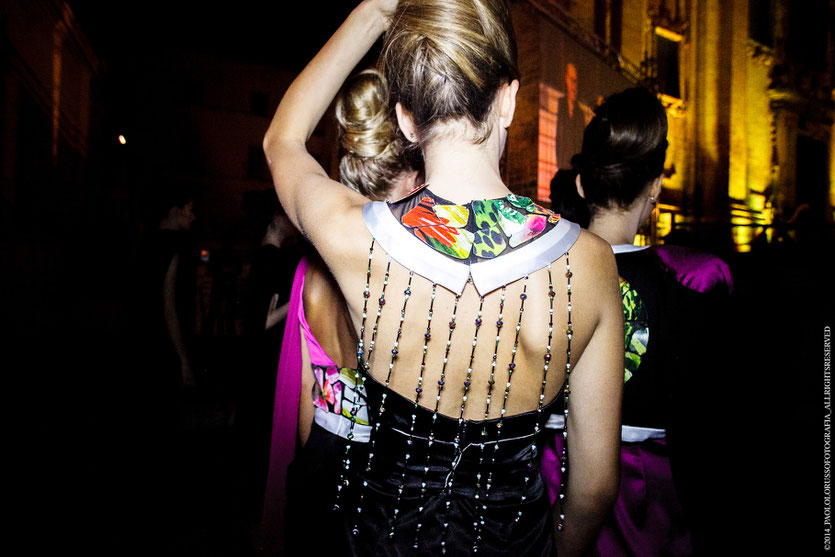 Valuable also the creations of Fiorenzo Di Crisci, with his painted fashion Capri rebuilt vintage macramè, the hand draped bodice, as well as those of Maria Pia Eramo who presented variations on the theme of spring.
Interesting the unfortunately not well supported intuitions (maybe even with accessories not necessarily baroque but that would give light, thickness and effective dark rock mood) by Alberto Affinito who showed total black dresses in cotton and linen.
Di valore anche le creazioni di Fiorenzo Di Crisci, col suo macramè vintage moda Capri ricostruito e dipinto, il corpetto drappeggiato a mano, nonché quelle di Maria Pia Eramo che ha presentato variazioni sul tema della primavera.

Interessanti le intuizioni purtroppo non ben supportate (magari anche con accessori non necessariamente baroccheggianti ma che avrebbero dato luce, spessore ed effettivo mood dark rock) di Alberto Affinito che ha mostrato abiti in cotone e lino total black.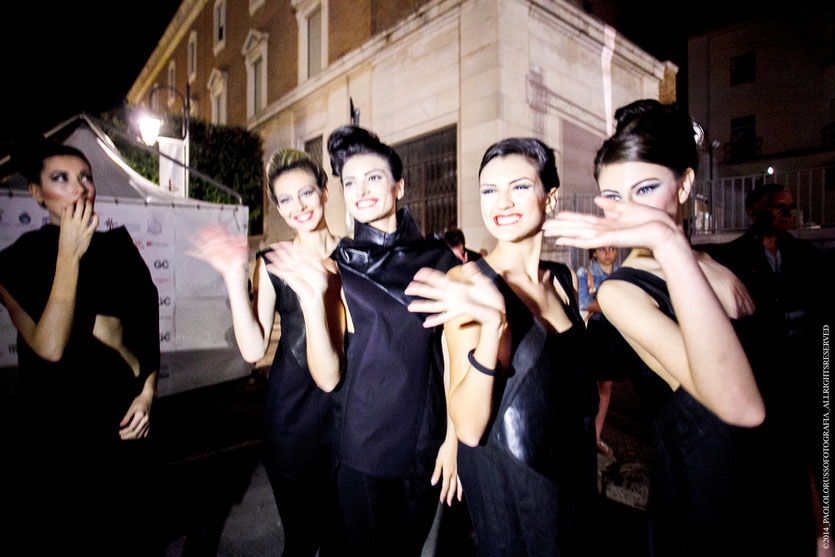 The competitor Carla Caroli was certainly the opposite of Affinito, with her Mediterranean colors of which we emphasize the beautiful scarves, all hand-painted.
La concorrente Carla Caroli è stata decisamente l'opposto di Affinito, coi sui colori mediterranei di cui sottolineiamo i bellissimi foulard tutti dipinti a mano.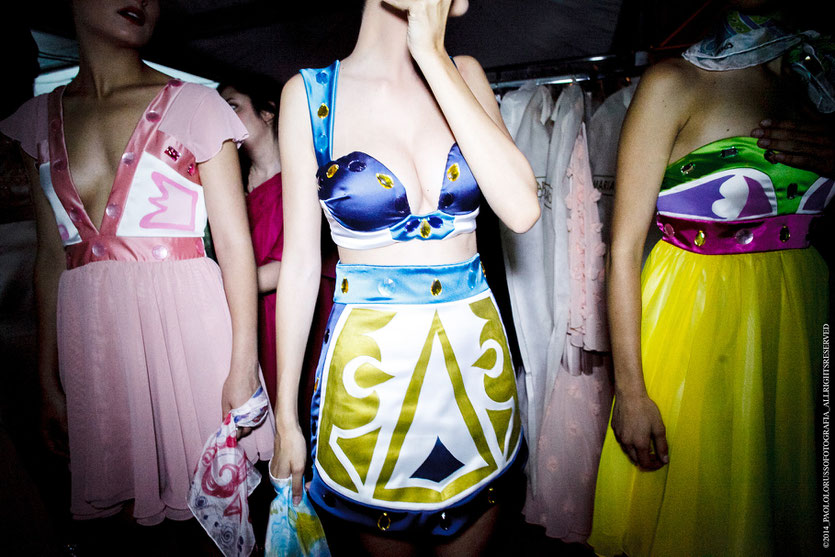 Last in our analysis is Leonarda Nada that, with more experience, works skillfully with pure silk satin, chiffon and taffeta.

Ultima nella nostra disamina è Leonarda Nada Nuovo che, con maggiore esperienza, lavora abilmente con pura seta satin, chiffon e taffetà.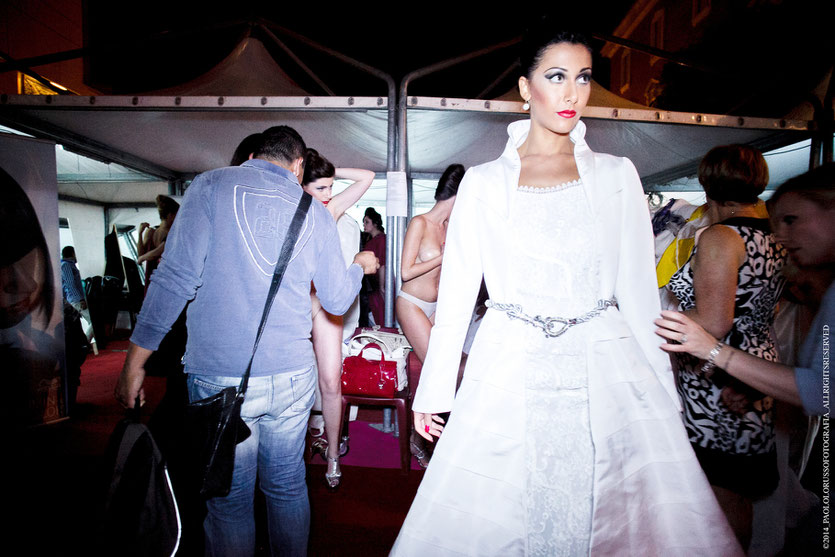 Be judge is always difficult and someone had to win this competition. To say "all have won" isn't a triviality if the future of Made in Italy is entrusted to those who know how to get involved, to listen, to support each other in view of the enhancement of tailoring and creativity.
Our wish to young designers is also our motto: whatever you do, do it with style (Freddie Mercury).
Essere giudici è sempre difficile e qualcuno doveva vincere questa competizione. Dire che hanno vinto tutti non è una banalità se il futuro del Made in Italy è affidato a coloro che sanno mettersi in gioco, ascoltare, aiutarsi vicendevolmente nell'ottica della valorizzazione della sartorialità e della creatività.
Il nostro augurio ai giovani stilisti è anche il nostro motto: qualsiasi cosa facciate, fatela con stile (Freddie Mercury).
©Pitian per Because The Style


Photocredits
Sharing is caring!