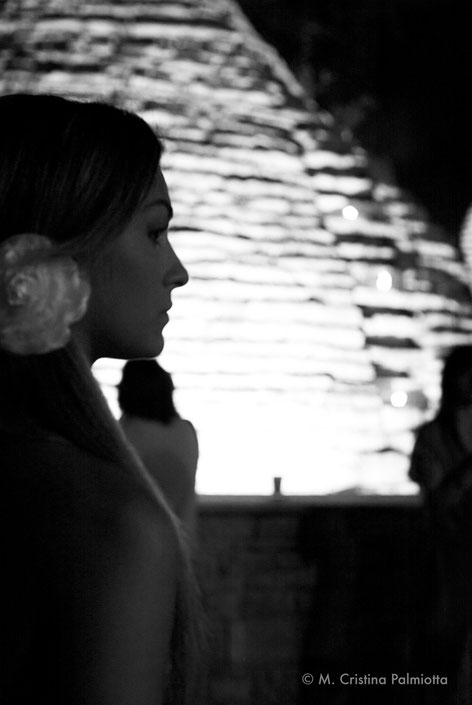 "Pick a flower is not a big deal. It's easy and irrevocable" (V for Vendetta), just as beauty and sweetness will win in a moment, take you away and you'll never return what you were before.
Flowers from the first step, beauty of nature and craft works were exhibited in the garden of Villa De Gennaro in Molfetta (Bari, Italy) and to make feel at home we had Mary De Gennaro with her bon ton sweetness.
"Cogliere un fiore non è una gran cosa. È facile ed irrevocabile" (V for Vendetta), esattamente come la bellezza e la dolcezza: ti conquistano in un attimo e ti portano via senza mai più farti tornare quello che eri prima.
Fiori sin dal primo passo, bellezza della natura e delle opere artigianali esposte nel giardino di Villa De Gennaro a Molfetta (BA) e a fare gli onori di casa la dolcezza bon ton di Mary De Gennaro.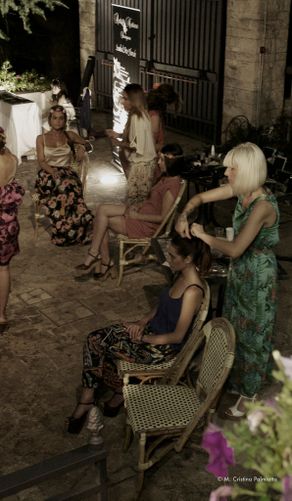 Welcomed with a lucky small flower pin and a t-shirt offered by Asselta, guests were able to observe the suggestions of a creative Puglia.
After the talented and nice cake designer Eleonora Martini, showing delicate tulips sugar, the rushing Hair Stylist Annamaria Tommasicchio and the Make-up Artist Nadia Brunetta, you came to the Flower Designers Emilio Lorusso and Luciana Galletta.
Accolti con una piccola spilla con fiore portafortuna ed una t-shirt offerta da Asselta, gli invitati hanno potuto osservare le proposte di alcuni creativi pugliesi.
Superata la talentuosa e simpatica cake designer Eleonora Martini che mostrava delicatissimi tulipani zuccherini, l'Hair Stylist Annamaria Tommasicchio e la Make-up Artist Nadia Brunetta indaffaratissime, si giungeva ai Flower Designers Emilio Lorusso e Luciana Galletta.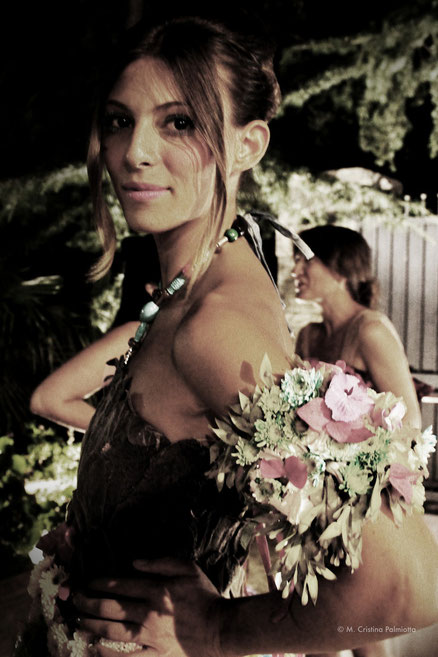 We already had the opportunity to see them "in action" and this time, supported by the enchanting smile of the model (a real flowers in blossom), with corsage and bracelet they reiterated their skills not only in the idea's construction, but in rendering flowers color, accompanied by the smoothness of some leaves and whimsical curly of other ones.
In realtà abbiamo già avuto già modo di "vederli in azione" e questa volta, supportati dall'incantevole sorriso della modella (fiore dentro ai fiori), col corpetto e il bracciale hanno ribadito la loro abilità non solo nella costruzione di un'idea ma nella resa cromatica dei fiori, accompagnati dalla levigatezza di alcune foglie e dai ricci vezzosi di altre.
A rose/list of jewelry designer awaited guests: the unmistakable jewelry that Marina Corazziari with her decidedly baroque style with hints of Art Nouveau "dressed" models, lying on chairs and dormeuse made by Fatti di Cartone with cardboard (beautiful the lamp with suffused shades); Nicola del Vescovo, instead, chose for its creative and colorful swirls the "fashion heads" and Rosa De Nicolo. Arrived at her cheerful and varied space, right next to the painter Maria Luisa Antonelli, we suddenly materialized the three Dante's indications about what is left of heaven: stars, flowers and children.  A wonderful child (excited for the direct request), in fact, efficiently gave us her (the mother, we suppose) business card.

È il caso di dire che una rosa di designer di gioielli attendeva gli ospiti: gli inconfondibili gioielli di Marina Corazziari che col suo stile decisamente barocco con richiami all'art nouveau ha "vestito" le modelle adagiate su sedie e dormeuse realizzate da Fatti di Cartone (bellissima la lampada dai toni soffusi), Nicola del Vescovo che ha invece scelto per le sue creative e colorate volute le "teste fashion" e Rosa De Nicolo. Giunti presso lo spazio allegro e variegato di quest'ultima, proprio accanto alla pittrice Maria Luisa Antonelli, si sono improvvisamente concretizzate le tre indicazioni dantesche su ciò che è rimasto del paradiso, ovvero le stelle, i fiori e i bambini, dato che il suo bigliettino ce l'ha efficientemente consegnato (emozionato per la richiesta diretta) un  bambino meraviglioso.
©Pitian per Because The Style
Photocredits