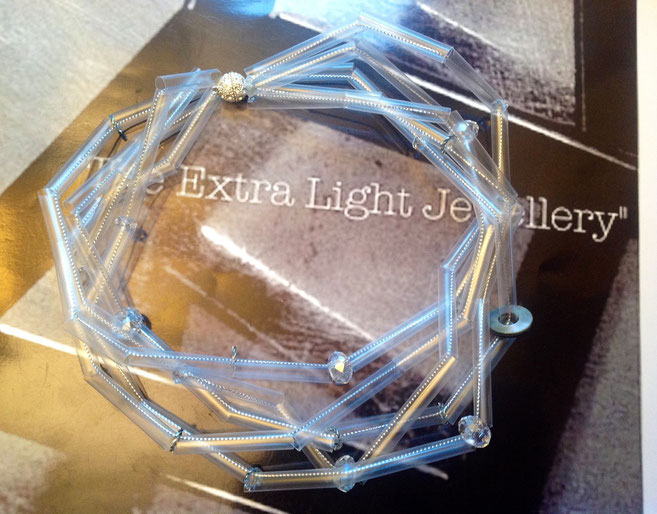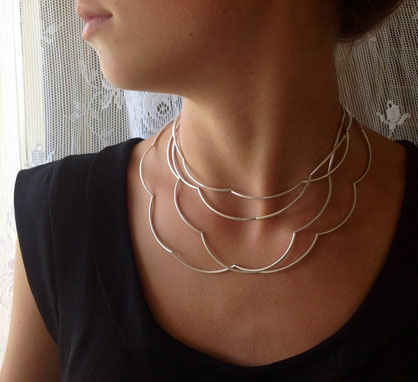 "They do some things, women, sometimes, there is the possibility to drop dead. You could spend a lifetime to lead off: but you wouldn't be able to have that lightness they have, sometimes. They are light inside. Inside. "
Alessandro Baricco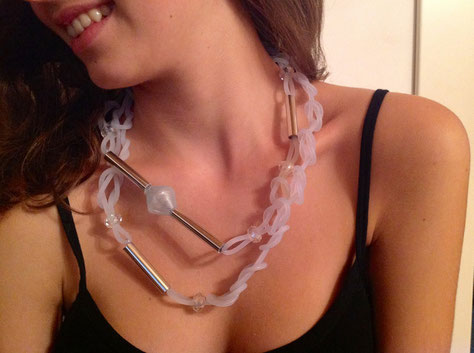 The ability to be light is the result of travels, by life's experiences of  a woman, mother, wife, professional, artist that intimately reworks everything in a creative perspective. The jewelery of Studio Line Bijoux are lightweight, handmade by Margherita Pettinato, designer who uses poor materials or considered waste or simply designed for a completely different use: she mix them skillfully and creates necklaces with a voluminous but very lightweight and really comfortable to wear effect.
You know, the light dares to go upwards, like the soap bubbles, towards directions you do not expect: likewise Studio Line Bijoux dares new combinations, focusing on the value of the idea rather than the real cost of materials, having always as a search engine the famous motto "less is more".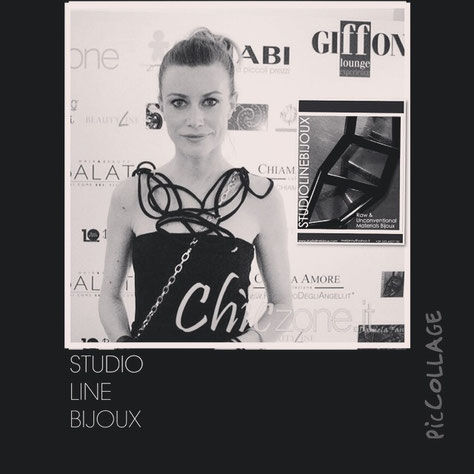 So a twine can well be flanked to Swarovski, entering the field of goldsmith's  and also going out to the hardware store, without the burden of having to answer to a conventional tought that too often keeps creativity in check.
If, in fact, could be considered rough the material used, it's certainly refined the thought that it consists in proposals of accessories always new, such as those ones proposed by Studio Line Bijoux  at the Giffoni Film Festival in July or at Macef 2013 or in the next days at the Fiera Homi of Milan (Hall 10 Stand H26).
The premium "The Best Bijoux" received and the shares on Facebook of photos of her jewelry on Vogue Accessory and Filosofia del Gioiello  (Jewel's Philosophy) can confirm the international breath of Margherita Pettinato's creations, accompanied by determination of those who don't surrender to banality and to trivialization to look for, to search, to study, to design new prospects. And perhaps  isn't this one the sense so pro-positive of being "designer"?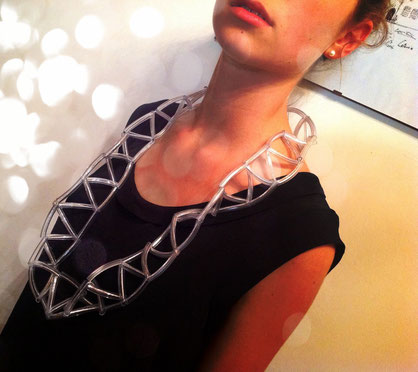 PERCHÉ È SOSTENIBILE LA LEGGEREZZA DEI BIJOUX
"Fanno delle cose, le donne, alle volte, che c'è da rimanerci secchi. Potresti passare una vita a provarci: ma non saresti capace di avere quella leggerezza che hanno loro, alle volte. Sono leggere dentro. Dentro".
Alessandro Baricco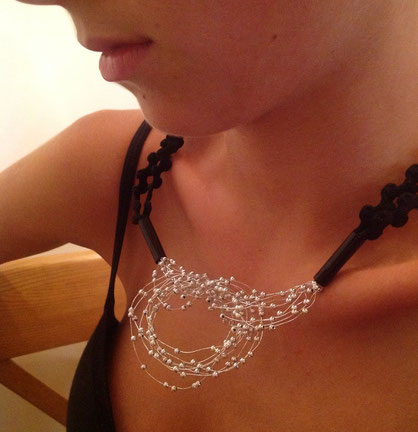 La capacità di essere leggeri è frutto di viaggi, di esperienze di vita di donna, madre, moglie, professionista, artista che intimamente rielabora tutto in ottica creativa. Sono leggeri i gioielli di Studio Line Bijoux, realizzati a mano da Margherita Pettinato, designer che utilizza materiali poveri o considerati di scarto o semplicemente concepiti per un uso completamente diverso: li mescola abilmente e dà vita a collane dall'effetto voluminoso ma leggerissime e davvero piacevoli da indossare.
Si sa, la leggerezza osa andare verso l'alto, come le bolle di sapone, verso direzioni che non t'aspetti: similmente Studio Line Bijoux osa connubi nuovi, puntando sul valore dell'idea piuttosto che sull'effettivo costo dei materiali, avendo sempre come motore di ricerca il famoso motto "less is more".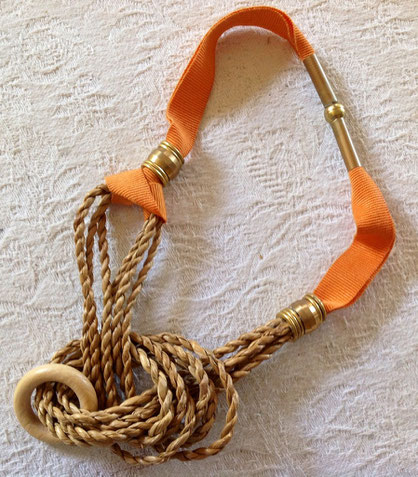 Allora uno spago può benissimo essere affiancato agli Swarovski, entrando nel campo dell'oreficeria e uscendo anche dalla ferramenta, senza il peso di dover rendere conto ad un pensiero convenzionale che troppo spesso tiene in scacco la creatività.
Se, infatti, potrebbe considerarsi grezzo il materiale utilizzato, sicuramente è raffinato il pensiero che lo compone in proposte di accessori sempre nuovi, come quelli dello Studio Line Bijoux al Giffoni Film Festival a luglio o al Macef 2013 o proprio nei prossimi giorni alla Fiera Homi di Milano (Padiglione 10 Stand H26).

Il premio ricevuto "The Best Bijoux" e le condivisioni su Facebook di foto dei suoi gioielli su Vogue Accessory e Filosofia del Gioiello non possono che confermare il respiro internazionale delle creazioni di Margherita Pettinato, accompagnato dalla ferma volontà di chi non si arrende alle banalità e alle banalizzazioni per cercare, ricercare, studiare, progettare nuove prospettive. E non è forse questo il senso più pro-positivo dell'essere "designer"?
©Pitian per Because The Style