---
Always in constant search of good taste tied to creativity and Italian craftsmanship, "Because The Style" arrives in Tuscany to learn about a promising young designer. Welcomes us with a smile Angela Colosimo, in a pleasant autumn morning, at her Office of Style in Pistoia. A professionist solar and dynamic "I love my job," she tells us "fashion has always fascinated me" and continues to do so through events and collaborations that take part with great enthusiasm every year. A passion cultivated through the Academy of Fashion but already experienced at an early age with her mother, learning through play, to combine garments and styles. 
---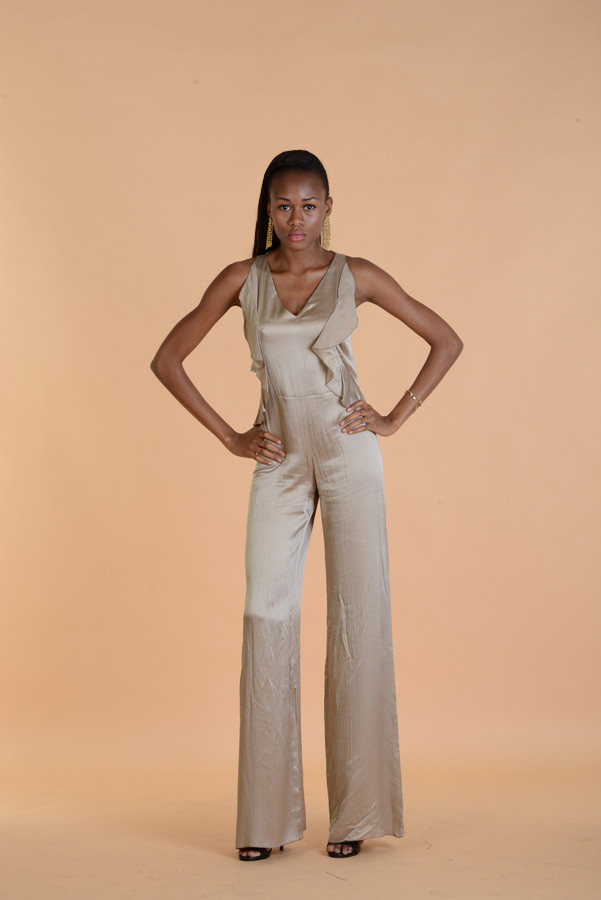 "I like design research where the colors and distant cultures blend,  art for me is a great source of inspiration, I am constantly fascinated by the beauty and nature that surrounds us.  Since high school the pencil has been the means by which I  better express myself, landscapes and portraits that in past I made now I express them in fashion, in a mix of cultural influences. "
---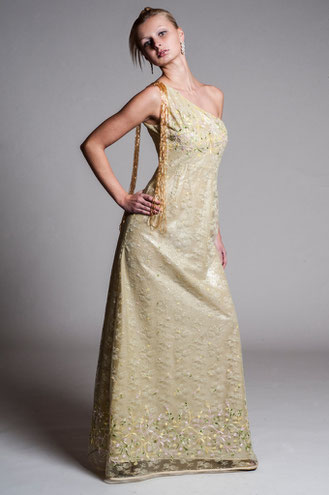 Sempre alla costante ricerca del buon gusto legato alla creatività e al lavoro artigianale italiano, "Because The Style" approda in Toscana per conoscere una giovane e promettente stilista. Ci accoglie con un sorriso Angela Colosimo, in una piacevole mattina autunnale, presso il suo Ufficio di Stile a Pistoia. Una professionista solare e dinamica "amo il mio lavoro" ci racconta "da sempre la moda mi ha affascinata" e continua a farlo attraverso gli eventi e le collaborazioni a cui, con molto entusiasmo, partecipa ogni anno. Una passione coltivata attraverso l'Accademia di Moda ma che già in tenera età sperimentava con la mamma, imparando attraverso il gioco ad abbinare capi e stili differenti. "Mi piace la ricerca stilistica dove colori e culture lontane si fondono, l'arte per me è una grande fonte ispiratrice, sono costantemente affascinata dal bello e dalla natura che ci circonda. Fin dal liceo la matita è stato il mezzo con cui mi esprimevo al meglio, i paesaggi e i ritratti che allora realizzavo ora li esprimo nella moda, in un mix di contaminazioni culturali".
---
The entire production designed by the designer is produced in Italy, with careful attention to detail as well as for the fabrics used: the silks are purchased in Como, while the other tissues in Prato. "Over time, I developed a real passion for old embroidery, I have done extensive research on the embroiderers and ancient techniques in Italy but also abroad." We ask to Angela Colosimo how a woman can enhance her style and, without hesitation, she explains that the patterns used to create industrial collections does not fully exploit the female line, regardless of size worn, every woman has her own physical and should be enhanced. This only happens with tailored suits with created patterns to measure. The designer creates no more than 500 pieces for each collection, in 2004, for example, the T-shirt realized ​​have not exceeded 100 pieces.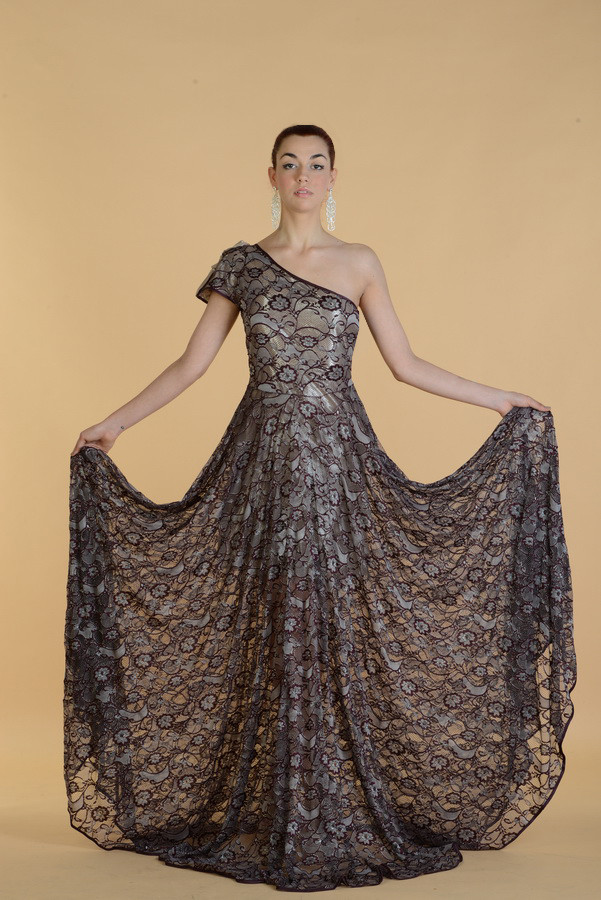 "The costs if you want to pursue the Made in Italy and craftsmanship, using quality fabrics, have high prices, so I prefer a niche line but produced giving the best buyers. " The quality has a major role on the quantity for the brand signed Angela Colosimo.
---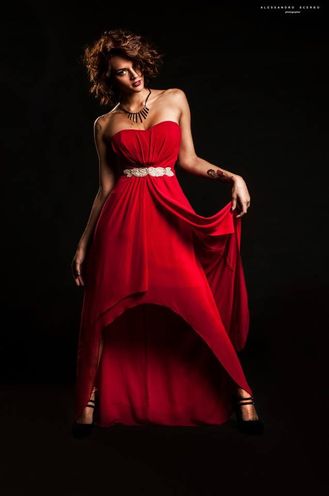 L'intera produzione disegnata dalla stilista è prodotta in Italia, con un'attenta cura oltre che per i dettagli anche per le stoffe utilizzate: le sete vengono acquistate a Como, mentre gli altri tessuti a Prato. "Nel tempo, ho sviluppato una vera e propria passione per i ricami antichi, ho fatto approfondite ricerche sulle ricamatrici e sulle antiche tecniche di lavorazione in Italia ma anche all'estero". Chiediamo ad Angela Colosimo in che modo una donna può valorizzare il proprio stile e, senza esitazione, ci spiega che i cartamodelli utilizzati per creare collezioni industriali non valorizzano appieno la linea femminile, indipendentemente dalla taglia indossata, ogni donna ha un proprio fisico che va valorizzato. Ciò avviene solo con abiti sartoriali creati con cartamodelli su misura. La stilista realizza non più di 500 pezzi per ogni collezione,  nel 2004, ad esempio, le T-shirt realizzate non hanno superato i 100 pezzi ."I costi se si vuole perseguire il Made in Italy e l'artigianalità, utilizzando stoffe di qualità, hanno prezzi elevati, quindi preferisco una linea di nicchia ma prodotta dando il meglio agli acquirenti". La qualità ha un ruolo predominante sulla quantità per il brand firmato Angela Colosimo. 
---
Intense activity in the field of fashion that involves at 360 ° the designer, has been engaged as a teacher in many academies including that of Brera, design consultant for abroad with a prevalence of demand from the American sector, study of trends but not only, in fact, Angela Colosimo is also very present in numerous competitions and events, as well as collaborating with artists in the domain of song and film. In the spring of 2014, she participated as a costume designer in the feature film "I bambini hanno fame "( Kids are hungry ) directed by Luca Fortino, taking care of the costumes of Anna Falchi starred with Denny Quinn. A film project in the humanitarian branch, with the aim of helping children around the world, just like the title says, die of hunger or for reasons related to it.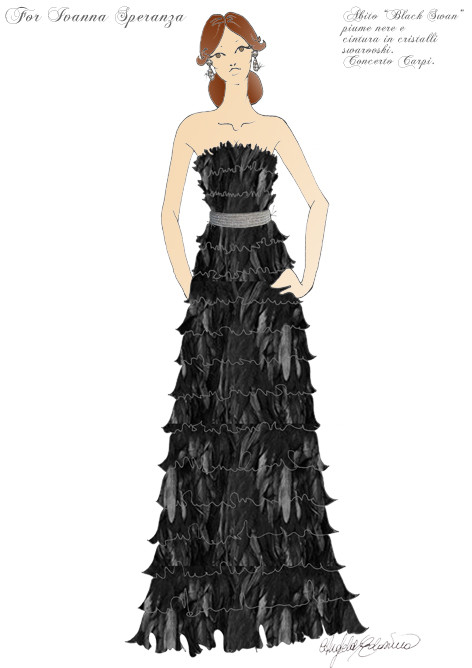 "With great pleasure I have also taken care of the clothes from the scene in the field of music, ranging from soprano Ivanna Speranza to those of some dj disco. Interesting projects because I had to make clothes that would fit the scenic functions of the respective artists, going from dresses with boning for the coveted lyric to others that would allow the DJ to dance. An immense creative force that is matched by my passion for the creation and production of clothes. "
---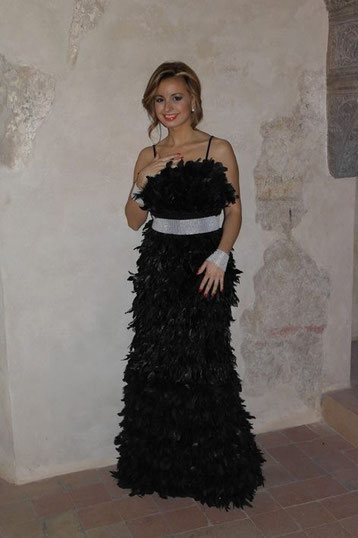 Un'intensa attività nel campo della moda che coinvolge a 360° la stilista, è stata impegnata come docente in numerose accademie tra cui quella di Brera, consulente di design per l'estero con una prevalenza di domanda dal settore americano, studio di tendenze ma non solo, infatti, Angela Colosimo è molto presente anche in numerosi concorsi ed eventi, oltre a collaborare con artisti nel campo del canto e del cinema. Nella primavera del 2014 ha partecipato come costumista al lungometraggio "I bambini hanno fame" diretto dal regista Luca Fortino, curando gli abiti di scena di Anna Falchi protagonista insieme a Denny Quinn. Un progetto cinematografico in ambito umanitario con lo scopo di aiutare i bambini che nel mondo, proprio come dice il titolo, muoiono per la fame o per cause ad essa legate. "Con molto piacere ho curato anche gli abiti da scena nel campo della musica, spaziando dalla soprano Ivanna Speranza a quelli di alcune dj da discoteca. Progetti interessanti in quanto ho dovuto realizzare abiti che si adattassero alle funzioni sceniche delle rispettive artiste, passando da abiti con stecche per l'ambito lirico ad altri che permettessero alle dj di poter ballare. Un'immensa carica creativa che si unisce alla mia passione per la realizzazione e produzione di abiti".
---
"Participating in events and fairs in the fashion industry, as "Cool Hunter Italy Trade Show", it is essential to have a comparison with the other stylistic reality and artisanal of our country. I like people like you to "Because The Style", focuses on Italian excellence and young talents. In the career luck comes only after the commitment and skills acquired in the field. I recently participated as jury member in Montecatini, the singing contest "Festival golden voices" remained entranced by the extension voice and great talent in the race.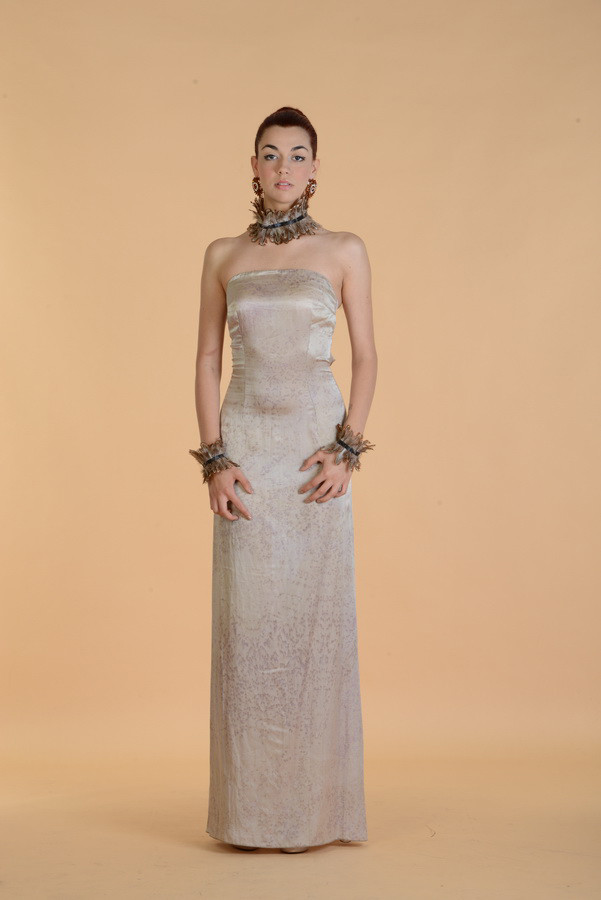 A talent inherited from her mother, to Angela Colosimo, and which has already sent to her daughter, involving in the construction of models for dolls "but not only" she tells us in a voice full of joy in this small talk "after exiting the kindergarten we paint tissues together. My daughter is very creative, as it has been the entire period of pregnancy, the memory I have is a bond between us already very strong, we were one thing. Childbirth then gave me a strong inner awareness and a greater confidence in myself. It is nice to be able to appeal to women by telling them that pregnancy is a unique moment, nature has only given us women the opportunity to experience this privilege. "
Let Pistoia with great satisfaction for having had the pleasure of meeting a woman actively to pursue the style, that typical Italian, for which our country is known abroad.
---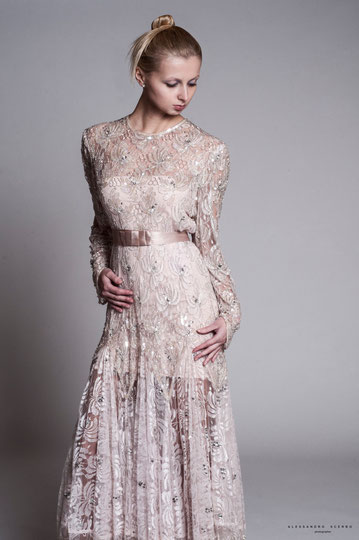 "Partecipare ad eventi e fiere del settore moda, come "Cool Hunter Italy Trade Show", è fondamentale per avere un confronto con le altre realtà stilistiche ed artigianali del nostro paese. Mi piace chi come voi di "Because The Style", punta sulle eccellenze italiane e sui giovani talenti. Nella carriera la fortuna viene solo dopo l'impegno e le competenze acquisite sul campo. Recentemente ho partecipato come giurata, a Montecatini, al concorso canoro "Festival voci d'oro" rimanendo estasiata dall'estensione vocale e dai grandi talenti in gara". Un talento ereditato dalla mamma, quello di Angela Colosimo, e che ha già trasmesso alla figlia coinvolgendola nella realizzazione di modellini per le bambole "ma non solo" ci racconta con voce piena di gioia in questa chiaccherata "dopo l'uscita dalla scuola dell'infanzia dipingiamo insieme i tessuti. La mia bimba è molto creativa, come lo è stato tutto il periodo della gravidanza, il ricordo che ho è di un legame tra di noi già molto forte, eravamo una cosa sola. Il parto poi mi ha dato una forte consapevolezza interiore e una maggiore fiducia in me stessa. E' bello potersi rivolgere alle donne dicendo loro che la gravidanza è un momento unico, la natura ha dato solo a noi donne la possibilità di vivere questo privilegio."
Lasciamo Pistoia con estrema soddisfazione per aver avuto il piacere di conoscere una donna impegnata attivamente a perseguire lo stile, quello tipico italiano, per cui il nostro Paese è conosciuto all'estero.
---
©Barbara per Because The Style
Photocredits
Luca Grasso 
Sharing is caring ! 
---