---
Things do not happen by accident, I am strongly convinced. In fact, while flipping through the fashion for children of the next fall/winter collection 2014, imagining to dress my little scamp with sweaters knitted with thick braids and decorated with pom pom, drawn from the eclectic Stella McCartney, the eye rests on the near page and my mood has a jolt. In the past two months it was a bit like riding a roller coaster, one day yes and the other also.
Le cose non accadono per caso, ne sono fortemente convinta. Infatti, mentre sfogliavo la moda per bimbi della prossima collezione autunno/inverno 2014, immaginando di vestire la mia piccola monella con i maglioni lavorati a grosse trecce e decorati con i pom pom, disegnati dall'eclettica Stella McCartney, l'occhio si posa sulla pagina accanto e il mio stato d'animo ha un sussulto. In questi ultimi due mesi è stato un po' come andare sulle montagne russe, un giorno si e l'altro anche.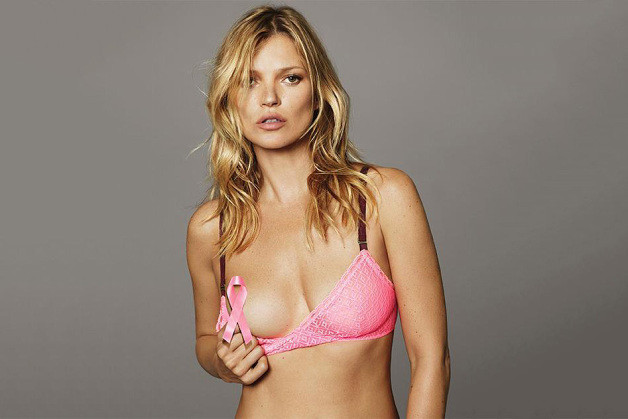 ---
Kate and Stella are best friends, and is just at the model that the designer has asked to interprete the complete for the special edition collection of lingerie "Gemma Relaxing" which is associated with the awareness campaign for the prevention of breast cancer. A punch in the stomach for those who were involved, a disease that has taken off at Stella McCartney the affection of her mother Linda and to which now she has dedicated to Liverpool a center for the treatment of this disease and to the families of patients.
Kate e Stella sono amiche, ed è proprio alla modella che la stilista ha chiesto di interpretare il completo per l'edizione speciale della collezione di lingerie "Gemma Relaxing" a cui è associata la campagna di sensibilizzazione per la prevenzione del cancro al seno. Un pugno allo stomaco per chi ne è stato coinvolto, una malattia che ha tolto a Stella Mc Cartney l'affetto della mamma Linda e alla quale ora ha dedicato a Liverpool un centro per la cura di questa malattia e ai familiari delle pazienti. 

---
"If I had known then, what I know today about breast cancer, I think my mum would still be alive and I don't think there is anything more important than having your loved ones in your lives for as long as possible" she tells " I wanted to remind women that when they wear this set, the first thing they put on in the morning, to keep on top of their health and visit their doctor regularly. I wanted it to be the initial starting point of awareness of this terrible illness. Not only does the set serve as a healthy reminder, but it looks great, fits incredible well, and is comfortable and stylish."
"Se avessi saputo allora quello che so oggi sul cancro al seno, penso che mia madre sarebbe ancora viva. Non credo ci sia nulla di più importante che avere accanto i propri cari il più a lungo possibile" racconta "volevo ricordare alle donne che quando indossano questo completo la mattina devono mettere la salute al primo posto e farsi controllare regolarmente dal medico. Desideravo che fosse il punto di partenza per sensibilizzarle su questa terribile malattia. Non funge solamente da monito per la salute, ma è anche uno splendido completo confortevole ed elegante, che si adatta perfettamente al corpo".

---
Fortunately, just at the beginning of October, the month for the prevention of breast cancer, were concluded all my fears and anxieties.
"No therapy! No intervention!" were the first words to those who stood by me during this time. I don't normally do outing on personal matters, but paths like this leave you their mark, resize to you the daily. After all seems downward. Just I go out from the hallway of the top floor of the hospital, which by now (alas) I knew how my pockets, I walked the stairs running, like if I was flying with joy, but inside me I  carried the faces of those who still several times should have go up those stairs.
Positivity, sharing, smiles and lots of pink, just like the full lingerie worn by Kate Mosse, highlight of the new collection, is the one that should NEVER be lacking in these situations. We women have an innate strength that sometimes not even know we have, it is often only hidden. It's up to us to pull it out, with grit and if you need it with fingernails, better lacquered though!
Fortunatamente proprio all'inizio di ottobre, mese per la prevenzione del tumore al seno, si sono conclusi tutti i miei timori ed ansie.
"Nessuna terapia! Nessun intervento!" sono state le prime parole a chi mi è stato vicino in questo periodo. Non sono solita fare outing su vicende personali ma percorsi come questi ti segnano, ridimensionandoti il quotidiano. Dopo tutto sembra in discesa. Appena uscita dal corridoio dell'ultimo piano dell' ospedale, che ormai (ahimè) conoscevo come le mie tasche, ho percorso le scale di corsa, quasi volavo dalla gioia ma dentro di me portavo i volti di chi ancora diverse volte avrebbe dovuto risalire quei gradini.
Positività, condivisione, sorrisi e tanto rosa, proprio come il completo di lingerie indossato da Kate Mosse, pezzo forte della nuova collezione, è quello che non deve MAI mancare in queste situazioni. Noi donne abbiamo una forza innata che talvolta neanche sappiamo di avere, spesso è solo nascosta. Sta a noi a tirarla fuori, con grinta e se serve con le unghie, meglio laccate però! 
©Barbara per Because The Style

Photocredits
Sharing is caring !
---