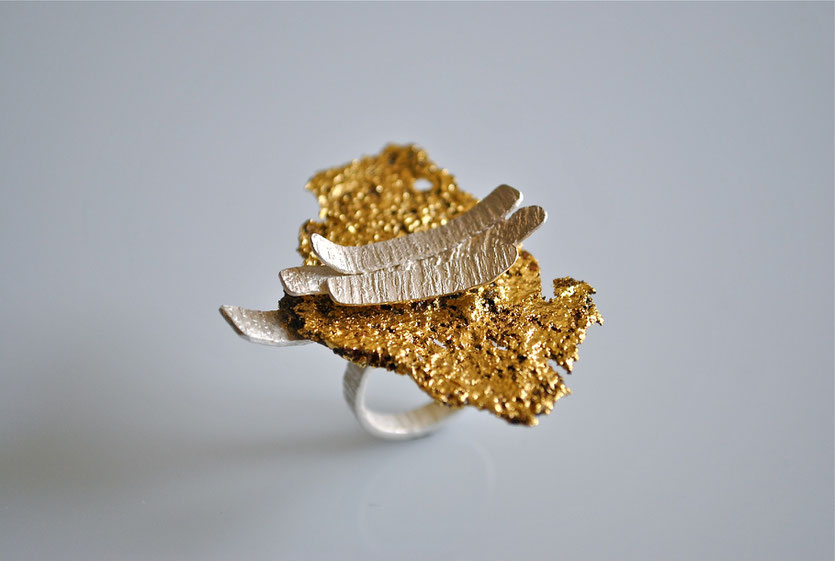 The word "chirurgo" (in English it means "surgeon") is derived from the Greek "cheir-urgòs", which allude to the word "hand" not only in the sense of "to treat disease" but also in the more ancient meaning of "taking over", "taking possession of": Alessia Mocavero, goldsmith and artist, was born as a veterinary surgeon.
The professional skill inherent in his being precisely surgeon is millimeter and passionately applied to metals but, this time, metals aren't healing's instrument but artistic communication, always in search of inspiration, with her "hands ready to take over" new techniques and materials.

PERCHÉ UN GIOIELLO
È COME UN COLPO DI FULMINE

La parola "chirurgo" deriva dal greco "cheir-urgòs", in cui si cita la parola "mano" non solo nel senso di "curare le malattie" ma anche nel significato ancora più antico di "mano che prende", che "s'impadronisce": Alessia Mocavero, orafa-artista, nasce come medico veterinario.
L'abilità professionale insita nel suo essere appunto chirurgo viene applicata passionalmente ma millimetricamente ai metalli, questa volta strumento non di guarigione ma di comunicazione artistica, sempre alla ricerca d'ispirazione, con le sue "mani pronte ad impadronirsi" di tecniche e materiali nuovi.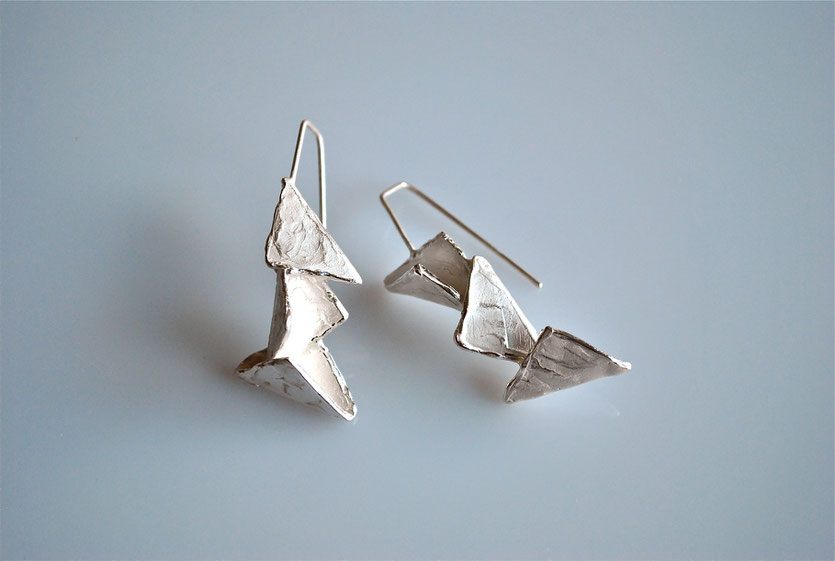 There's no room for affectation: curves and regularly imperfect geometries open us to a world hung in the balance between nature and mystery of denser Oriental sense and the contemporary most clean and essential Western.
Rings and necklaces open themselves like thousand Zen bowls to the world to accept its meaning, giving an impression of elegance not fleeting that creates unique and sometimes a bit extravagant pieces, but certainly fascinating experiment.
Non c'è spazio per i vezzi: curve e geometrie puntualmente imperfette ci aprono ad un mondo in bilico tra la natura e il mistero, tra l'Oriente più denso di senso al design contemporaneo occidentale più pulito ed essenziale.
Anelli e collane si aprono come mille ciotole zen al mondo, per accoglierne il senso, restituendo un'impressione di eleganza non fugace che dà vita a pezzi unici e talvolta un po' stravaganti, ma di sicuro fascino sperimentale.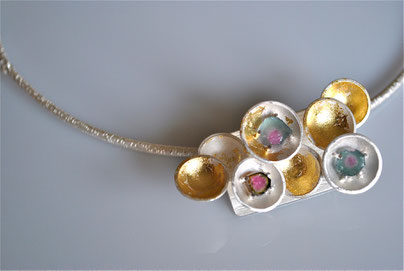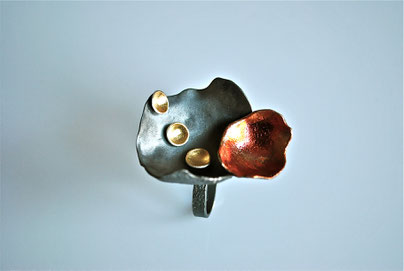 Because a jewel is "love at first sight", "an artwork to be exhibited on me, for me, it's able to excite me and take me to that feeling as long as I wear that jewel". "Surely who wear my jewel is wearing a living thing, a part of my heart, a unique moment. With my jewelry, I wish persons can live the same feeling that I lived in the time of creation".
Jewels that challenge, mimicking nature's complexity, climb on the body, creep, capture, recall, bewitch.
They love.

Perché un gioiello è "un colpo di fulmine", "un'opera d'arte da esporre su di me, per me, capace di farmi emozionare e di farmi accompagnare da quell'emozione finché indosso quel gioiello": "sicuramente chi indossa un mio gioiello indossa un oggetto vivo, una parte del mio cuore, un momento unico. Con i miei gioielli vorrei far vivere quell'emozione che io ho vissuto nel momento della creazione".
Gioielli che sfidano, imitano la complessità della natura, s'arrampicano sul corpo, s'insinuano, catturano, richiamano, ammaliano. Amano.