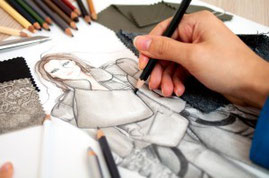 Let's stop for a moment. In a world such as the fashion one, so wrapped and twisted by swirl of lights, fabrics and designs, you can meet someone in whose eyes you can see the desire to create, operate, act, bring to life ideas and dreams. A slender yet strong woman, energetic, with a resolute voice: she aims for the top and certainly she isn't satisfied with a dream imagined, I thought. She's one that takes them, shakes them and carries them out, there's no alternative. And if she meets eyes like her ones, she opens the doors of her Academy and gave them possibility to realize, immediately.

PERCHÉ I SOGNI DI VICTORIA RESTANO


Fermiamoci un attimo. In un mondo come quello della moda avvolto e stravolto dal turbinio di luci, tessuti e disegni capita di incontrare qualcuno nei cui occhi vedi il desiderio di creare, operare, agire, far vivere idee e sogni. Una donna esile eppure forte ed energica, voce determinata: è una che mira in alto e che sicuramente non si accontenta dei sogni immaginati, pensai. È una che li prende, li scuote e li realizza, non c'è alternativa. E se incontra sguardi simili al suo apre le porte della sua Accademia e glieli fa realizzare lì, subito, non devono sfuggire.

A few days ago, the School of Fashion and Design Victoria Academy of Bari has lost its Director, Vittoria (Victoria) Tripolini, but it has her it bears, her purpose and her vocation.
In this way I knew her: behind his desk, his squeeze ideas, ready to race in the world with a warm reassuringly smile. She and her ideas never stop. Never.

La Scuola di moda e design Victoria Academy di Bari ha perduto pochi giorni fa la sua Direttrice, Vittoria Tripolini, di cui porta il nome, il fine e la vocazione.
Così l'ho conosciuta: dietro la sua scrivania, le sue idee strizzate e pronte a correre nel mondo ed un caldo sorriso rassicurante. Mai ferma, lei e le sue idee. Mai.

© Pitian per Because The Style
Photocredits
Sharing is caring!