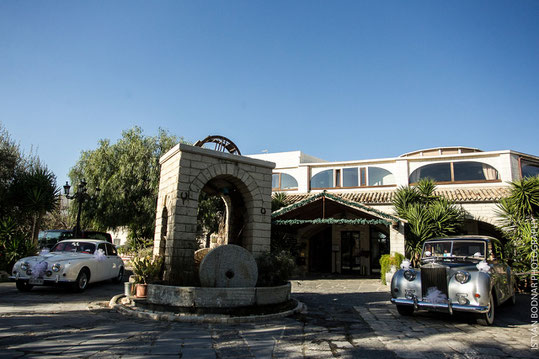 Telling the truth, it's strange to see a fresh separated man dressed as a bridegroom, as he admitted on his own, but with Rocco Pietrantonio (co-presenter with Rosaria Di Napoli), we don't want to fall in the easy gossip but to witness it was really the added value of the evening. In a glamorous frame in the typical architectonic style of the Apulian hamlets of UNA Hotel Regina in Bari, Open Day Sposi (Bride and Bridegroom) took place, organized by Apulia Stars, in cooperation with Jrc Events (wedding contact person Josefine Ruospo): no crowding and in a warm and flowering atmosphere (lights and decorations of L'Orchidea by Nicola and Carmela Parisi) the creations of the designers followed, well supported by  Michela Parisi's hairstyle, wavy and creatively uncombed and (for men) by  Beniamino Cafaro, flawless and never unfit; Tania Mansueto at make-up.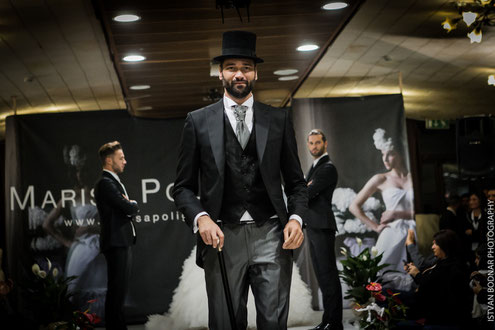 In effetti è strano vedere vestito da sposo un uomo che da poco si è separato, come lui stesso ha ammesso, ma con Rocco Pietrantonio (co-presentatore assieme a Rosaria Di Napoli) non vogliamo cadere nel facile gossip quanto piuttosto testimoniare che è stato davvero il valore aggiunto della serata. In una splendida cornice in stile architettonico tipico dei borghi pugliesi di UNA Hotel Regina di Bari, si è svolto l'Open Day Sposi, organizzato da Apulia Stars, in collaborazione con Jrc Eventi: senza affollamento e in un'atmosfera calda e fiorata (dalle luci agli addobbi di L'Orchidea di Nicola e Carmela Parisi) si sono susseguite le creazioni degli stilisti, ben supportate dalle acconciature di Michela Parisi, ondulate e creativamente spettinate, e (per gli uomini) di Beniamino Cafaro, impeccabili e mai improprie; Tania Mansueto al make up.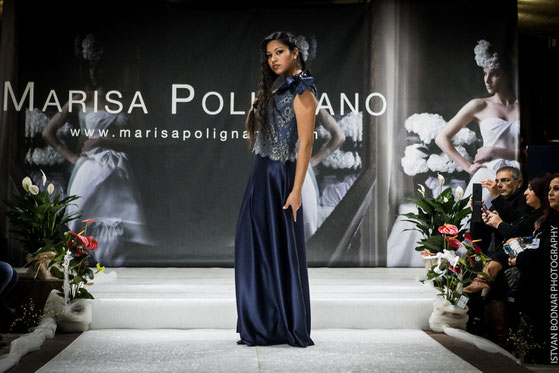 EOS taylor's shop proposes a joy of incisive colours, with silk, laces, chiffon which recall the forties, fifties: dresses apparently easy which play on the vagueness and on the movement of the tissues.
How to fill better the momentary absence of the models for the changing of dresses unless with a not screamed song? Francesca Gramegna and her group was able to mount dresses in a pleasant and not invasive musical context, supporting the skill of the Brasilian dancer of Joao Claudio de Andrade whose excentric colours and masterful movements introduces the bride dresses of Marisa Polignano.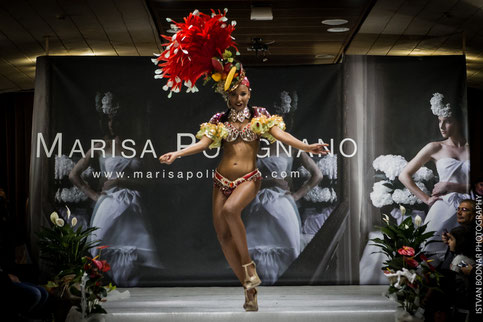 La sartoria EOS propone un tripudio di colori incisivi, con sete, pizzi, chiffon che richiamano gli anni '40-'50: abiti apparentemente semplici che giocano sull'impalpabilità e sul movimento dei tessuti.
Come riempire meglio l'assenza momentanea delle modelle per il cambio abiti se non con una canzone non urlata? Francesca Gramegna col suo gruppo è riuscita ad incastonare gli abiti in un contesto musicale piacevole e non invadente, sostenendo la bravura della ballerina brasiliana di Joao Claudio de Andrade, i cui colori eccentrici e movenze da maestra hanno introdotto gli abiti da sposa di Marisa Polignano.

Variety, dictated by the crossing desire to unfall in absurdities and "to be ready to everything".
Very chic the idea of a linear smock as a basic part of the dress. A shame that some model wore those nice but very inappropriate coloured cotton bracelets.

Varietà, dettata dal desiderio incrociato di non cadere nelle assurdità e di "essere pronta a tutto".
Molto chic l'idea di una blusa lineare come parte integrante dell'abito. Peccato che qualche modella indossasse quei simpatici ma alquanto inopportuni braccialetti di cotone molto colorati.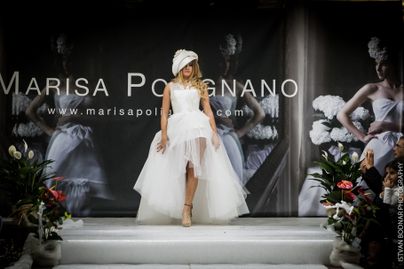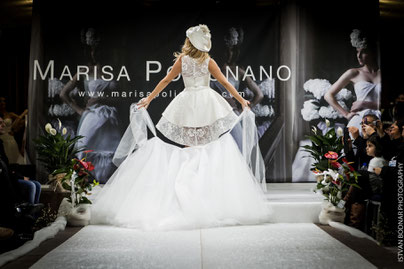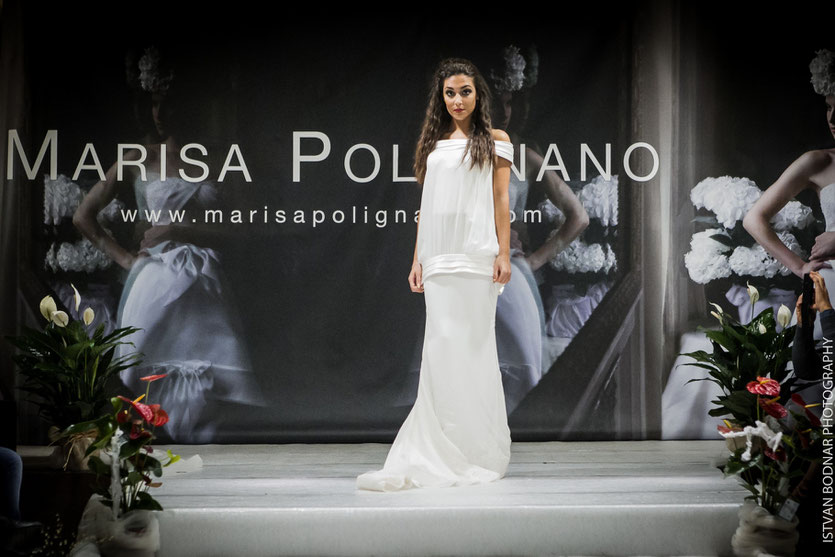 Let's talk about the dresses we appreciate the most: Dettagli sartoriali (Taylor Details), with which Alessandro Cristiantelli and Antonio Indivieri gave male bon ton lessons, showing how a waistcoat could make the difference and how a damask might be fair. Everything made in Italy, tissues too. Well-proportioned revers. Italian or French or diplomat collar: the perfect necktie is matched at once, without doubts or uncertainties.

Giungiamo agli abiti che maggiormente abbiamo apprezzato: Dettagli Sartoriali, con cui Alessandro Cristiantelli e Antonio Indivieri hanno impartito lezioni di bon ton maschile, mostrando come un gilet possa fare la differenza e come un damascato possa essere discreto. Tutto made in Italy, anche i tessuti. Revers ben proporzionati. Colletto italiano o francese o diplomatico: la cravatta perfetta l'abbinano all'istante, senza dubbi o incertezze.

Fashion show surrounded by little stands: Libere Espressioni by Benedetto Mucciarone, Redavid gifts, the famous Folletto's representatives (Marino Poli, Raffaele Colacicco), JRC Events with Antonella Carbonara and Antonella Tricase Antart and the agency Apulia Stars. The unavoidable cars to rent by Raffaele Chiarelli. With the choreography committed to Arianna Tagliente, we propose Istvan Bodnar's photos, arrived for the first time in Italy, qualified just in wedding photographic services "not posing" and afferent to The Artistic Guild of the WPJA. Last quoted but first at the appearance, the painter Nunzio Poli, with his evoking acrylic landscapes.
We don't use to list all the attendees in a so closing way, but this time we did it to show that Honoré de Balzac was right: "Marriage is a science".

Passerella attorniata da micro stand di Benedetto Mucciarone Libere Espressioni, Redavid Regali, gli agenti della nota Foletto (Marino Poli, Raffaele Colacicco), JRC Eventi con Antonella Carbonara e Antonella Tricase Antart e l'agenzia Apulia Stars. Immancabili le auto da noleggiare di Raffaele Chiarelli.
Con la coreografia affidata ad Arianna Tagliente, vi proponiamo le foto di Istvan Bodnar, giunto per la prima volta in Italia, specializzato proprio in servizi fotografici matrimoniali "non in posa" ed afferente a The Artistic Guild of the WPJA.
Ultimo citato, ma primo all'ingresso, il pittore Nunzio Poli, con i suoi paesaggi acrilici evocativi.
Non usiamo elencare tutti i partecipanti in maniera così serrata ma questa volta l'abbiamo fatto per dimostrare che Honoré de Balzac aveva ragione: "Il matrimonio è una scienza".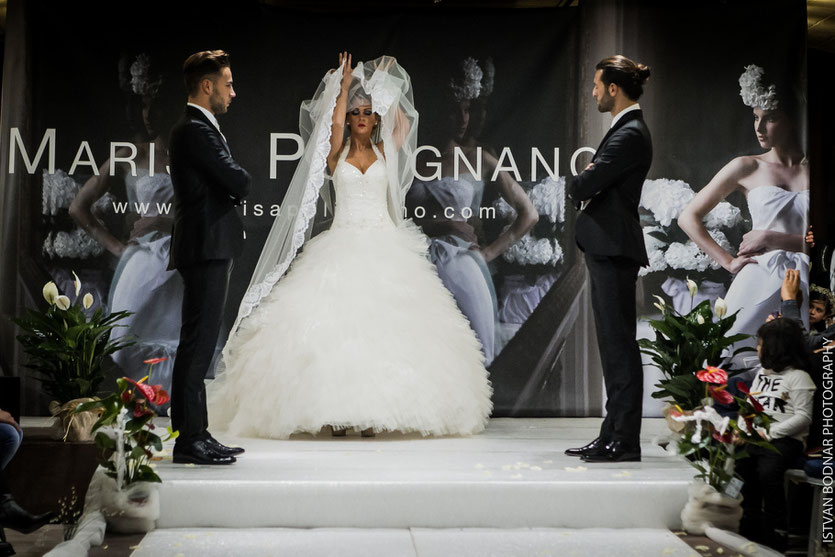 Photocredits
Sharing is caring!