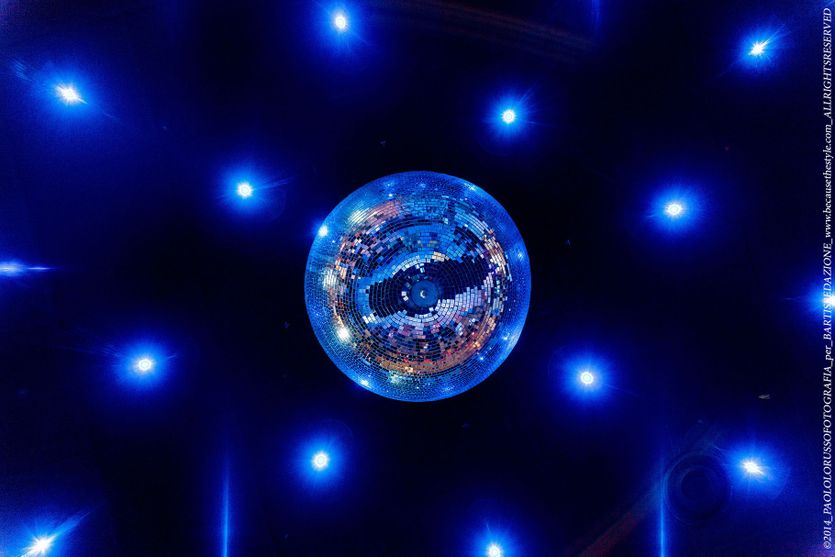 Confusion Fashion Party. Actually there was a lot of confusion, in repeated black-outs and many imperfections. It's easy to shoot on Red Cross without keeping in charge that the event has been organized in a thousand of difficulties and glitches from youth to youth.
We try to see this "confusion" as a "con-fusion" with many styles, many youth motions, even if sometimes shrill, naives or bizarre. Because to be young means even this.

PERCHÉ ESSERE GIOVANI
SIGNIFICA ANCHE CONFUSIONE

Confusion Fashion Party. Di confusione in effetti c'è ne è stata un bel po', tra ripetuti black-out e varie imperfezioni. Facile sparare sulla croce rossa senza tener conto che l'evento è stato organizzato tra mille difficoltà e imprevisti da giovani per i giovani.
Cerchiamo invece di interpretare quella "confusione" come una "con-fusione" di vari stili, di varie istanze giovanili, seppur talvolta stridenti o ingenue o bizzarre. Perché essere giovani significa anche questo.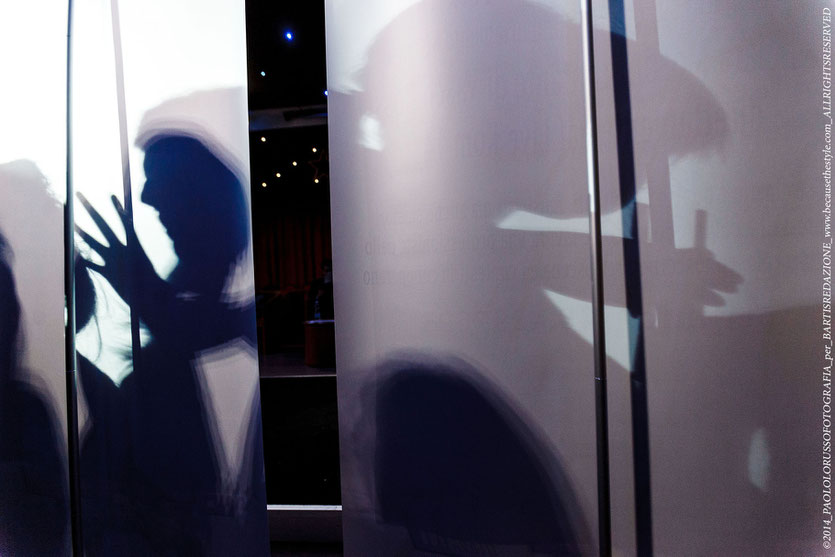 And now let's see how at VVER of Trani, Apulia, Peter De Cillis and Daniela Caressa proposed and let's support the young keen people who are trying to arise in the indifference of the most.

E allora vediamo cosa ci hanno proposto al VVER di Trani, in Puglia, Peter De Cillis e Daniela Caressa e sosteniamo i giovani volenterosi che cercano di emergere nell'indifferenza di molti.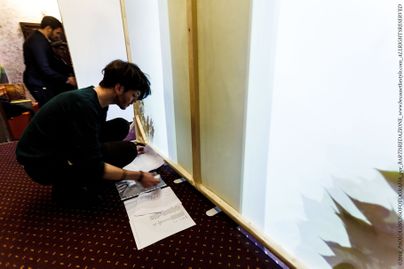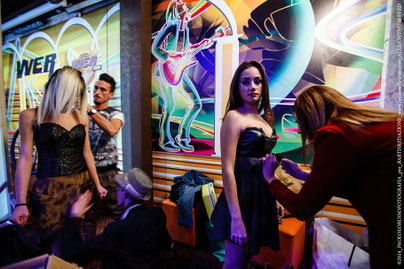 Annalisa Paris proposes ceremony and party dresses which wink eyes to fifties and sixties, wrapping bodies with silk chiffon and belt with Swarovski embroidery, for a Romantic collection which count on haute couture of Italian tissues.
Alessia Romanazzi, with a little Botticelli's echoes, introduced us in a world made of sweetness and without improvisation.

Annalisa Paris propone abiti da cerimonia e da sera che strizzano l'occhio agli anni '50 e '60, avvolgendo i corpi con chiffon di seta e cinture con ricami in Swarovski, per una collezione romantica che punta all'haute couture dai tessuti italiani.
Alessia Romanazzi, dagli echi un po' botticelliani, ci ha introdotto in un mondo fatto di delicatezza e privo di improvvisazione.

Interesting Excamotage's proposals: aggressive but at the same time soft, this collection is loosened in skin inserts, fringes and very trendy vinyl accessories by Reloaded. Let's keep an eye on it!
After an interposing of Golden Point underwear, the event goes on with Maison Costura (already known and we wrote about it before) which embraces and unify without hesitation avant garde and "old elegant style", promoting the vision of "a woman dressed as a woman".
A cudgel of life with Luirose: awaken by the underground we are projected in an all apulian reality, searching new ideas to propose with strength and determination.

Interessanti le proposte di Excamotage: aggressiva ma al contempo morbida, questa collezione si snoda tra inserti in pelle, frange e accessori molto trendy in vinile di Reloaded. Da tenere sott'occhio.
Dopo un intercalare dell'intimo di Golden Point, la serata procede con Maison Costura (già conosciuta e di cui abbiamo scritto precedentemente) che abbraccia ed unisce senza esitare avanguardia e "vecchio stile elegante", promuovendo la visione di una "donna vestita da donna".
Randellata di vita con Luirose: risvegliati dall'underground, ci troviamo proiettati in una realtà tutta pugliese alla ricerca di idee innovative da proporre con forza e determinazione.

Gioacchino Gentile, introduced a day wear of easy dressing which combines in an unusual way fur and soft felt with contrasting colours.
Let's arrive to Domenico Carriero, one of our favorites in the evening, who, projecting us in Alice's world, looks for a queen in every woman, even if combative, out of stereotypes.

Gioacchino Gentile ha presentato un day wear dalla buona vestibilità che accosta in maniera inusuale panno lenci e pelliccia, con colori a contrasto.
Giungiamo quindi a Domenico Carriero, fra i nostri preferiti della serata, che, proiettandoci nel mondo di Alice, ricerca una regina in ogni donna, seppur bellicosa, al di fuori degli stereotipi.

If the make-up was curated by Ischia spa and the hairdressing by Club Donna, the fashion show took advantage even of the bizarre and theatrical exhibition of Double Art: three little shows which illustrated that to give a touch of eccentricity means "distinction".
Space to violin and lamp (with light too!) on head and to techno tissues or curtains or upper or laces and cady. A constant search of something new at all costs. Probably as The Double Arts, Japanese manga, they want to try to save someone not from the sickness narrated in the comic strip but from the univocal and methodical visions which permeate the daily life.

Se il trucco è stato curato da Ischia spa e le acconciature da Club Donna, il défilé si è avvalso anche dell'esibizione teatrale e bizzarra dei Double Art: tre micro show hanno mostrato che dare un tocco eccentrico significa "distinzione".
Spazio a violino e lampada (corredata anche di luce!) in testa e a tessuti tecnologici o tendaggi o tomaia o merletti e cady. Ricerca costante di qualcosa di nuovo, a tutti i costi.
Forse come i Double Arts, manga giapponese, vogliono cercare di salvare qualcuno non dalla malattia raccontata nel fumetto, ma dalle visioni univoche e abitudinarie che pervadono la quotidianità.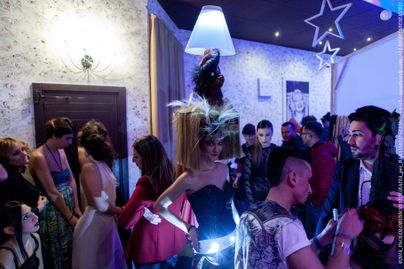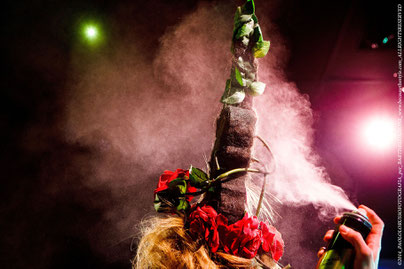 An event, so, which was a confusion and fusion with incitements, ideas, origins of young stylists who clearly have to grow up yet but who won't consider easily defeated because on their side they have the characteristics which surfaced the best in this soiree: joy and enthusiasm to do this job.

Un evento, quindi, che è stata una confusione e con-fusione di stimoli, idee, matrici di giovani stilisti che chiaramente devono ancora crescere ma che non si daranno per vinti facilmente perché dalla loro parte hanno le caratteristiche che maggiormente sono affiorate in questa serata: la gioia e l'entusiasmo di fare questo lavoro.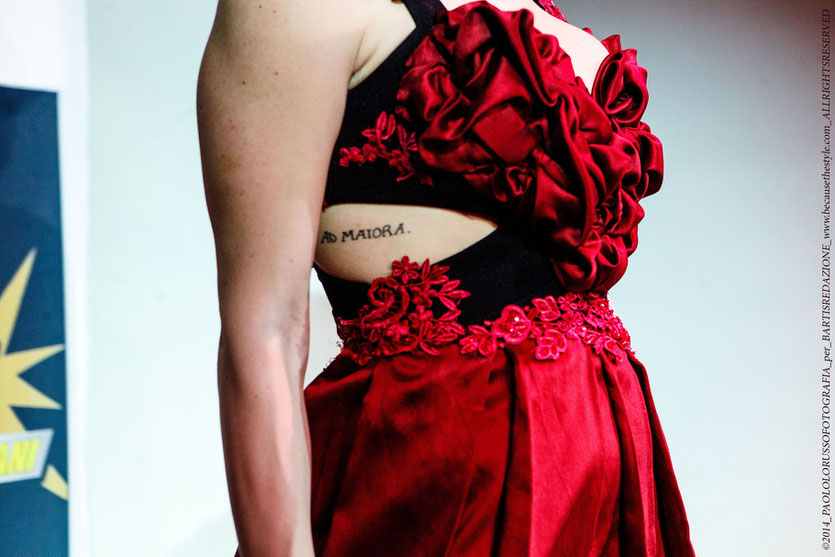 ©Pitian per Because The Style

Photocredits
Sharing is caring!