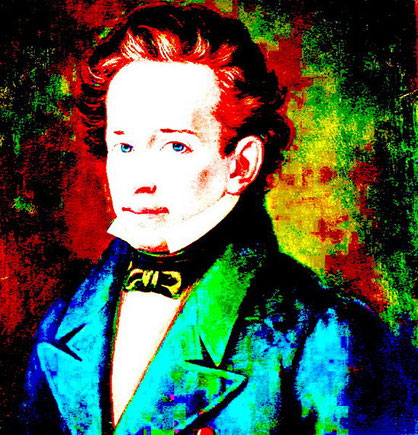 PERCHÉ LEOPARDI È SEMPRE GIOVANE E FAVOLOSO
Джaкомо Лэопарди. Один фильм, однà страница и две группы фэисбук изображивают его всё больше молодого и сказочного.

Leopardi Style. It is clearer and clearer: he is one of the greatest XIX century Italian poet and thinker, but in spite of the chronological time which divides us from his earthly life, this figure goes on well firm in the memory and young among young takes advantage of social to spread his thinking.
Since a few years Facebook hosts two crowded groups of enthusiasts founded by an appreciated scholar from Veneto, professor Loretta Marcon, author among her other essays, of "Giallo a Napoli" ("A  mystery in Naples") a research about the last period of earthly life of the poet from Marche.
A page dedicated to Giacomo Leopardi daily enriched by various thoughts and quotations counts more than 40,000 likes always on Facebook nicknamed "Voltotomo" by the master of the page in the shoes of Leopardi.

Leopardi Style. Ormai è evidente ancora di più: è un grandissimo poeta e pensatore italiano dell'800 ma, malgrado il tempo cronologico che ci divide dalla sua vita terrena,  la sua  figura continua a restare ben ferma nella memoria e giovane tra i giovani si avvale dei social per diffondere il suo pensiero.
Già da alcuni anni Facebook ospita due affollati gruppi di appassionati fondati da un'apprezzata studiosa veneta, la prof.ssa Loretta Marcon, autrice, tra gli altri saggi, di "Giallo a Napoli", ricerca sull'ultimo periodo di vita terrena del poeta marchigiano.
Una pagina dedicata a Giacomo Leopardi arricchita ogni giorno di pensieri e citazioni varie che conta più di 40.000 likes su Facebook, soprannominato "Voltotomo" dal gestore della pagina nei panni del poeta.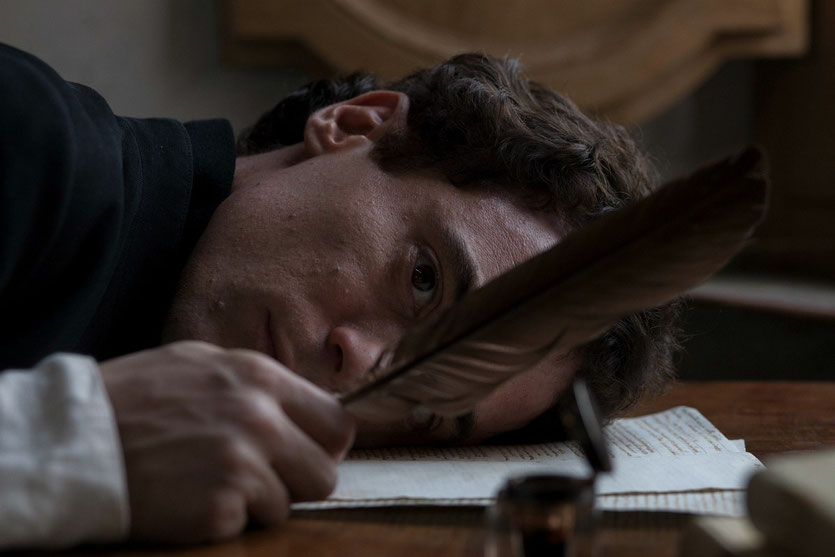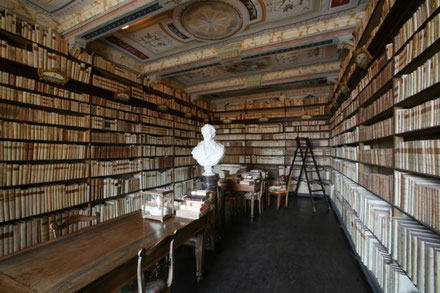 Another mark of Leopardi's fabulous eternal youth is given by the good success of Mario Martone's film "Leopardi, the young fabulous", played by Elio Germano. Even if very seen the film aroused endless debates by who wished certain poems or episodes eluded by the Neapolitan director.
Some disapprovals are bizarre: a fellow on the web upon the expression "Everything else is boredom", ignoring that in this way young Giacomo wrote to his friend Pietro Giordani, believed  that Califano's celebrate song has been on the contrary the inspirational spring while others hedged on the lopsided posture assumed by Germano in order to show the increasing Leopardi's illness.
As a Leopardi enthusiast I waited for a film on the poet from Recanati practically all my life and even noticing unavoidable lacks due to the necessity to not delay the duration of a film to infinity I accepted the director's choices.
Hearing Giacomo talking with words written by Giacomo, watching him moving, feeling, suffering under Germano's pretences who disappears as a man and as an actor to embody his character is an experience which goes beyond every cold and detached comment.
The not canonical duration (137 minutes) does not cause boredoms to those who are hungry of Leopardi. The places, the garments, the thinking of a writer who was able to be beyond his century passes time and space.
And sinking is sweet to me.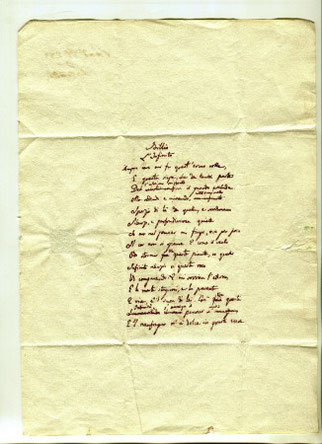 Un altro segno della favolosa eterna giovinezza di Leopardi è dato dal buon successo del film di Mario Martone "Il giovane favoloso", interpretato da Elio Germano. Pur molto visto, il film ha destato polemiche infinite da chi si aspettava determinate poesie o episodi elusi dal regista napoletano. Curiose alcune critiche: qualcuno sul web, ripensando alla frase "Tutto il resto è noia", ignorando che così scriveva il giovane Giacomo all'amico Pietro Giordani, ha creduto che la fonte ispiratrice sia stata al contrario la celebrata canzone di Califano e altri hanno nicchiato sulla postura sbilenca assunta da Germano per mostrare l'aggravarsi della malattia di Leopardi.
Da leopardiana praticamente da sempre, aspettavo un film sul poeta recanatese e, pur rilevando delle inevitabili carenze dovute alla  necessità di non protrarre la durata di una pellicola all'infinito, ho accettato le scelte del regista.
Sentir parlare Giacomo con le parole scritte da Giacomo, vederlo muovere, sentire, soffrire sotto le spoglie di Germano che scompare come persona e attore per incarnarsi  nel suo personaggio è un'esperienza che supera ogni commento freddo e distaccato.
La durata poco canonica (137 minuti) non crea noie a chi ha fame di Leopardi. I luoghi, gli abiti, il pensiero di uno scrittore che seppe essere oltre il suo secolo supera spazio e tempo.
E il naufragar è dolce.

©Francesca Barile per Because The Style
Photocredits
Sharing is caring!