PERCHÉ OGNUNO SCEGLIE IL SUO MOOD

Джовинаццо, Энная морская красотà из которых Апулия (Италия) всё большe располагает. Здесь есть площадь в форме трапеции, монументальный  фонтан, порт, древний  кафé и маленький магазин шик.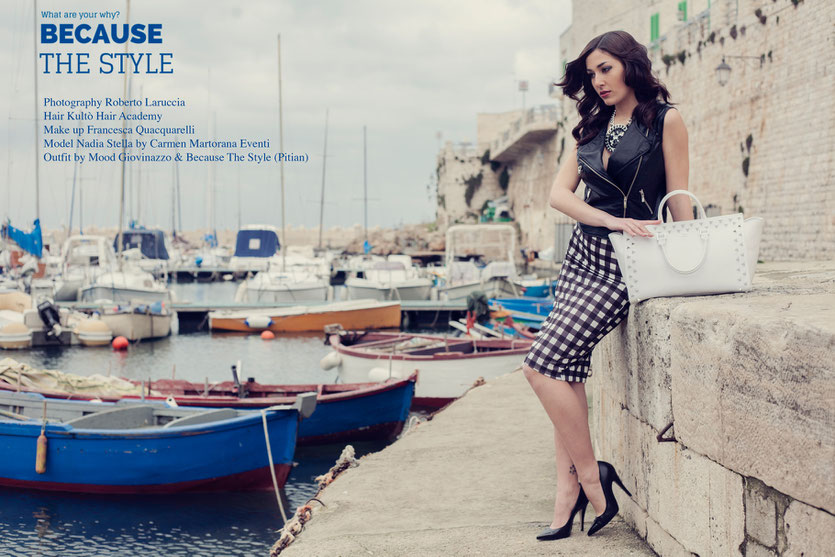 Each of us has got some special places connected to memories. Place which suddenly and without asking you the allowance connect you to a piece of yours and to your unique personal history. Weather is starting to be  springy, outside it isn't raining and finally the almost astral circumstance of the different family engagements allows you to meet old friends, with the clear intention to recall some friendly-historical-ritual. Air is fresh but not cold, you go outside: Giovinazzo, the nth sea pearl which the more and more longed Apulia has at its disposal.

Ognuno di noi ha dei luoghi speciali legati a ricordi. Luoghi che immediatamente e senza chiederti il permesso ti connettono ad un pezzo di te e della tua irripetibile storia personale. Il tempo che inizia ad essere primaverile, fuori non piove e finalmente la congiuntura quasi "astrale" dei vari impegni familiari e lavorativi ti permette di incontrare vecchi amici, con la chiara intenzione di ripercorrere qualche "rituale storico amicale".
L'aria è fresca ma non fredda, si va fuori: Giovinazzo (BA), l'ennesima perla marina di cui la sempre più ambita Puglia dispone.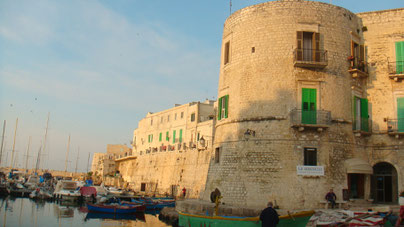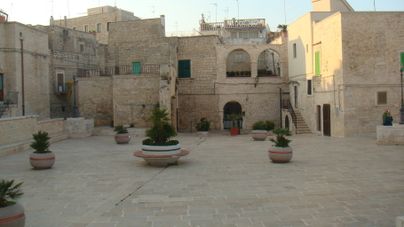 It comes out through a little road straight to Vittorio Emanuele Square, of the typical trapezoid-shape with this big monumental fountain of the tritons in the middle, masterpiece and meeting place purpose-made, built by Tommaso Piscitelli in1933. The ceremony starts and you realize that ten years later nothing is changed.

Si sbuca attraverso una stradina direttamente in Piazza Vittorio Emanuele II,  dalla caratteristica forma trapezoidale, con questa grande fontana monumentale dei tritoni al centro, opera d'arte e d'incontri ad arte, costruita da Tommaso Piscitelli nel 1933. Inizia il rito e ti accorgi che dieci anni dopo non è cambiato nulla.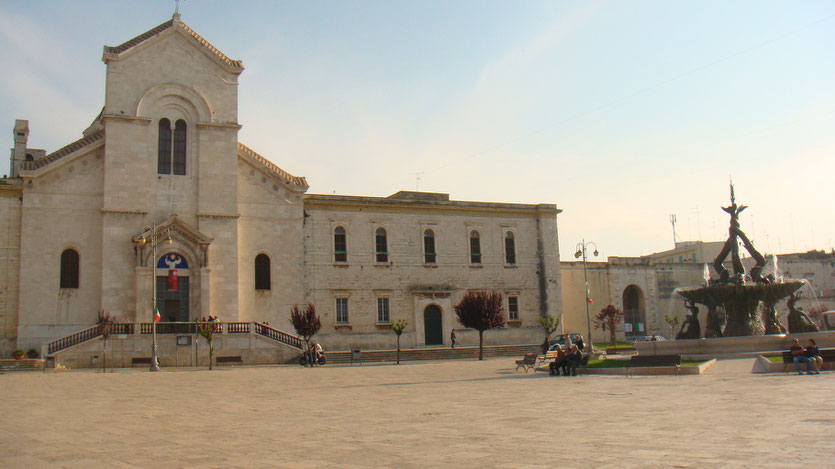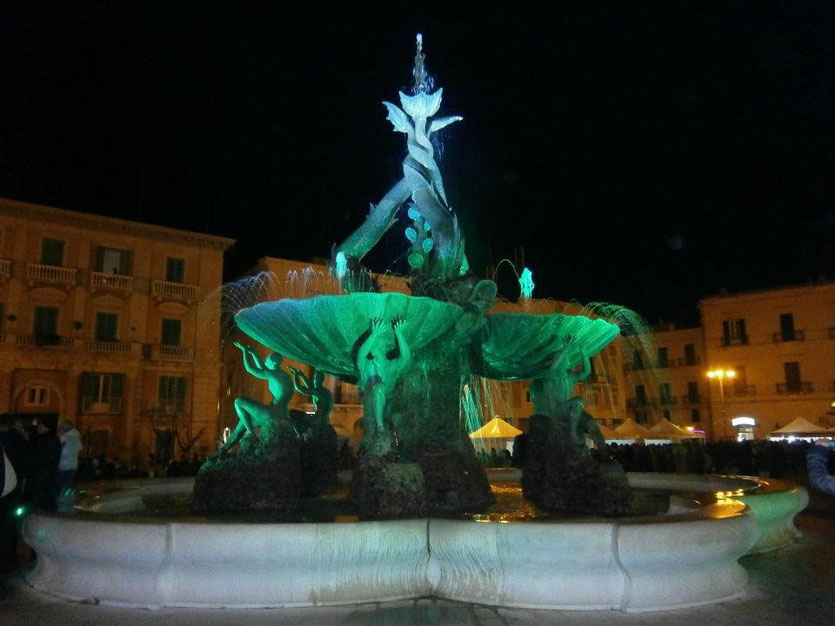 First step: waiting for some friends. Because life divides us and we come from many points. But the one who arrives later generally is already in the area.

Prima tappa: aspettare qualche amico. Perché la vita ci divide e veniamo da vari punti. Ma chi arriva più tardi è solitamente chi si trova già in zona.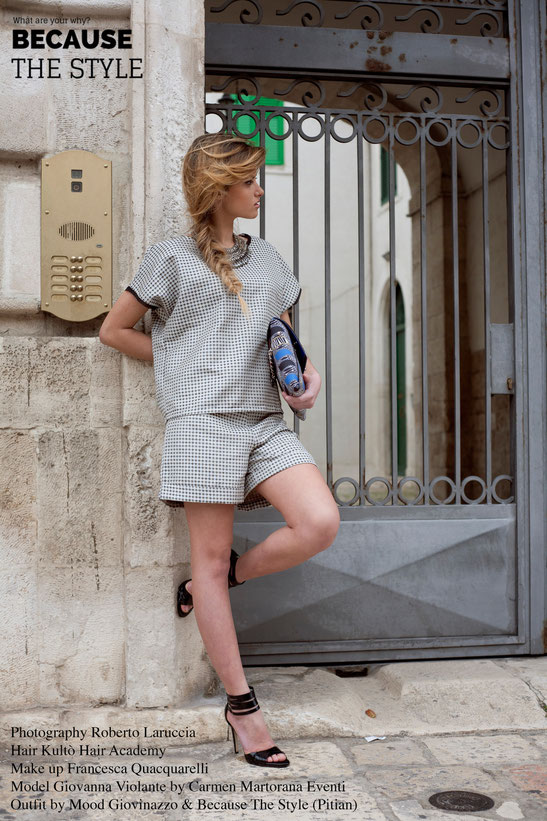 Second step: traditional coffee where the crȇpesinfully springs with a bit of handmade ice-cream in what it couldn't be the "Vecchio Caffè".

Seconda tappa: tradizionale caffè dove scatta peccaminosamente la crȇpe con un po' di gelato artigianale in quello che non può che essere il "Vecchio Caffè".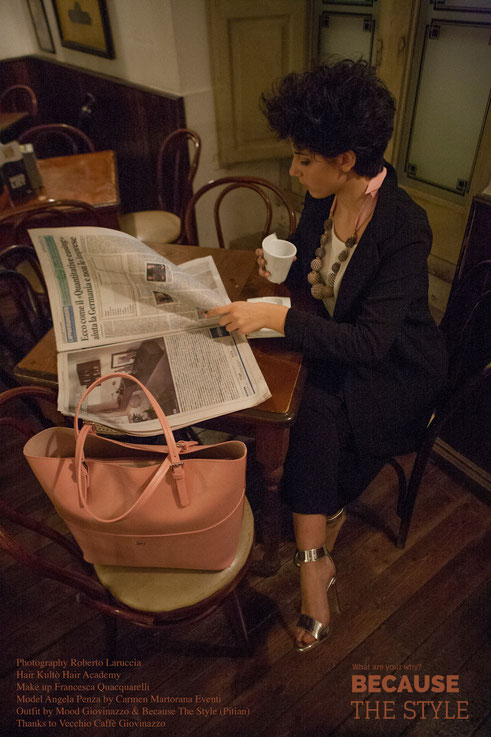 Third step: unavoidable stroll next to the sea.

Terza tappa: immancabile passeggiata vicino al mare.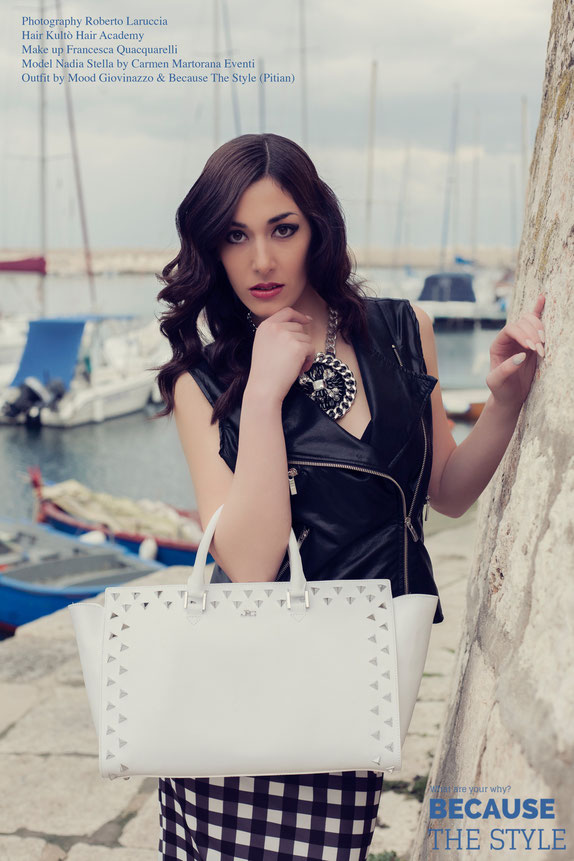 We cannot summarize years in few minutes but a stroke of luck can make reclaim you some old healthy habit and exactly while you are coming back in order to fetch the car, your eye falls on a little and very chic shop. One of those that  suddenly carry you in an atmosphere of friendliness and good taste to which you cannot stand. And it's there set near the square, two young women receive with their "Mood": Alessandra and Victoria.
The stroke of luck is associated to the love at first sight. An idea is springing: shooting. The friendly steps travelled through again with the swell models of Carmen Martorana Eventi and the proposals of Mood and Because the Style.
Homo faber habitus sui (Man builds his own look/style).

Non si possono riassumere gli anni in pochi minuti ma un colpo di fortuna può farti riprendere qualche vecchia sana abitudine e proprio mentre si ritorna a prendere l'auto l'occhio cade su un piccolo ma chicchissimo negozio. Di quelli che ti trasportano improvvisamente in un'atmosfera di cordialità e buon gusto a cui non puoi resistere. Ed è lì, incastonato vicino alla piazza; ad accogliere col loro "Mood" due giovani donne, Alessandra e Victoria.
Il colpo di fortuna si associa al colpo di fulmine. Scattano lo shopping e l'idea: shooting. Gli step amicali ripercorsi con le bellissime modelle della Carmen Martorana Eventi e le proposte di Mood e di Because The Style.
Homo faber habitus sui.

Outfit
Nadia indossa:
chiodo smanicato Dejamy
longuette Dejamy
décolleté Maylea
borsa J&C
collana Mamo Bijoux
Giovanna indossa:
completo Lou Lou London
sandali Lorenzo Mari
collana Mamo bijoux
pochette Ohmai
Angela indossa:
camicia Dejamy
gonna pantalone Dejamy
blazer Lou Lou London
sandali Lorenzo Mari
collana Sodini Bijoux
borsa J&C

Photocredits & Collaborations
Mind & Body Relax by Francesca Quacquarelli