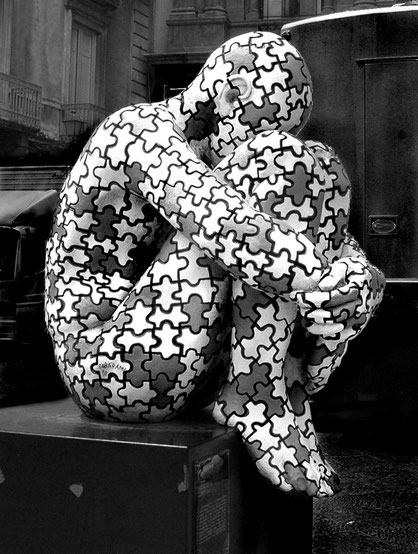 PERCHÉ UN TRATTINO
PUÒ UNIRE DUE VITE
Бикac Дэ Стаил прeдставливает новый бренд "мэд ин Итали",Трэнд Юнён Рози Дэ Кандии: свежие красочные платья, шик отличающийся детaльями пошивочной мастерской и ремесленные поставки комбинированные цитатами вуинтаж.
"Hearing everything in every way,
Living everything from every side,
Being the same thing in every possible way at the same time
Achieving in oneself the whole mankind
in one only moment scattered, lavished, far and entire".
F. Pessoa

"Sentire tutto in tutte le maniere,
vivere tutto da tutti i lati,
essere la stessa cosa in tutti i modi possibili allo stesso tempo
realizzare in sé tutta l'umanità di tutti i momenti
in un solo momento diffuso, profuso, completo e distante".
F. Pessoa
In this way poetry can spring: from a soul who works as an employee in an import-export firm (to be correct foreign correspondant in commercial firms), as the great Fernando Pessoa. In this way beauty can spring behind the codes on a lawyer desk, with the light of a switched PC, among papers which probably aren't related at all with fashion. But there is a dash, a "trait-d'union" which connect two lives that go on in a parallel way.
With the name of a flower, spring knocks to the mail, introducing itself with garments (in the true sense of the word) of the colours, of the freshness and even a bit of irreverence, notwithstanding some vintage quotation, which instead gives a touch of preciousness (with sometimes nostalgic tips)that never hurts.

Così può nascere la poesia: da un animo che lavora come impiegato in una ditta di import-export (per l'esattezza "corrispondente straniero in imprese commerciali"), come il grandissimo Fernando Pessoa. Così può nascere anche la bellezza: dietro ai codici sulla scrivania di avvocato, con la luce di un pc acceso, fra carte che magari non c'entrano assolutamente nulla con la moda. Però c'è quel "trattino", quel "trait d'union" che unisce le due vite che scorrono apparentemente in modo parallelo.
Col nome di un fiore, bussa alla mail la primavera, presentandosi con le vesti (nel vero senso della parola) dei colori, della freschezza e anche un po' della irriverenza, nonostante qualche citazione vintage che anzi conferisce quel tocco di ricercatezza (con punte talvolta nostalgiche), che non fa mai male.

Among silk brocade dusters, embroidered and hand painted organdy dresses, quality cloths and or signed by famous names (with which achieving a nice pet dress for the one who is a member of the family with full rights even if with four paws), blouse chic, sartorial details and handmade finishing, Rosa De Candia  works and her Trend Union brand (made in Italy in spite of the name).
Always looking for vintage models to visit again with modern cloths and details, the stylist doesn't disdain the usage even almost striking of paillettes in strong colours, using as Swarovski as plastic raffia to decorate the proposed garments.
Aim: to meet the target of Every woman who loves herself and love loving herself but with a touch of carefreedness which adds that sparkling  and  user-adjustable quid which gives the collections a good measure of care and cheerfulness.

Tra spolverini in broccato di seta, abiti in organza ricamati e dipinti a mano, tessuti di qualità e/o firmati da grandi nomi (con cui realizzare anche un simpatico pet dress a colei che fa parte della famiglia a pieno titolo, seppur con quattro zampe), bluse chic, dettagli sartoriali e finiture artigianali, si muove Rosa De Candia col suo Trend Union, brand che nonostante il nome è "Made in Italy".
Sempre alla ricerca di modelli vintage da rivisitare con tessuti e particolari moderni, la stylist non disdegna l'uso anche piuttosto appariscente di paillettes in colori forti, utilizzando tanto gli Swarovski quanto la rafia in plastica per decorare i capi proposti.
Obiettivo: andare incontro a tutte le donne che si amano ed amano amarsi ma con quel tocco di spensieratezza che aggiunge quel quid frizzante e personalizzabile che rende le collezioni tanto curate quanto briose.


Photocredits

Sharing is caring!