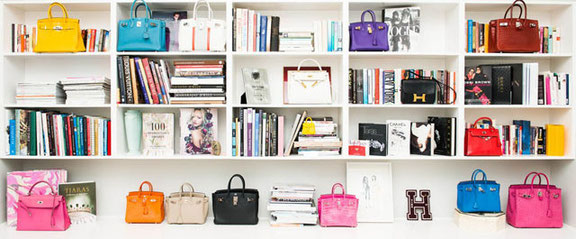 PERCHÉ DIRE:
"È SOLO UNA BORSA"
Зачем сказать: Это только сумка
Poor that husband who has the bad idea to show this article to his wife, unleashing the irrepressible desire to own a bag. What? A "bag"? It's a milestone in the history of female costume, a shining beacon in the horizon of the accessory. The bag comes in many different and unusual forms, it's the new jewel for women! Sorry for those ones can only dream of owning one. Why?

Впечатляюшая в стоимости но заманчивое в сиянях сумка  зданная англиским деизайнером с 345 алмазами Кристоферим Шеллисим. "Пустяк" золотой и алмазами которая стоит 180.000 Эвро. Точно сумка для покупать продукты.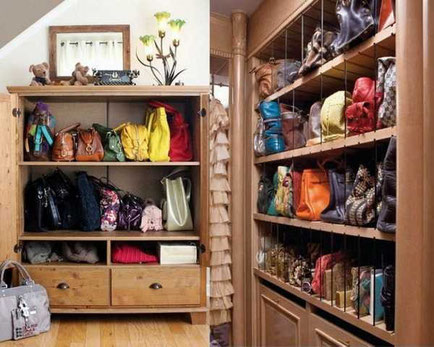 Povero quel marito che dovesse trovarsi nell'insano gesto di mostrare questo articolo alla propria moglie scatenando l'insopprimibile desiderio di possedere una borsa.
Ma che dico una borsa? Una pietra miliare nella storia del costume femminile, un faro luminoso nell'orizzonte dell'accessorio, la borsa si presenta nelle forme più disparate ed insolite, il nuovo gioiello di cui nessuna donna può fare a meno! Peccato che la maggior parte di esse potrà solo sognare di possedere una. Perché?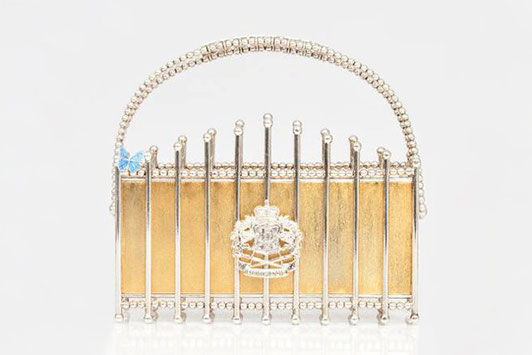 Shocking in cost but persuasive in the glow, the bag is created, with 345 diamonds, by the British designer Christopher Shellis. This bag is a "trifle" in gold and diamonds from the cost of € 180,000. Exactly a shopping bag!
The British artist has decided to build this cadeau de mariage with the intention of evoking the gates of the Queen's House, the Buckingham Palace, and reiterated, without false modesty, that it was not created for "ragged" but for rich ladies....when they go to the grocery store. A noble and selfless act that demolishes any unequal rank and wealth. But the added value is the guarantee of 1000 years. Exactly! For 10 centuries the bag will be paid back in case you casually forget it in the church after the morning prayer or at the hairdresser's salon. You cannot think of storing giant wallet or jingling keychain. Only a phone can stay in this bag at best. So, lovers of diamonds be on alert: if you want the forgiveness for a dinner by candlelight with the secretary or the discovery of a complete intimate too succinct for the shapes of your wife, bought the Royal Bag and all your sins will be forgiven. Remember D'Annunzio: "Semper adamas".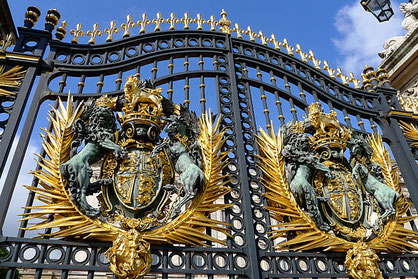 Sconvolgente nel costo ma suadente nei bagliori la borsa creata, con 345 diamanti, dal designer inglese Christopher Shellis. Una "inezia" in oro e diamanti dal costo di (udite! udite!) 180.000 euro.  Esattamente una shopping bag!
L'artista inglese ha voluto realizzare questo cadeau de mariage con l'intento di evocare i cancelli della Queen's House, il Buckingam Palace, e ha ribadito, senza falsa modestia, che non è stata creata per le "straccione" bensì per le ricche signore quando vanno....al fruttivendolo. Un nobile gesto altruista e che demolisce ogni disparità di ceto e di censo. Ma la conditio utile all'acquisto, il valore aggiunto necessario è la garanzia di 1000 anni. Esatto! Per 10 secoli,  per 200 lustri la borsa vi sarà ripagata in caso l'abbandoniate distrattamente in chiesa dopo le lodi mattutine o dal parrucchiere. Non pensiate di riporvi mastodontici portafogli o tintinnanti portachiavi. No! Ci entra al massimo un cellulare. Quindi, amanti dei diamanti, allertatevi: se volete farvi perdonare una cena a lume di candela con la segretaria o la scoperta di un completo intimo troppo succinto per le forme di vostra moglie, acquistate the Royal Bag e tutte le vostre colpe vi saranno perdonate. Ricordate il buon D'Annunzio: "Semper adamas".