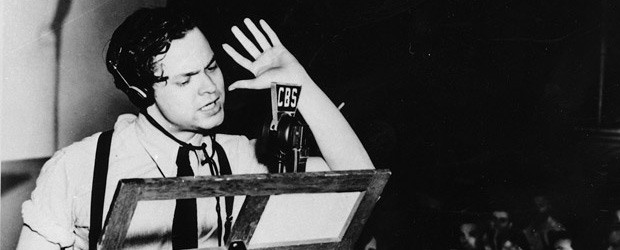 PERCHÉ ORSON WELLES DOPO CENTO ANNI È SEMPRE COOL
ПОЧЕМУ' ОРСОН ВУЕЛС ПОСЛЕ СТА ЛЕТ ВСЕГДА' КУЛ

6th May 1915: World doesn't know it yet but in that day which anticipates a couple of weeks Italy's entrance in First world  war a genius sees light: Orson Welles.
Born in the United States, Orson Welles with his shattering figure and his undisputed brilliance worked everywhere and among his workmates includes our prince of laughing Totò his rival  in the film "The man, the beast and the virtue" from the homonym work of Luigi Pirandello.
Welles's first great success is on the radio: putting on a radio fiction from H. G. Wells's novel "The War of  the Worlds", young Orson (we are in 1938 and the actor is 23 years old only) is so realistic in his performance to cause a panic wave in the whole nation.
Refined shakespearean performer, Welles takes on screens a faithful version of Macbeth (1948) in which he obliged players to employ Scottish accent except for finding that his movie was cut and dubbed again totally because of disagreements with the house of production.

6 maggio 1915. Il mondo ancora non lo sa ma in quel giorno che anticipa di un paio di settimane l'entrata nella prima guerra  mondiale dell'Italia vede la luce un genio: Orson Welles.
Nato negli Stati Uniti, Orson Welles con la sua dirompente figura e la sua indiscussa genialità ha lavorato ovunque e fra i suoi partner annovera nientemeno che il nostro principe della risata Totò, suo antagonista nel film "L'uomo, la bestia, la virtù" tratto dall'omonimo lavoro di Luigi Pirandello.
Il primo grande successo di Welles è alla radio: inscenando una radio fiction tratta dal romanzo di H. G. Wells "La guerra dei mondi" il giovane Orson (siamo nel 1938 e l'attore ha appena ventitré anni) è talmente realistico nella sua rappresentazione da scatenare un'ondata di panico in tutta la nazione.
Raffinato interprete shakespeariano, Welles porta sugli schermi una fedele versione del Macbeth (1948) nella quale aveva costretto gli attori a adoperare l'accento scozzese salvo poi vedersi tagliare e ridoppiare l'intera pellicola per dissapori con la casa di produzione.

В мае 1915 года родился ОРСОН ВУЕЛС, чрезмерная фигурa и бесспорнaя гениальность. Его первый большой успех было по радио: он представлял радио фикшион поставленный по роману "Войнà миров", Орсон (в 1938 году' актёру былo только двадцать три года) это былo очень реалистическим и развязал панику на всей нации.

Absolute masterpiece and paradoxically beginning of his professional decay is "Citizen Kane" famous in Italy with the title "Fourth power" (1941) considered one of the most beautiful films in the history of cinema, ruthless analysis of power and of the control which press can have.
Gorgeous and magnificent even for his majestic look, Welles has been loved and hated by his peers unless to realize after thirty years from his death occurred on 10th October 1985 his uncontested talent which after one hundred years makes him hotly cool.

Capolavoro assoluto e paradossalmente inizio della decadenza professionale è "Citizen Kane", noto in Italia con il titolo "Quarto potere" (1941), considerato uno dei più bei film della storia del cinema, spietata analisi del potere e del controllo che la stampa può avere.
Magnifico e grandioso anche nell'aspetto maestoso, Welles è stato amato e odiato dai suoi contemporanei salvo poi riconoscere, a trent'anni dalla sua morte avvenuta il 10 ottobre 1985, l'incontrastato talento che dopo cento anni lo rende sempre decisamente cool.

©Francesca Barile per Because The Style

Photocredits
Sharing is caring!