PERCHÉ COMPLESSO È MEGLIO
ПОЧЕМУ' СЛОЖНЙЫ ЛУЧШЕ
Ничего сложного в фестивалe ложности в етой неделе в Фоджиа (Апулия Италия) 26 мая.
Задача былà продвигать компетентность которая идёт дальше знать  и уметь сделать и оиà добивается стать духовидецами. Истории двух женщин: ТИЦИАНА АННА ПИЩИТЕЛЛИ- Питиам (наш "капитан"), временная преподавательница философии, враите, также дэсайнер драгоценности и Луана Страмальия, награждана в Экспо за общственное предприятие где кухня как повестовование и эмансипация.
A new and exciting awareness can born from a mistake, which is the story of the Negroni Sbagliato. Embrace the uncertainty and transform it into a possibility. Not avoiding the obstacle, but highlighting it until it won't be a barrier anymore, becoming the most useful and unexpected step in the long process to get to know ourselves. After all, nothing is complicated in the Festival of the Complexity, hosted by the city of Foggia (Apulia) the 26th of May. The aim was to promote competences to go beyond what we know and what we are able to do, going along the awareness. Being visionaries.
Stimulating systemic ideas, being aware of the crucial aspects of the human relations is the most powerful way to build a community. And these are not just words, as Fabrizio Moro wrote for Noemi.
Hope, and a desire of a change are competences which have reflections in our reality. It has been discussed at the Humanistic Studies Department of the University of Foggia by Chiara Scardicchio (researcher of complexity, constructivism and hope-skills), Annibale d'Elia (header of the youth policies of Apulia Region, who illustrates visions, projects and transformations of apulian youngsters studied by foreigners as a phenomenon) and two apulian women: Tiziana Anna Piscitelli - Pitian (our "captain"), doctor in philosophy of pedagogy, temporary teacher of philosophy, writer, and jewel's designer, and Luana Stramaglia, award winning at Expo for her incredible innovation: a social business where food is a tool for storytelling and emancipation, recently opened in the city center of Foggia.

Da un errore possono nascere nuove e sorprendenti consapevolezze, che poi è la storia del Negroni Sbagliato. Accogliere l'incertezza e tesorizzarla in possibilità. Non aggirare l'ostacolo, ma porlo al centro e camminargli attorno per guardalo da più punti di vista possibili: fino a quando smetterà di essere impedimento e diventerà il gradino inaspettatamente utile per continuare ad andare verso la conoscenza di sé stessi. Dopotutto non c'è niente di complicato nel Festival della Complessità, che questa settimana ha fatto tappa, in Puglia, a Foggia, per l'esattezza il 26 maggio. L'obiettivo è stato quello di promuovere una competenza che va oltre il sapere e il saper fare, e punta al sapere essere. Essere visionari.
Alimentare visioni sistemiche, ovvero consapevoli della crucialità delle relazioni umane: il mezzo più potente per costruire comunità. Ma non sono solo parole, come scrive Fabrizio Moro per Noemi.
La speranza, il desiderio di cambiamento è una competenza che ha ricadute nette sulla realtà. Come hanno raccontato nelle aule del Dipartimento di Studi Umanistici dell'Università di Foggia, Chiara Scardicchio (ricercatrice, studiosa di complessità, costruttivismo e hopeskills), Annibale d'Elia (dirigente delle politiche giovanili della Regione Puglia, illustrando visioni, progettazioni e trasformazioni dei giovani pugliesi che l'Europa è venuta a studiare come fenomeni) e due donne pugliesi: Tiziana Anna Piscitelli – Pitian (il nostro "capitano"), dottoressa di ricerca in pedagogia, docente precaria di filosofia, writer, nonché designer di gioielli e Luana Stramaglia, premiata ad Expo per la sua geniale innovazione: una impresa sociale dove la cucina è narrazione ed emancipazione, aperta da qualche mese nel centro storico di Foggia.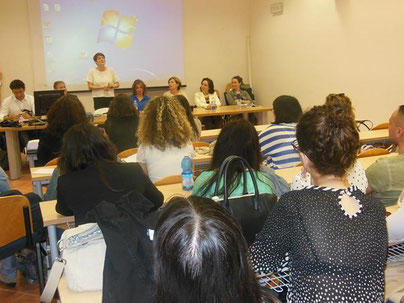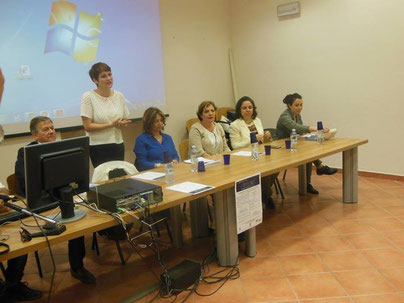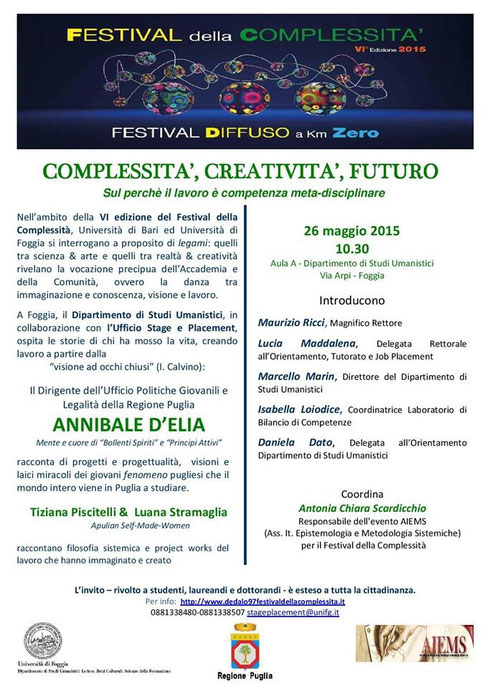 All these people - working on themselves - have changed their own view of the world, learning how to be "fed" by hope: not challenging the crisis, turbulence, uncertainty, but surfing around them as a wave that has come to give us another chance, bringing us far away and higher: where the view is better and you can see things as you never imagined.

Tutte queste persone hanno agito su sé stesse cambiando il loro sguardo sul mondo e sul modo di nutrirsi della speranza: non combattendo la crisi, la turbolenza, l'incertezza, ma surfandola come un'onda che viene per darti una possibilità in più, portarti più lontano e più in alto: lì, dove la vista è migliore e vedi cose che non avresti mai immaginato.
©Luigi Cielo Lioce per Because The Style
I want to thank everybody for the possibility of freedom, research and study: this is the Festival. Because each person has a complex identity, multifaceted and even contradictory: I talked about this with my "Philosophy of the dash", that anchor, that connection, the trait d'union between two words that makes them a single identity, without wanting to hide the difference of the two words. There are many "persons with a dash": creative people who combine many distant interests and I am proud to have them in my crew.
Desidero ringraziare tutti per la possibilità di libertà, ricerca e studio che questo Festival rappresenta. Perché ciascuna persona è un'identità complessa, sfaccettata e anche contraddittoria: di ciò ho parlato con la mia "Filosofia del trattino", ovvero quell'ancora, quel legame, quel trait d'union tra due parole che le rende un'unica identità, senza voler occultare la differenza delle due parole. Sono tante le "persone col trattino", creativi che uniscono gli interessi più distanti e mi vanto di averle anche in questa redazione.
Sharing is caring!