PERCHÉ DEDICARE UN PONTE AL DIAVOLO

Зачем  мост  отдан  на чёрт

В провинции Лукки находится величественный Мост Маддалены, иизвестный также как мост Сатани'. Это магический итальянский маршрут известний древной легенды
тревожным родом.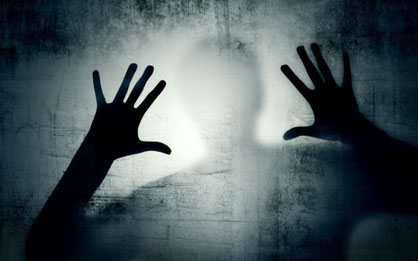 The charm of legend and mystery are reflected in our daily lives every time you ride in some places. In the province of Lucca (in the North of Italy), the Bridge of Maddalena majestically stands. It is also known as bridge of Satan.
It is one of the Italian magic routes and it owes its fame to an ancient legend with a flavor of sulfur. It is said that the foreman of the bridge had made a pact with Satan in order to finish the bridge in only one night, in exchange for the first soul that passed.
A kind of Italian Faust who cheats even the king of Hell. It was a pact to lose for Satan,  because the first was a dog, according to some, for others even a pig and then he had to settle for an unsuspecting quadruped. What does Satan with the soul of a dog? He takes it on a leash or throws the stick beyond the Styx to send it to resume? And what with the soul of a pig? Does he make sausages? Can he make a bean soup and hair brush? I don't know! The fact is that today there are those who swear to see an animal's shadow, perhaps Satan seeking revenge. Unsuspecting tourists drive along the bridge: there is a time for everything, you must never try shortcuts by the Devil himself. We don't throw anything away from pork, but what a pity for the Devil! He took the pig's soul and he cannot do it either roast or stew.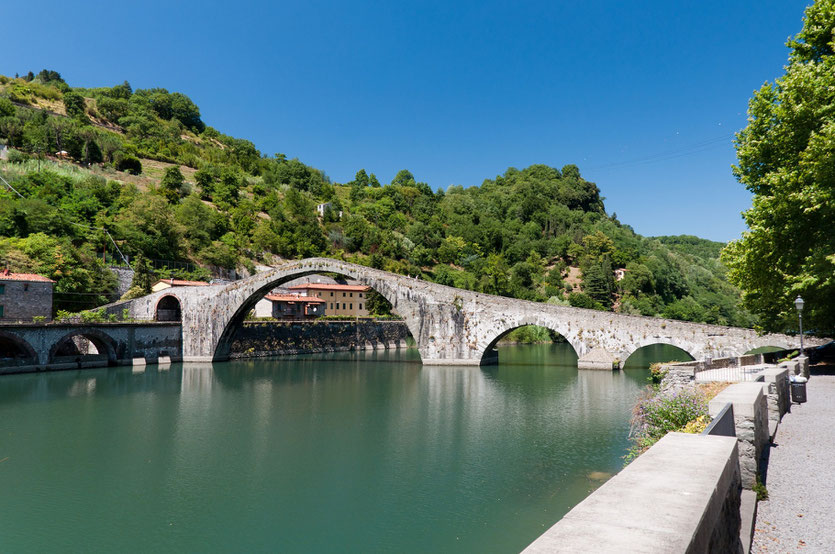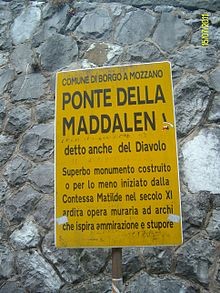 Il fascino della leggenda e del mistero si riverberano nel nostro quotidiano ogni qualvolta che si percorrono certi luoghi. In provincia di Lucca si erge maestoso il Ponte della Maddalena, noto anche come ponte di Satana. È uno degli itinerari magici d'Italia e deve la sua fama ad un'antica leggenda dal sapore sinistro e dall'odore di zolfo. Si narra che il capocantiere del ponte avesse stretto un patto con Satana con lo scopo di terminare in una notte il ponte in cambio dell'anima del primo essere che lo avesse oltrepassato. Una sorta di Faust del Bel Paese che si ritrova a gabbare addirittura il re degli Inferi, Satana per il quale fu un patto a perdere perche il primo essere fu un cane, secondo alcuni e per altri addirittura un maiale, e quindi si è dovuto accontentare di un ignaro quadrupede. Poveraccio! Che se ne fa Satana dell'anima di un cane? Lo porta al guinzaglio o getta il legnetto al di là dello Stige per mandarlo a riprendere? O addirittura che se ne fa dell'anima di un maiale, di un pink pig? Fa salsicce? Con la cotenna si sarà fatto una fagiolata e con i peli una spazzola? Non lo so! Fatto sta che ad oggi c'è chi giura di vedere l'ombra di un animale: forse Satana che si vuole vendicare del capocantiere. Ignari turisti che percorrerete il ponte: per ogni cosa c'è il suo tempo, mai trovare scorciatoie neppure se a proportele è il Diavolo in persona. Noi del maiale non buttiamo via niente, peccato che a lui è toccata l'anima e non se la può fare neanche arrosto o in salmì.

©Francesco Rutigliano per Because The Style
Photocredits