PERCHÉ LA CASA È UN'ISPIRAZIONE
ЗАЧЕМ ДОМ ВДОХНОВЕНИЕ
How much philosophy is there behind the famous English difference between "house" and "home"?
Both mean "mansion" but not in the same way. The first one is "mansion" meant as "building" while the second one can on the contrary embrace the idea of "my" but even of  "family" and grammarly and symbolically refuses the article "the". Because home isn't in a certain building.
Walls so could be totally empty but if there there are my dears or myself they have a meaning which goes over size or position: home reveals a part of us. Victor Hugo wrote: "We can understand a mollusk from its shell, a tenant from the house".
The international portal homify proposes a journey which is nice to live as a meeting point among professionals who can freely propose products and users looking for inspiration, practically granted from over 240000 photographies and almost 36000 architecture and design projects.

Ma quanta filosofia c'è dietro la nota differenziazione inglese tra "house" e "home"? Entrambi significano "casa" ma non allo stesso modo. Il primo è "casa" intesa come "edificio", il secondo riesce invece ad abbracciare l'idea di "mio", ma anche di "famiglia" e grammaticalmente (e simbolicamente) rifiuta l'articolo "the". Perché la casa non si trova in maniera determinata in uno specifico edificio.
Le pareti, infatti, possono essere anche completamente vuote ma se lì ci "sono" io o i miei cari, allora si caricano di un significato che va al di là della grandezza o della posizione: la casa rivela una parte importante di noi. Victor Hugo scriveva: "Dalla conchiglia si può capire il mollusco, dalla casa l'inquilino".
Ed un viaggio è quello che propone il portale internazionale homify - cercare idee per la casa - che è bello vivere come un "punto d'incontro" tra professionisti che possono gratuitamente proporre prodotti e progetti ed utenti in cerca d'ispirazione, praticamente garantita da oltre 240000 fotografie e quasi 36000 progetti di architettura e design.

Маршрут что предлагает Номфай портал "встречи пункт" между профессиолими которые могут бесплатно предложить продукты и проекты и пользователя в поисках вдохновения на практике гарантировано большие  24 000 фотографийи почти 35 000 проектов ахимектуры и дэсаинь.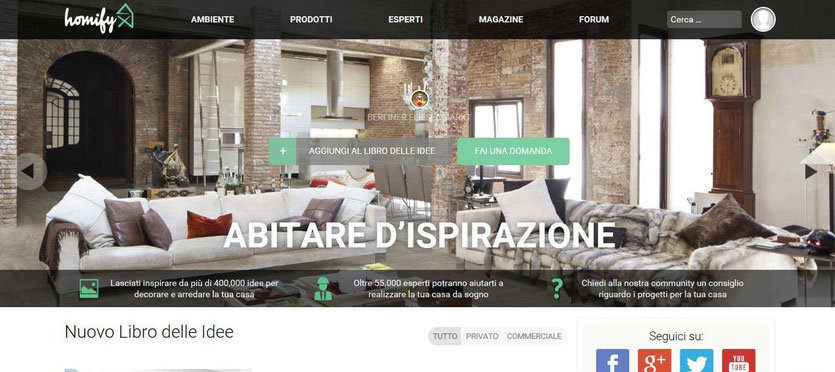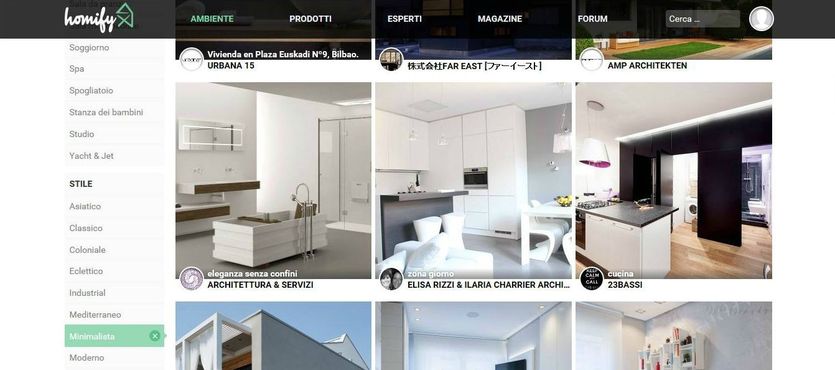 No place is anonymous: from kitchen to gym, from bathroom to stairs, from bedroom to office everything can be put in the Ideas book, supported perhaps from some reflections inside the corner "Before and After" or on the style  which one wishes to set up one's own house with a touch of uniqueness.
From a warehouse to a comfortable flat, from a store to a single house, from an attic or from a bungalow to a family house: the only limit is the dreaming wish, even daring, taking proposals and advises running creatively on homify which takes and welcomes challenges, wishes, spacesaving, taking care of style elements never boring and showing (explaining) with more than 400000 proper visions achieved and to achieve.
That's why the diffused figure of speech: "to feel at home", "Houses are made to live inside not to be looked" Francis Bacon should say and all this homify creates: an emotional flame, an advantageous  link between the right professional and the user, the curiosity to peep in the other houses/lives, the facility to use the portal and the conquer of new perspectives to feel really at home.
Nessun luogo è anonimo: dalla cucina alla palestra, dal bagno alle scale, dalla camera da letto all'ufficio, tutto può essere inserito nel "Libro delle idee", magari supportato da qualche riflessione nell'ambito della rubrica "Prima&Dopo" o sullo stile con cui si desidera "impostare" la propria casa, con un tocco della nostra unicità.
Da magazzino a comodo appartamento, da deposito a casa singola, da sottotetto o da bungalow a casa di famiglia: unico limite è la volontà di sognare, anche osando, cogliendo proposte e consigli che scorrono creativamente su homify che accoglie e raccoglie sfide, desiderata, idee salvaspazio, curando particolari di stile senza mai annoiare e mostrandole (spiegandole) con più di 400000 vere e proprie visioni realizzate e realizzabili.

Ecco il perché del diffuso modo di dire "sentirsi a casa": "Le case sono fatte per viverci, non per essere guardate", direbbe Francis Bacon, ed è proprio questo ciò che crea homify: una scintilla emozionale, un proficuo legame tra il professionista giusto e l'utente, la curiosità di sbirciare nelle case/vite altrui, la facilità di utilizzo del portale e la conquista di nuove prospettive per sentirsi davvero a casa, at home.