PERCHÉ VOLER FAR RIVIVERE UN MITO

  ЗАЧЕМ ПРОБОВАТЬ ВЫЗВАТЬ К ЖИЗНИ МИФ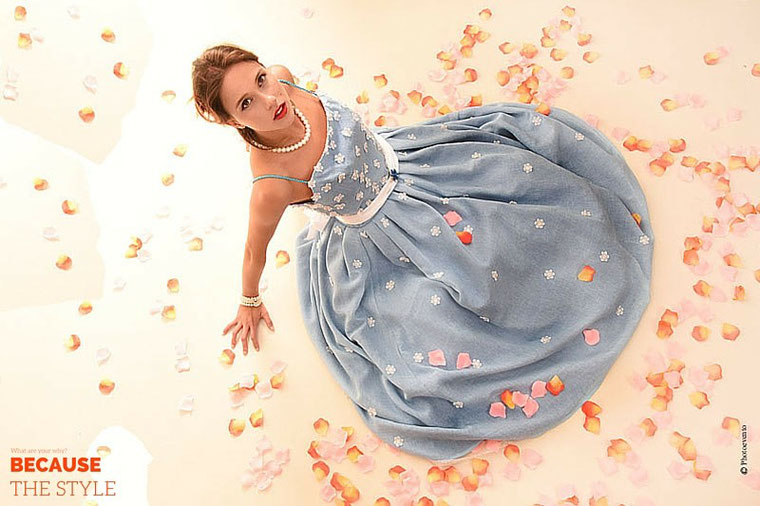 Let me know a person who as a child would have dreamed to become nun or a seamstress. None! She does not exist! Someone perhaps the designer, someone else the model, but the  most  the dancer. Anyone who had a passion for the needle and thimble. It takes stuff! Packing a dress is not as simple as making it. We must study, we need  patience and above all taste. Essential is to distinguish the taste from strawberry from  pistachio but also it is important to know how to combine a stiff fabric like taffeta with a soft fabric  as voile. Everybody say they are experts of fabrics: all is silk and then you find out that if you  smoke next to the silk it catches fire as the fire during the witch hunt; talking  about bustier, of stitching, eyelets and then they don't know how fitting a pattern. Fashion is art and sewing is  a fundamental  to make a fabric a work of art. Who does not remember mythical white pleated silk dress of Monroe or Claudia Cardinale's mise in the famous scene of "The Leopard"? Clothes that shaped the history of the cinema but also in fashion. Then I ask myself: but the scene of the wind that makes lift her skirt? A wise person, just feeling a slight whisper that caresses the inner thigh, moves away immediately, but the divine blonde is there with the hairy-dryer wind, to prevent the suit from rising. This scene made the history of cinema and not all are Marylin.

Fatemi conoscere una persona che da bambina avrebbe sognato di fare la suora o la sarta. Nessuna! Non esiste! Qualcuna forse la stilista, qualcun'altra la modella, ma la maggior parte le ballerina. Nessuno che avesse la passione per l'ago e il ditale. Ci vuole stoffa! Confezionare un abito non è semplice così come non lo è idearlo. Occorre studio, pazienza ma soprattutto gusto. Fondamentale il gusto per distinguere la fragola dal pistacchio ma anche saper abbinare un tessuto rigido come il taffetà con uno morbido come il voillè. Tutti si dicono esperti di tessuti: tutto è seta e poi scopri che se ci fumi accanto prende fuoco come il rogo durante la caccia alle streghe; parlano di bustier, di impunture, di asole e poi non sanno come si monta un cartamodello. La moda è arte e il cucito fondamentale per rendere un tessuto un'opera d'arte. Chi non ricorda il mitico abito in seta bianca plissè della Monroe o la mise di Claudia Cardinale nella famosa scena del Gattopardo? Abiti che hanno fatto la storia del cinema ma anche della moda e del costume. Che poi mi domando: ma la scena del vento che fa sollevare la gonna? Di solito una persona sana di mente, appena sente un lieve sussurro che le accarezza l'interno coscia si allontana immediatamente, ma la divina bionda si sta lì a farsi phonare, a impedire al vestito di sollevarsi. Questa scena ha fatto la storia del cinema e non tutte sono Marylin.

Страсть и ум, ловкость и вкус это характеристики делать едиственной реалностю НтИвент, хозяйство которое импонировает на торговлии для осущеғтвления и проката платьев которые сделали историю костюмов.

Passion and talent, skills and sense of taste are the characteristics that make unique NotEventi reality: this trademark established its market presence for the production of clothes that made the history of fashion. The time it was is revived in all its style and  refinement in the achievements evoking style that never fades, elegance that is unique and taste of undisputed manufacture. The tailoring product of NotEventi (the company allow rent period costumes) embodies in the tissues, in manufacturing tailoring, accessories, the elegance of fashion in those years, '50 and '60, focusing on details, designer's history and original dress but also revisited, in a continuous study that brings to light the classic masterpieces of tailoring and the fashion history. NotEventi aims to revive not the ancient but that past with its inimitable charm, elegance and refinement that made the history of  the cinema and the divas such as Marilyn Monroe, Grace Kelly and Elizabeth Taylor: they "live again" in these sumptuous and magic clothes, that can make an event so unique and reproduce the grandeur of the genius who imagined and created them. "Elegance is not to be noticed but to be remembered" (Giorgio Armani). A memory that finds fulfillment in the achievements of NotEventi.
Passione e ingegno, abilità e senso del gusto sono le caratteristiche che rendono unica la realtà NotEventi che si impone sul mercato per la realizzazione di abiti che hanno appunto fatto la storia del costume. Il tempo che fu si trova a rivivere in tutta la sua eleganza e raffinatezza nelle realizzazioni che rievocano lo stile che non tramonta, l'eleganza che non ha eguali e il gusto di indiscussa  fattura. L'esecuzione sartoriale che il marchio NotEventi propone (consentendo di noleggiare abiti d'epoca) incarna nei tessuti, nella manifattura sartoriale, negli accessori, l'eleganza della moda di quegli  anni, '50 e '60, puntando l'attenzione sul dettaglio, sulla storia dello stilista e sull'abito originale ma anche rivisitato, in un continuo studio che porta alla luce i classici capolavori della sartoria, della storia del costume e della moda. NotEventi mira a riproporre non l'antico ma quel passato dall'inimitabile fascino, dall'eleganza e dalla raffinatezza che hanno fatto la storia del cinema e delle dive. Must del calibro di Marylin Monroe, Grace Kelly o Elisabeth Taylor rivivono in questi abiti sontuosi, magici che rendono unico un evento e ripropongono la grandiosità del genio di chi li ha immaginati e creati e che si ritrova a tornare in vita in queste realizzazioni seducenti.  "L'eleganza non è farsi notare ma farsi ricordare" (Giorgio Armani). Un ricordo che trova compimento nelle realizzazioni di NotEventi.

©Francesco Rutigliano per Because The Style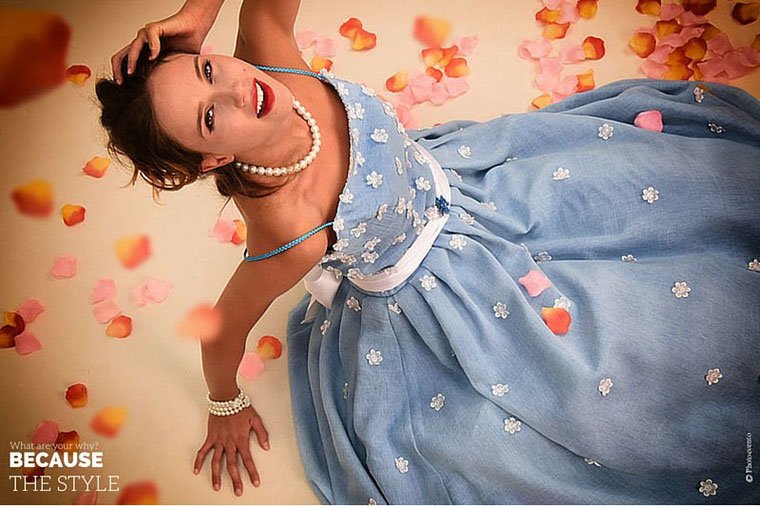 Per saperne di più su Monica Cocciardo di NotEventi, visita il sito di I Think Magazine che l'ha intervistata.

Photocredits
Make up by Daniela Marchese

Sharing is caring!