PERCHÉ L'ABITO NON FA L'INSEGNANTE
Зачем не ряса делает преподавательницы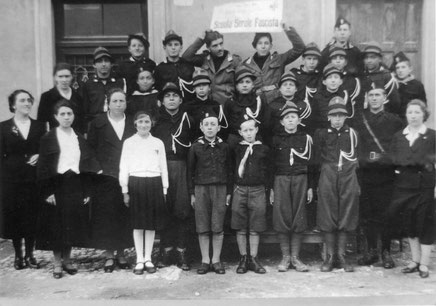 Italy. Thirties. Full Fascist age.
Mussolini tries to put into order Italians and to do this he increases primary schools to create perfect Fascists from the first years of life.
He prefers men in teaching as woman was destined the duty to give children to motherland, but for little boys and girls at school it was better to have a female presence who had to appear bolstered and without any attraction.
Here they are wearing heavy smocks useful for not showing any ink spots and to give to pupils the idea of uniformity.
Fascist regime is swept away from the unhappy conclusion of Second world war but still women goes on with their spartan way of dressing.
Working women are always an exception and not for a chance they have to mortify their look to give an idea of sharp and unblemished gravity.
At the end of Sixties, after youth revolution which tried to put some changes into school world teachers put away their old smocks to wear serious suits or almost sexless dresses to give to disciples the idea of a mother teacher.

Almost elegant wearing were a prerogative of teachers in the most important high schools were higher classes started their education in spite of any revolution.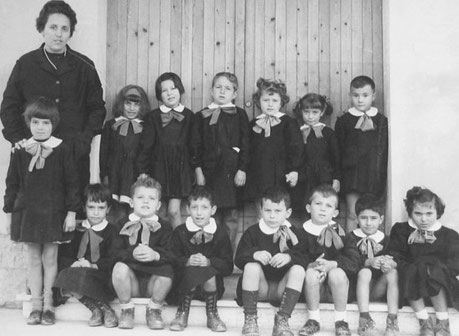 Italia. Anni trenta, piena epoca fascista.
Mussolini cerca di irregimentare gli italiani e per farlo potenzia le scuole primarie al fine di creare dei perfetti fascisti sin dai primi anni di vita.
Preferisce gli uomini nell'insegnamento visto che alla donna è destinato il compito di dare figli alla patria, ma per i bambini più piccoli e per le piccole scolarette è opportuna la presenza di docenti di sesso femminile che però devono apparire temprate e prive di qualsivoglia attrattiva.
Eccole quindi indossare dei pesanti grembiuli utili anche per non mostrare eventuali macchie da inchiostri e per dare ai piccoli alunni l'idea della uniformità.
Il regime fascista è spazzato via dall'esito infelice della seconda  guerra mondiale ma le donne continuano a rimanere spartane nel loro abbigliamento. La donna che lavora è sempre un'eccezione e non a caso deve mortificare il suo aspetto per dare un'idea di cristallina e specchiata serietà.
A fine anni Sessanta, dopo la rivoluzione giovanile che ha tentato di portare dei cambiamenti nel mondo scolastico, le insegnanti dismettono i grembiuli per indossare dei seriosi tailleur e dei robe manteau abbastanza asessuati che dovevano instillare nel discepolo l'idea di insegnante- mamma.
Abbigliamenti quasi eleganti invece erano di appannaggio delle docenti dei licei più "in" dove la futura classe dirigente iniziava a formarsi, con buona pace delle rivoluzioni.

---
Одежда италянских преподавательниц между историей, идеологями, образом себя и социалэкономическим ситуацей.

---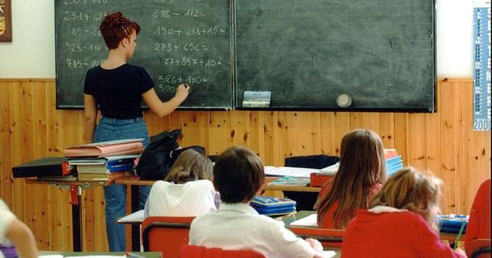 Epochal turns in the teacher's way of wearing starts from the end of XXth Century .
Teaching as a work sees increasingly the depletion of its intrinsic value and with this at the same pace even of the salary. To this it's important to add  the growing presence of temporary workers who cannot enjoy of the handsome  and profitable advancements peculiarity of the permanent teachers.
Finishing blow euro and a less and less powerful purchasing power.
As a consequence teachers go to work with comfortable sneakers and  leggings or jeans, no matter their more and more falling age being obliged to stay for a very long period at work, as a matter of fact if you stay with youth you stay young forever!
But as a dress doesn't make or a monk either a teacher because it's important who wears and not what is worn when you have a work as responsable as, alas, not much taken into consideration.
And who knows what good  future time teachers are going to wear...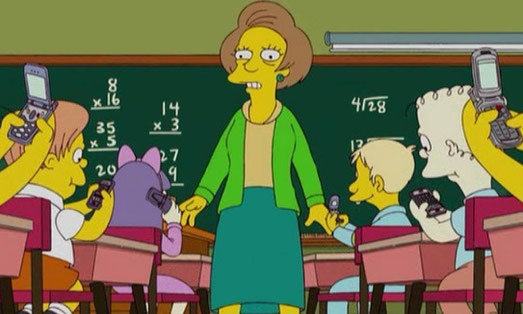 Svolte epocali nell'abbigliamento docente si sono avute a partire dalla fine del Secondo Millennio.
La professione docente ha progressivamente visto il depauperamento del suo valore intrinseco e con esso di pari passo anche dello stipendio. A ciò si aggiunge il notevole numero di precari che non possono godere degli scatti lauti e remunerativi peculiarità  dei docenti a tempo indeterminato. Colpo di grazia l'euro e il potere d'acquisto sempre meno potente.
La conseguenza ha portato i docenti ad andare al lavoro in tenuta semi casual, con comode sneakers e leggings o jeans a prescindere dall'età…del resto a contatto con la gioventù si rimane sempre giovani!
Ma poiché l'abito non fa nè il monaco nè l'insegnante, l'importante è chi indossa non cosa si indossa quando si ha un lavoro tanto responsabile quanto, ahimè, poco preso in considerazione.
E chissà cosa indosseranno i "buoni insegnanti" del futuro…

©Francesca Barile per Because The Style

Photocredits