PERCHÉ UNA MODELLA NON DEVE ESSERE SOLO BELLA

ЗАЧЕМ  МОДЕЛЬ НЕ ДОЛЖНА' БЫТ ТОЛЬКА КРАСИВОЙ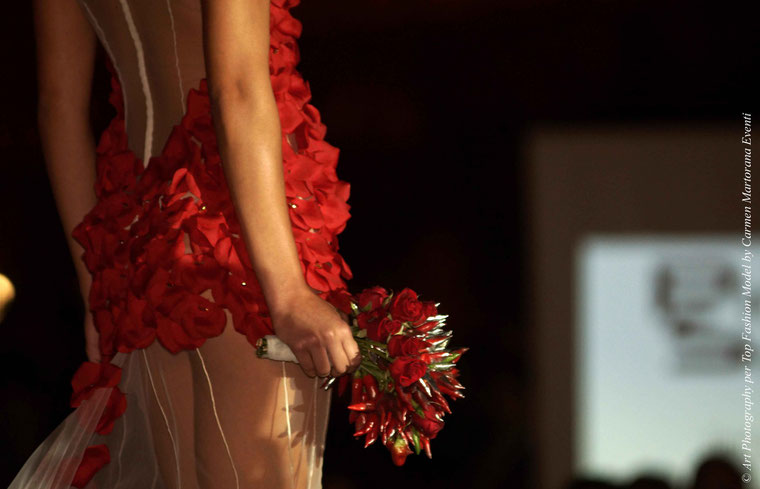 Beauty isn't an easy thing. There are so many beautiful women but only some of them are in the memory, in the collective unconscious, in the myth. Let's think to Cleopatra, the classical femme fatale attractive but not beautiful: she was charming, she could be a queen, she could propose herself in a totally attractive way.
This makes the difference, in this way the differences is made by an ostensible beauty contest which actually is a professional master: the fashion award Top Fashion Model.
On 27th September in Giovinazzo(Apulia )the national final took place with the approval of clouds which luckily disappeared and the Fountain Tritons coloured by well calibrated lights.

La bellezza non è una cosa semplice. Di donne bellissime ce ne sono tante ma solo alcune rimangono nella memoria, nell'immaginario collettivo, nel mito. Basti pensare a Cleopatra, la classica femme fatale bella ma non bellissima: lei era affascinante, sapeva essere una regina, sapeva proporsi in maniera complicatamente attraente.
È questo che fa la differenza, così come fa la differenza un apparente concorso di bellezza che è in realtà un master professionale: il fashion award Top Fashion Model.
Il 27 settembre a Giovinazzo (BA) si è tenuta la finale nazionale col bene placito delle nuvole che sono fortunatamente sparite ed i Tritoni della Fontana colorati da luci ben calibrate.

Большая удача в итальянском финале фшон авуард Топ Фшион Модел Кармена Мартораны. Событания в очаровательной рамке самой важной площади в Джовинаццо (на Апулии), перед Фонтаном Тритонов. Это Меган Бруно ей 17 лет Емилии Романии побетельница издания 2015 в этот момент наша редакция награждает Адияю Самбу с которой скоро выполнит шутин.

Greedy occasion for the stylists who showed their works, taking advantage on the young models grace: easy recipe for a well organized event by Carmen Martorana Events which alternated moments of show with interesting fashion proposals.
Regarding to recipes, Michele Gaudiomonte suggests the Italian recipe "garlic, oil and chili pepper": easy, tasty and fulfilling, just as his collection, introduced even to Milan Expo. Self-knowledge and self-irony are the basic ingredients of the stylists who paints on contemporary textiles, raising the modest garlic to an exclusive painting. Chef for playing, between everyday life and excess (but never empty of an esthetic courtesy) he remembers with his garments in a refined way and never overloaded the colours of Mediterranean markets, under the banner of "make me happy with little and that little looks everything".

Ghiotta occasione per gli stilisti che hanno mostrato le loro opere, approfittando della grazia delle giovani modelle: ricetta semplice per un evento ben organizzato dalla Carmen Martorana Eventi che ha alternato momenti di spettacolo a interessanti proposte di moda.
A proposito di ricette, Michele Gaudiomonte suggerisce "aglio, olio e peperoncino": semplice, appetitosa e appagante, esattamente come la sua collezione, presentata anche all'Expo di Milano. Conoscenza di sé ed autoironia sono gli "ingredienti di base" dello stilista che dipinge su tessuti contemporanei, elevando il modesto aglio a dipinto esclusivo. Chef per gioco, tra quotidianità ed eccesso (ma mai privo di un garbo estetico), ricorda coi suoi abiti in modo raffinato e mai ridondante i colori dei mercati mediterranei, all'insegna del "fammi felice con poco e che quel poco, sembri tutto".

Marina Corazziari too tells about Mediterranean, in a fusion of styles from which jewels raise concerning those she repeats "They have everything special. I don't inspire to anything in particular. It is my own genre." Determined and self-confident. Ms Corazziari goes on with her work since years, earning  various approvals.
Giulio Lovero proposes on the contrary a sophisticated lady, important, lover of parties but even of the old tailor's shop, whom she shows with mastery the hand embroidery. It's clear his weakness for Versace and interesting his refusal of the bride in the classical totally white dress.

E di Mediterraneo ci racconta anche Marina Corazziari, in una fusione di stili da cui emergono gioielli a proposito dei quali lei ci ripete: "Hanno di speciale tutto. Non mi ispiro a nessuno in particolare. È un genere solo mio". Decisa e sicura di sé, la Corazziari procede nel suo lavoro ormai da anni, riscuotendo vari consensi.
Giulio Lovero propone invece una donna sofisticata, importante, amante delle feste ma anche della vecchia sartoria, di cui mostra con maestria i ricami fatti a mano. Evidente il suo debole per Versace ed interessante la sua tendenza a rifiutare l'idea di una  sposa nel classico abito completamente bianco.

Because "before being stylist , you need to be tailors" , Giuseppe Fata remembers  (President of the National Chamber Young Fashion Designer), with the aim of "renovate the made in Italy and not create a disequilibrium towards the Paris catwalks". Delightful the general Director of the CNGFD Alessandra Giulivo in the role of presenter of the soiree and unavoidable a very chic garment of Roberto Guarducci, artistic director of Top Fashion model.
To value the faces of the models The makeup Academy/Agency of Milan Stefano Anselmo; the leading origin, explains Angela Di Giovanni, is only one: "don't make up but create a story which tells of that face in a not told language".
The same matter for Salvo Binetti (member of The Club Wella Education by Toni&Guy and coordinator of the group Best Wella for Apulia) and his team: all studied. And if hair looks messy it is as you makes woman hair , always keeping an eye last tendences of catwalks and the advices of the present Toni Pellegrino, tutor of  program "Detto Fatto" on RAI 2.

Perché "prima di essere stilista, bisogna essere sarti", ci ricorda Giuseppe Fata (Presidente della Camera Nazionale Giovani Fashion Designer), al fine di "rinnovare il made in Italy e non creare uno sbilanciamento verso le passerelle parigine". Deliziosa la Direttrice generale della CNGFD Alessandra Giulivo nel ruolo di presentatrice della serata ed immancabile un abito molto chic di Roberto Guarducci, Direttore artistico di Top Fashion Model.
A valorizzare i visi delle modelle l'Accademia/Agency di makeup di Milano Stefano Anselmo; il principio-guida, ci spiega Angela Di Giovanni, è solo uno: "non imbellettare ma creare una storia che parli di quel viso in un linguaggio non detto".
Stesso discorso per Salvo Binetti (membro del The Club Wella Education by Toni&Guy e coordinatore del gruppo Best Wella per la Puglia) ed il suo team: tutto studiato. E se i capelli sembrano spettinati è perché così ne fai capelli di donna, tenendo sempre sott'occhio le ultime tendenze delle passerelle e i consigli del presente Toni Pellegrino, tutor della trasmissione "Detto Fatto" in onda su RAI 2.

Let's arrive to the moment of dancing and singing. Nothing similar to Apulian festivals (which we passionately adore but which represent a folk style to live fully in the Salento villages that everybody rightly envies us): Ottavio Di Stefano reminds us  not ( or at least not only) for his participation to the tv program "Amici" but because he has got a scenic presence, a charm and a professional power  of high profile. Eager esthetic beauty and singing.
Not at all eager the dancer Mattia Ignomiriello: thin human being who soars on stage. A marvel. Delicate, silently outgoing as only great men can be. Few chitchats and a lot of talent, in other words, who alternates to the spectacular performers of Obiettivo Tropici.
We watched  him, we listened to Ottavio, we watched the models and the creations of the stylists and we thought to Albert Camus: " Beauty doesn't  undoubtlessly make revolutions. But it comes a day when revolutions need beauty".

Giungiamo al momento della danza e del canto. Nulla a che vedere con le sagre pugliesi (che adoriamo svisceratamente ma che rappresentano un folcklore da vivere appieno nei paesini salentini che giustamente tutti ci invidiano): Ottavio Di Stefano ti rimane in mente non tanto (o perlomeno non solo) per la partecipazione alla trasmissione televisiva "Amici", ma perché ha una presenza scenica, un carisma ed una potenza professionale di alto profilo. Bellezza estetica e canora prorompente.
Tutt'altro che prorompente è il ballerino Mattia Ignomiriello: esile essere umano che si libra sul palco. Una meraviglia. Delicato, silenziosamente comunicativo come solo i grandi sanno essere. Poche chiacchiere e molto talento, insomma, che si alterna ai performer spettacolari di Obiettivo Tropici.
Guardavamo lui, ascoltavamo Ottavio, osservavamo le modelle e le creazioni degli stilisti e pensavamo ad Albert Camus: "La bellezza, senza dubbio, non fa le rivoluzioni. Ma viene un giorno in cui le rivoluzioni hanno bisogno della bellezza".

Closed this first edition with the victory of Megan Bruno from Emilia Romagna, the bestowal od the title "Elegance" and "Face make up" from Academy Stefano Anselmo to Natasha Damiani from Bari, that of "Beauty" to Carol Tridici from Rome, the model selected by Bonitalola Serena De Cillis as face of next advertisement campaign, and even testimonial for the  hair stylist Salvo Binetti and our decision to choose the extraordinary stylish Adjia Samba for our next shooting, Carmen Martorana is already thinking about next contest 2016 which next year  will overcome national borders to expand to Canaries and Balearic Islands. Ad maiora, so and ... stay stylish!

Chiusa questa prima edizione con la vittoria di Megan Bruno dall'Emilia Romagna, il conferimento del titolo "Eleganza" e "Face make up" dell'Accademia Stefano Anselmo alla barese Natasha Damiani, quello di "Bellezza" a Carol Tridici di Roma, la modella selezionata da Bonitalola Serena De Cillis come volto della prossima campagna pubblicitaria, nonché testimonial per l'hair stylist Salvo Binetti e la nostra decisione di scegliere la straordinariamente stylish Adjia Samba per il nostro prossimo shooting, Carmen Martorana già pensa al contest 2016 che il prossimo anno oltrepasserà i confini nazionali, estendendosi a Canarie e Baleari. Ad maiora, quindi, e…stay stylish!