PERCHÉ LA TORTA È LA REGINA DELLA FESTA

ЗАЧЕМ  ПИРОГ КОРОЛЕВА ПРАЗДНИКА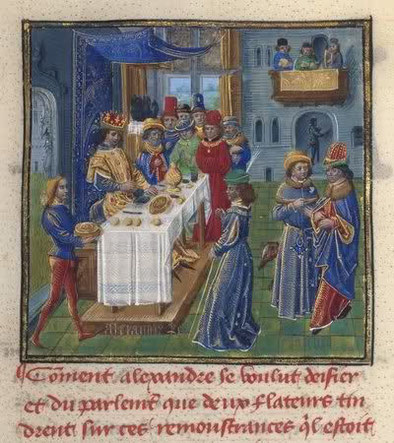 "A party without cake is just a meeting", Julia Child (chef, writer and American '60s TV personality)said. We know and we can document that the sweets are even overpowering.
The sweet taste of honey won the pre-Olympic gods of ancient Greece, to become the food chosen to wean the baby Zeus. On the slopes of Mount Olympus, the offer of nuts, honey and sesame mixed together (the early biscuits, in short) was within the ceremonial to Artemis and Dionysus.
We officially meet our queen with Petronio: through the pages of the Satyricon, a "divine" cake is described, or rather "a great Priapus pastry", filled with all kinds of fruit. Priapus, the ancient Greek god, son of Aphrodite and Dionysus, was the god of sexuality and fertility. Divinity, sacredness, fertility: all symbolic attributes of the one true queen of the party.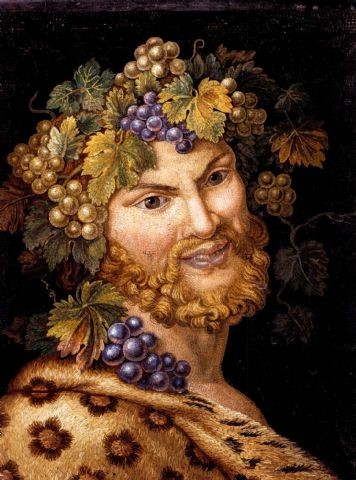 "Una festa senza la torta è un incontro e basta", era solita dire Julia Child, cuoca, scrittrice e personaggio televisivo statunitense degli Anni '60.
Che i dolci l'abbiano sempre fatta da padroni è cosa nota e documentabile. Il gusto dolce del miele aveva già conquistato le divinità pre-olimpiche dell'antica Grecia, fino a diventare l'alimento scelto per svezzare il piccolo Zeus. Alle pendici del monte Olimpo, l'offerta di noci, miele e sesamo impastati insieme (i primi biscotti, insomma) rientrava nei cerimoniale di offerta ad Artemide e Dioniso.
Incontriamo ufficialmente la nostra regina con Petronio: scorrendo le pagine del Satyricon, viene descritta una torta "divina", anzi "un gran Priapo di pasticceria" ripieno di frutta d'ogni genere. Priapo, antica divinità greca figlio di Afrodite e Dionisio, era il dio della sessualità e della fecondità. Divinità, sacralità, fecondità: tutti attributi simbolici dell'unica vera regina della festa.

С древности до сегодния пирог всегда' при доброго. Легенда скажет что если пирог очень высокий брак будет счастливее.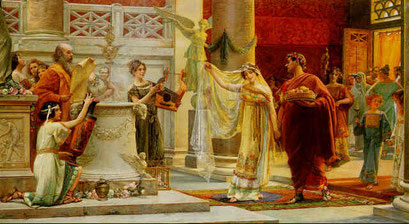 In the religious rite of confarreatio (marriage archaic Roman), the spouses offered a loaf of spelled to Jupiter, and then they ate together, in the Middle Ages the wedding guests were called to build a tower made of sweet loaves. Legend says that if the cake was higher, also the marriage was happier.
In 1600 loaves gave way to iced cakes stacked on each other, which later took definitely circular shape, symbol of heavenly protection evoked on the couple. The risers that supported various levels, instead, represented the fate of married life, a path made of joys and difficulties… evidently uphill.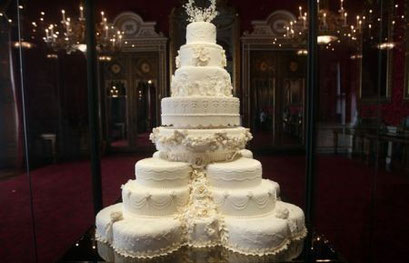 Se nel rito religioso della confarreatio con cui si celebrava il matrimonio romano arcaico, gli sposi offrivano una focaccia di farro a Giove Capitolino, per poi mangiarla insieme, nel Medioevo gli invitati al matrimonio erano chiamati a costruire una torre fatta di panetti dolci. Leggenda vuole che quanto più alta fosse la torta, tanto più felice sarebbe stato il matrimonio.
Nel 1600 i panetti cedettero il passo a dolci glassati impilati l'uno sull'altro, che in seguito assunsero definitivamente forma circolare, simbolo della protezione celeste evocata sugli sposi. Le alzate che sorreggevano i vari piani, invece, rappresentavano il destino della vita coniugale, un percorso fatto di gioie e difficoltà, evidentemente in salita.

© Claudia Colagiovanni per Because The Style
Photocredits
Dioniso by Michelangelo Maestri
Sharing is caring!