PERCHÉ LA VITA È UNO SPETTACOLO

ЗАЧЕМ  ЖИЗНЬ  СПЕКТАКЛЬ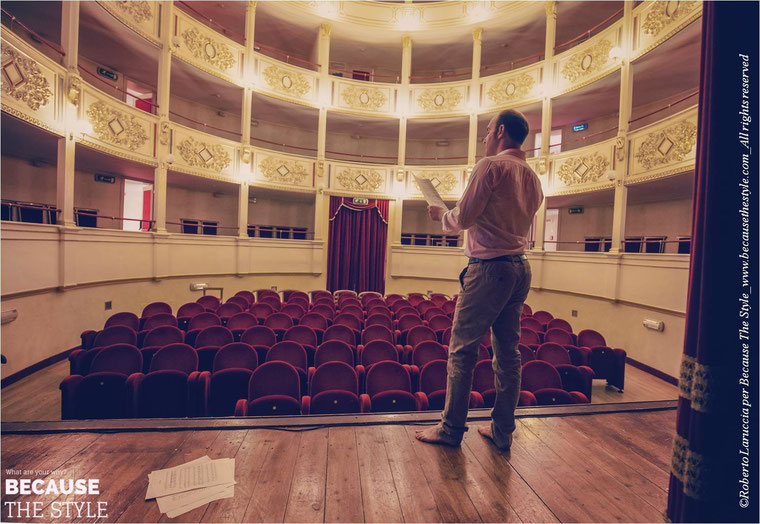 All the world's a stage, /And all the men and women merely players; / They have their exits and their entrances, /And one man in his time plays many parts": by the way The Globe was the theatre where Shakespeare's company played. Because Earth is our stage where we, more or less wittingly have to play. Because life is a play, offered to others but even "speculum" that is a mirror of ourselves, of our identity, our wishes, our will to be in touch with Others.

"Tutto il mondo è un palcoscenico, /e gli uomini e le donne sono soltanto attori.  /Hanno le loro uscite come le loro entrate, /e nella vita ognuno recita molte parti": "The Globe" si chiamava infatti il teatro dove recitava la compagnia di Shakespeare. Perché la Terra è il nostro palco e tocca a noi, più o meno consapevolmente, recitare. Perché la vita è spettacolo, offerto ad altri ma anche "speculum", cioè specchio di noi stessi, della nostra identità, dei nostri desideri, della nostra volontà di entrare in contatto con gli altri.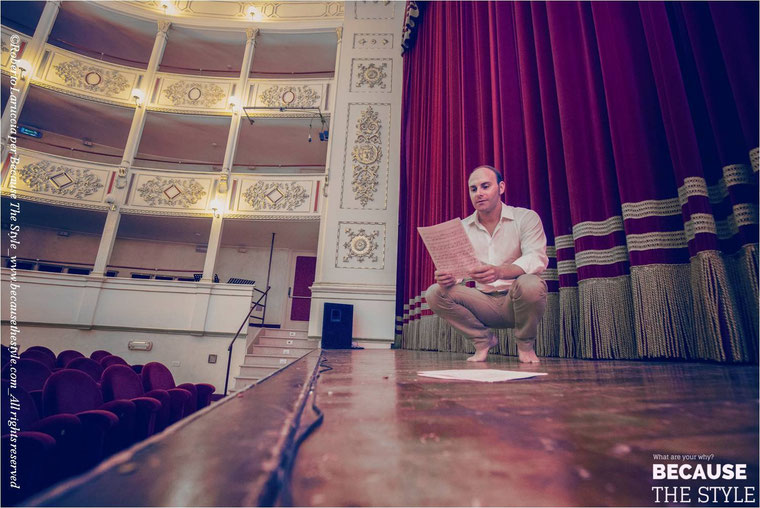 Каприз, фантазия, беспорядочность, ирония, оригинальность. Это Анджело Паскуал Де Марцо, весёлый человек исключительный музыки иитальян-венесуэлинсий профессиональный писатель тоже телевизионного спектакля.

In a theatre there is silence and darkness and  there is somebody trying to spread something, but with style. At first a lot of energy, pure sun. This is your first impression when you meet the Italo-Venezuelan Maestro Angelo Pascual De Marzo, pianist, organist and lyrical singer. Concert performer and teacher, writer, collaborator of newspapers and associations (even international) and institutions; at present he is supporting some authors in text drafts and projects for new format of tv programs.
His uncontested culture makes him eminent but with an exciting fondness: "I work as a  creative. I do what amuses me and I think about what one should invent to amuse".

C'è silenzio in teatro e c'è il buio e c'è qualcuno che cerca di trasmettere qualcosa, ma con stile. Innanzitutto tanta energia, sole puro. Questa è la prima impressione quando incontri il maestro di pianoforte, organo e canto lirico italo-venezuelano Angelo Pascual De Marzo. Concertista e insegnante, scrittore, collaboratore di testate giornalistiche e di associazioni (anche internazionali) e istituzioni; attualmente affianca alcuni autori nella stesura di testi e nella progettazione di nuovi format per trasmissioni televisive.
La sua indiscussa cultura lo rende autorevole ma con una simpatia entusiasmante: "Faccio il creativo. Faccio quel che mi diverte e penso a…che cosa bisognerebbe inventare per divertirsi?"

Silence and concentration give up the move to an overwhelming  show businessprofessional gifted with a charming kindness which reload public thanks to his scenic appearance so flexible and deeply clear,  as able to enjoy as to ponder, to conquer without boring, but on the contrary involving, never bumping into banality and bombast. A musician and showman able to build a bridge , rather a rainbow between art and life stage, as coloured and real as fleeting, as drama and life only can be. But Angelo Pascual De Marzo raises this ostensible lightness with his being cheerful, leaving active and interpretive spaces unmistakably dictated by his inborn communicative presence, with sometimes glamour accents.
An untiring artist who seems to know the secret to stop time , enchanting people with his music pr his voice, inventing from nothing new "Globe", musical, poetic, passionate and irretrievably spiritual.
Silenzio e concentrazione cedono il passo ad un professionista dello spettacolo inarrestabile e dotato di una gentilezza disarmante che ricarica il pubblico grazie alla sua presenza scenica così flessibile e profondamente articolata, capace di far divertire tanto quanto riflettere, di conquistare senza annoiare ma anzi coinvolgendo, senza mai cadere nella banalità e nella retorica. Un musicista showman in grado di creare un ponte, anzi un arcobaleno, tra l'arte e il palcoscenico della vita, tanto colorato e reale quanto effimero, come solo il teatro e la vita sanno essere. Ma questa apparente leggerezza Angelo Pascual De Marzo la innalza col suo essere solare, lasciando spazi partecipativi ed interpretativi inconfondibilmente dettati dalla sua innata potenza comunicativa, dagli accenti talvolta glamour.
Un artista infaticabile che sembra conoscere il segreto per fermare il tempo, incantare le persone con la sua musica o la sua voce, inventare dal nulla nuovi "Globe", musicali, poetici, appassionati ed irrimediabilmente spirituali.

© Pitian per Because The Style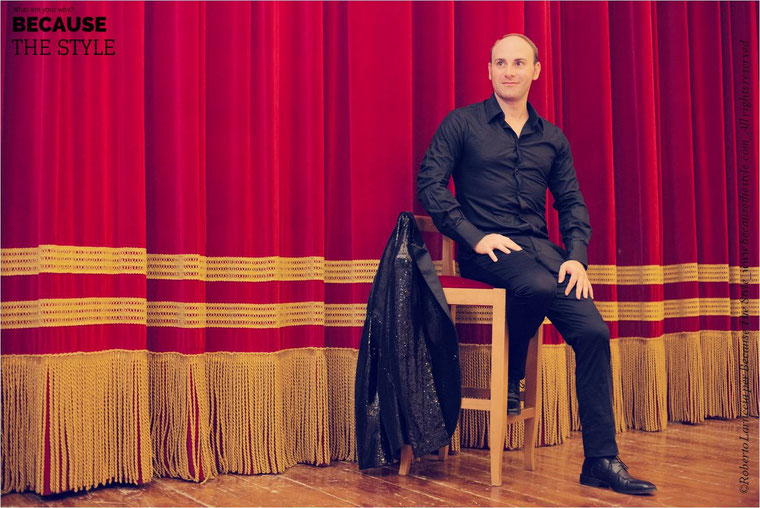 Photocredits

Thanks to "Beauty & Style" by Gianni Merolla (Bari)
Sharing is caring!