PERCHÉ LE DONNE SONO SOGNATRICI SOGNATE

ЗАЧЕМ  ЖЕНЩИНЫ ВИДЯЩИЕ СОН МЕЧТАНИЕ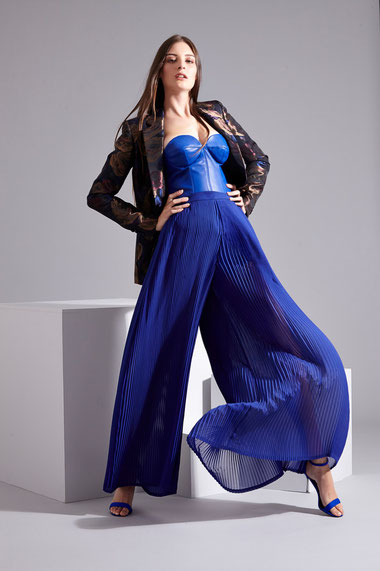 Madeleine Vionnet said: "A dress must not be hung to a body, it must follow its lines. It should go with the one who wear it and when a woman smiles, her dress must smile with her". In the same way the chiffon transparency glide on the women clothed by Balde in his Milan fashion house.
Lively colours and sharp details carve the body of a strong woman who, sometimes (as for every woman) is going to hide her romantic soul which appear when you least expect, veiled by the silk, strenghtened by the movement of the pletead effect a bit vintage which makes way to the leathersafety.
Because women live of contrasts, of simmetries as of dreams, lively as colours proposed by Balde and easy as blouses and sheath dresses which bring us to the summer.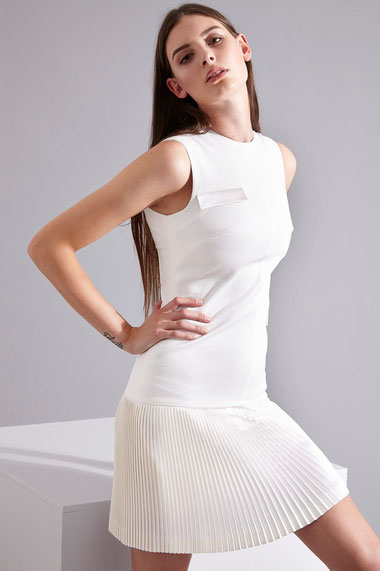 Madeleine Vionnet diceva: "L'abito non deve appendersi al corpo, ma seguire le sue linee. Deve accompagnare chi lo indossa e quando una donna sorride l'abito deve sorridere con lei". Così scivolano le trasparenze del chiffon sulle donne vestite dallo stilista Balde nel suo atelier milanese.
Colori vivaci e dettagli precisi scolpiscono il corpo di una donna forte che, talvolta (un po' come tutte le donne) si ritrova a nascondere la sua anima romantica che emerge quando meno te lo aspetti, velata dalla seta, rinvigorita dal movimento dell'effetto plissé un po' vintage che cede il passo alla sicurezza della pelle.
Perché le donne vivono di contrasti, di simmetricità tanto quanto di sogni, vivaci come i colori proposti da Balde e semplici come le camicette e i tubini che ci conducono verso l'estate.

Характеризоваными структурнами и решательными линями, сильними цветами и очищенными тканями, платья Балде удаваются внушать разоружённую и софистическую свежесть, оброзом более естественным и более убедителным.

A stylist who understands the importance to be even a tailor, to enjoy fully of the material passion given by the very refined cloths with which he develops an ideal of woman characterized by sensuality and elegance, too often overwhelmed by the daily routine.
So the fashion house is transformed in a space for itself, to love and embrace itself in dresses which don't make feel special any woman but which give the more important awareness to be really feminine. Characterized by structured and determined lines, Balde's dresses can spread a sense of  charming and affected freshness, declined in the most natural and persuasive way.
A clarity which doesn't make space to trivializations, taking advantage of strong colours, even in conflict and with a never excessive usage of flower decorations, for a woman who is ready to transform her from a dreamer into an icon and  into another people's dream, fatally suggestive.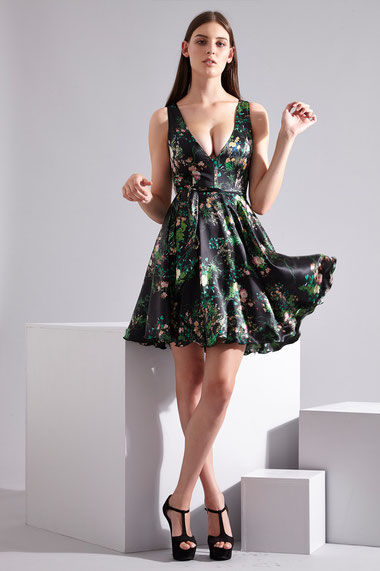 Uno stilista che ha compreso l'importanza dell'essere anche sarto, per godere appieno della passione materica regalata dai tessuti ricercatissimi con cui elabora un'ideale di donna caratterizzata da sensualità ed eleganza, troppo spesso sopraffatte dalla routine quotidiana.
Così l'atelier si trasforma in uno spazio per sé, per amarsi ed abbracciarsi in abiti che non fanno "sentire speciale" nessuna donna ma che conferiscono la ben più importante consapevolezza di essere davvero femminili. Caratterizzati da linee strutturate e decise, gli abiti di Balde riescono a trasmettere un senso di freschezza disarmante e sofisticata, declinata nella maniera più naturale e convincente.
Una linearità che non lascia spazio alle banalizzazioni, avvalendosi di colori forti, anche a contrasto, e di un uso mai eccessivo di decorazioni floreali, per una donna che da sognatrice è pronta a trasformarsi in icona e sogno altrui, fatalmente suggestiva.

© Pitian per Because The Style
Photocredits
Per saperne di più sullo stilista Balde, visita il sito di I Think Magazine che l'ha intervistato.