PERCHÉ ESSERE DONNA NON PASSA MAI DI MODA

ПОЧЕМУ' БЫТЬ ЖЕНЩИНАМ ВСЕГДА' ПО МОДЕ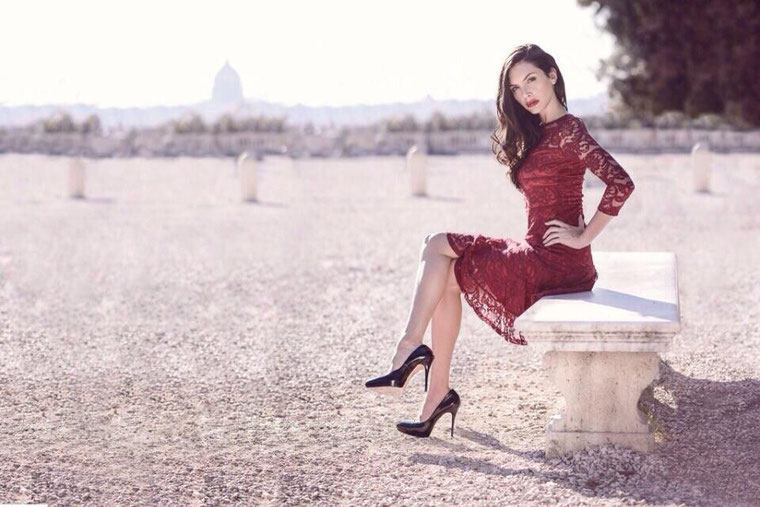 Francesca A. Milano held its Women's Fall-Winter Collection 2016 fashion show on Sunday, 22 November, in the heart of the Ponte Milvio district in Rome.
Francesca A. Milano  is an all-Italian brand created by Francesca Anzalone in 2011.
Francesca Anzalone is an emerging designer from Rome who got herself noticed for her delightful urban romanticism which has developed into intriguing charm.
There is a certain mystique to the woman dressed up in Francesca A. creations as if, beyond the mise en forme of her body, she wanted to keep a secret:  the secret of her femininity. "FRANCESCA" collection has a tapered and sensuous silhouette and clothes fit the body as a second skin, enhancing shapes, volumes and symmetries.

Domenica 22 novembre, nel cuore del quartiere Ponte Milvio a Roma, la stilista Francesca A. Milano ha presentato la sua nuova collezione donna Autunno-Inverno 2016.
Parliamo di un marchio rigorosamente made in Italy nato nel 2011 per mano di Francesca Anzalone, emergente stilista romana che si è fatta notare per la sua incantevole estetica da romanticismo metropolitano, nel tempo cresciuta diventando fascino intrigante.
La donna proposta da Francesca A. è permeata da un alone di mistero, come se, al di là della mise en forme del suo corpo, volesse mantenere un segreto: quello della propria femminilità. È una silhouette affusolata e sensuale quella della collezione "FRANCESCA", con abiti che accarezzano il corpo quasi come una seconda pelle, esaltandone forme, volumi e simmetrie.

On the runway of the newly-redecorated Brasini Garden-Restaurant, we have discovered a mature well-made clothing line, consisting of tailored garments which are daring and sharp looking at the same time.  The palette is mostly black, red and white with hints of gray, beige and pink. Garments are cut in simple although rigorous lines and great attention is paid to even the tiniest detail.  The collection has been conceived and developed for a woman that likes herself and that wants others to like her, in the same way as the collection designer does.
The collection items are made mostly of smooth soft fabrics like organza and chiffon, but there are also a few leather articles and animal prints.  Every item has been designed to be really wearable by any woman in many different ways, depending on her personal taste and imagination, as in the case, for instance, of outerwear items. As Coco Chanel used to say, "Every day is a fashion show and the world is the runway".

Sulla passerella del rinnovato ristorante Brasini, abbiamo scoperto una linea di abiti matura e ben eseguita, formata da capi sartoriali audaci e affilati, declinati nei toni del nero, rosso e bianco con incursioni di grigio, beige e rosa. Le creazioni, dal taglio semplice ma rigoroso, sono molto curate nei dettagli, studiate e pensate per una donna che ama piacere e piacersi, proprio come la sua creatrice.
Nella collezione predominano tessuti carezzevoli come organza e chiffon, ma fanno capolino anche capi in pelle e stampe animalier. Ogni capo è pensato per essere indossato da tutte le donne, in nome di una vestibilità che va di pari passo con la versatilità degli abbinamenti: ne sono un esempio i capispalla che, al di là degli outfit proposti, si trasformano in indumenti da adattare e riutilizzare secondo il proprio gusto e la propria fantasia. Perché, come diceva Coco Chanel, "ogni giorno è una sfilata e il mondo è la tua passerella".

Франческа А Милано это новый бренд меид ин Итали родился в 2011 году' благадаря' Франческе Анцалоне, увеличивающися римской стилистке которая воскресенье 22 ноября' дефилировала вРиме с новой коллекцей Осень/зима "ФРАНЧЕСКА".

---
© Claudia Colagiovanni per Because The Style
Per saperne di più sulla stilista Francesca A, visita il sito di I Think Magazine che l'ha intervistata.
Photocredits
Gianluca Palma per Francesca A