PERCHÉ L'ELEGANZA NON FA RUMORE
ПОЧЕМУ' ЭЛЕГАНТНОСТЬ НЕ ШУМИТ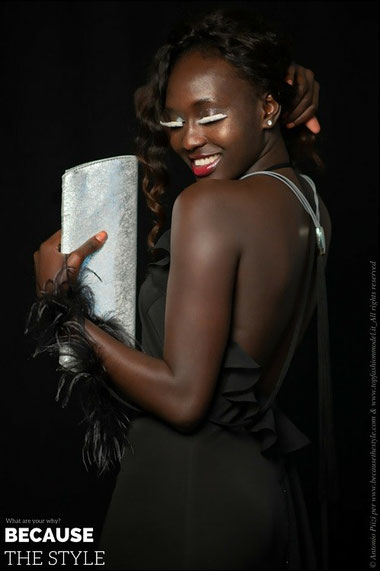 Elegance doesn't need to justify itself. Elegance is kindness and suffused light. Elegance  doesn't need to be bizarre to attract. Elegance is in a cloth which slips away, in a soft gesture and a stolen smile.
L'eleganza non ha bisogno di giustificarsi. L'eleganza è gentilezza e luce soffusa. L'eleganza non ha bisogno di essere bizzarra per attirare attenzione. L'eleganza è in un tessuto che scivola via, in un gesto delicato e in un sorriso rubato.
Элегантность не должнà оправдывается. Элегантность не должнà быть странной чтобы привлекать внимание. Элегантность знает быть который не опровергает себя'. Джиорджио Армани несколько лет тому' назад сказал: "Идиоты никогда' элегантнымы". Сознание собя' и своих выборов. Это элегантность.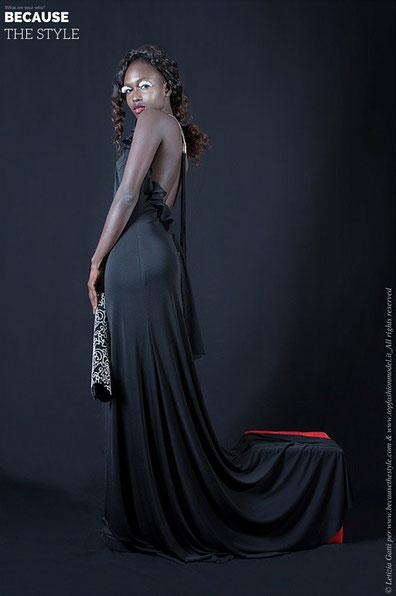 Elegance is how you can be without deny it.
A classical: black colour. But there are different shades of black, to say it better, there are different shades of black dresses. In the middle of a sea made of black which doesn't mean automatically elegant, you always distinguish some. On the contrary generally one, but only if you have the right accessories and a touch of ethereal.
L'eleganza è un saper essere che non si smentisce.
Un classico: il nero. Ma c'è nero e nero o, meglio, c'è abito nero e abito nero. In mezzo ad un mare fatto di nero che non significa automaticamente elegante, se ne distingue sempre qualcuno, anzi solitamente uno, ma solo se ha gli accessori giusti ed un tocco di etereo.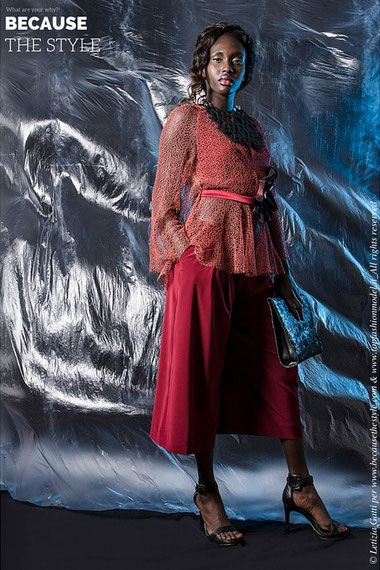 Important occasions in which you  have to show off a built  and wrapped elegance decided by others don't exist. An elegant colour doesn't exist. The right occasion with the right dress exist only. So make room to the red even if it attracts the eye of unsure women, it enlightens the space giving to it suggestion and joy of life.
Non esistono le occasioni importanti in cui "fare sfoggio" di eleganza preconfezionata, precostituita, decisa da altri. Non esiste un colore elegante. Esistono solo l'occasione giusta con l'abito giusto. Quindi spazio al rosso che, sebbene attiri l'occhio delle donne insicure, illumina l'ambiente rendendolo carico di suggestione e voglia di vivere.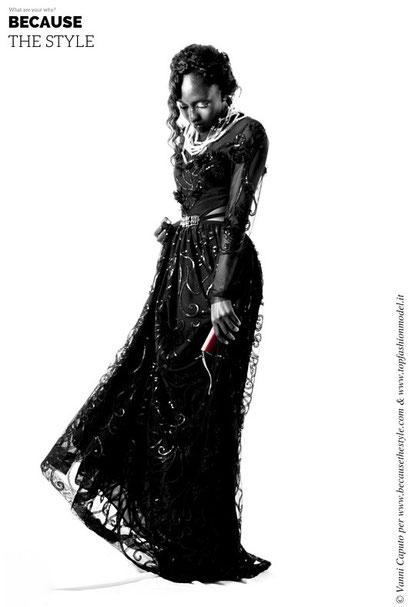 Or red is only a detail little and vibrant as the final note of an old hymn which is inserted in a almost complicated and risky outfit: a little thing can render it over-the-top and its harmony consist exactly in that being on the edge of the deep.
Oppure rosso è un solo particolare, piccolo e vibrante come la nota finale di un canto antico che va a inserirsi in un outfit tanto complicato quanto rischioso: basta nulla per renderlo eccessivo e la sua armonia consiste proprio in questo essere sull'orlo dell'abisso.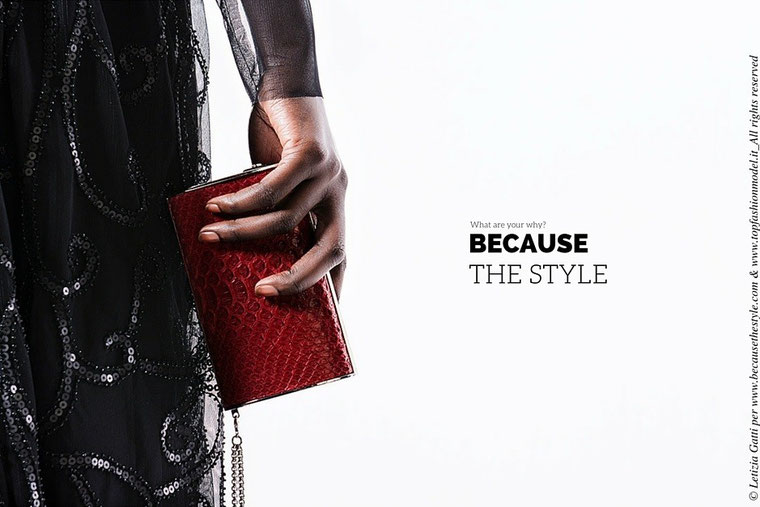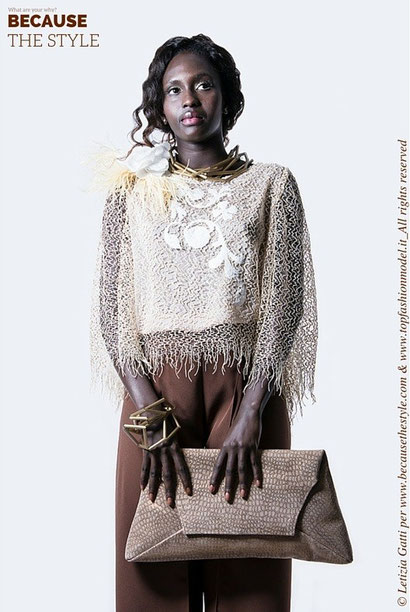 It's not a question of good taste, quality search but even of cleverness, because as Giorgio Armani says, style is not synonym of high fashion but it means to catch the spirit of the time and to elaborate a personal one", even to add a strange, unexpected and  inusual bijou.
By the way "silly people are never elegant" (1982, conversation between Giorgio Armani and Paolo Mosca).
Non è solo questione di buon gusto, di ricerca della qualità, ma anche di intelligenza, perché, come dice Giorgio Armani, "lo stile non è sinonimo di alta moda, ma significa catturare lo spirito del tempo ed elaborarne uno proprio", magari aggiungendoci un bijou inatteso, inusuale, un po' strano.
Del resto, "I cretini non sono mai eleganti" (1982, dialogo tra Giorgio Armani e Paolo Mosca).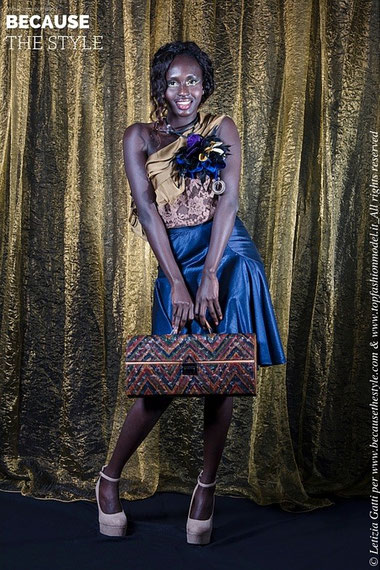 Eccentric doesn't mean absurd as artistic doesn't mean impossible to wear. Even if in the daily frenzy, in a meeting with friends fastly arranged, of a little reunion, mind knows what it need, declining its colours desires and new shapes in the designer's offered palette.
Eccentrico non significa assurdo tanto quanto artistico non significa impossibile da indossare. Pur nella frenesia della quotidianità, di un appuntamento con amiche concordato al volo, di una piccola rimpatriata, la mente sa ciò di cui ha bisogno, declinando i suoi desideri di colore e forme nuove nella palette offerta dai designer.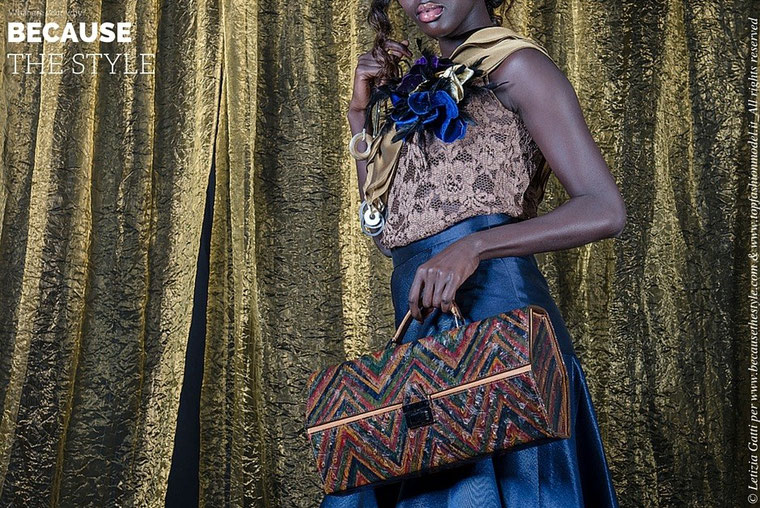 A particular bag, an accessory worn with lightness, the skirt in silk mikado and then colours pushes you towards life, exploding through a yellow, through the sun which you want to take with you, notwithstanding the taste flattening, the desire to show which is useless.
Self conscience and self knowledge of one's own choices. This is elegance.
Una borsa unica, un accessorio indossato con leggerezza, la gonna in mikado di seta e poi il colore che ti spinge verso la vita, esplodendo attraverso un giallo, attraverso il sole che si vuol portare dentro, nonostante l'appiattimento dei gusti, la voglia di mettersi in mostra che non porta a nulla.
Coscienza di sé e delle proprie scelte. Questa è l'eleganza.