PERCHÉ SULLA PELLE PER SEMPRE
ПОЧЕМУ' НА КОЖЕ НАВСЕГДА'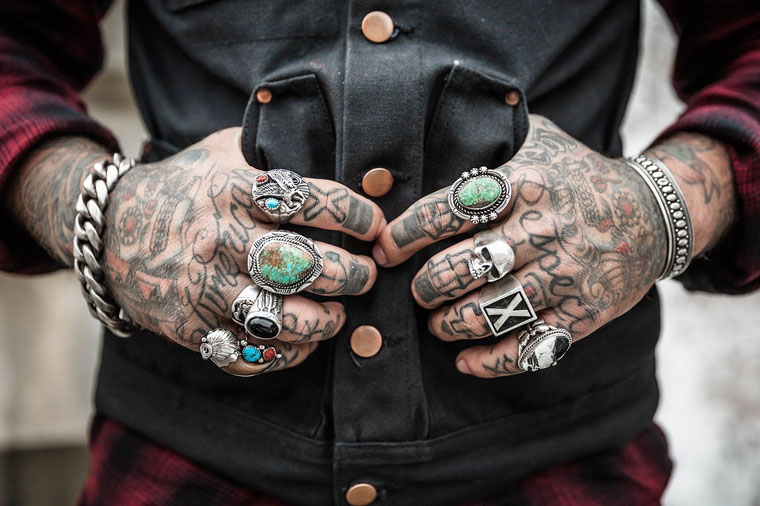 Without hesitation, we have tattoos for all ages, indelibly marking body skin with a phrase, a name, an image from which you choose to not be separated. On the body of some daring it is even hard to find free spaces.
Soccer players, glamorous icons even before models of sportsmanship, have raised the bar of the tattoo. From sleeves of shirts and shorts, designs emerge arrogant, with flashy colors and twisted quotes: it's not anymore for sailors and convicts, something to embarrass the muscled boxers or versatile rapper of a few years ago. After all, if today you do not have a tattoo to show, or hide maliciously, you're "out", worse than having white socks with loafers without being Michael Jackson; and even if it hurts, it doesn't matter.
Senza remore e senza esitazioni ci si tatua a tutte le età, segnando indelebilmente la pelle del corpo con una frase, un nome, un'immagine dalla quale si sceglie di non separarsi mai più. Sul corpo di alcuni temerari si fa addirittura fatica a trovare spazi ancora liberi, facendosi largo tra scaglie di drago, nomi propri o della passione della vita.
I calciatori, icone glamour ancor prima che modelli di sportività, hanno alzato l'asticella del tattoo. Dalle maniche delle maglie e dai calzoncini corti sbucano disegni prepotenti, colori sgargianti e citazioni avvitate: non è più roba da marinai e galeotti, roba da far impallidire i muscolosi pugili o i versatili rapper di qualche anno fa. Del resto, oggi se non hai un tattoo da mostrare, o da nascondere maliziosamente, sei out, nemmeno avessi i calzini bianchi col mocassino senza essere Michael Jackson; e anche se fa male, poco importa.
Никогда' нe в кризисе мода татуировки: без возрастного нормы и без колебаиний. Кто-нибудь решает делать нестираемые признаки на своей коже. Раньше были боксёрами и рэпр, сегодня больше всего' футболисты: кое-кто из них татуировают всё тело не брасая абсолютно чистную кожу. Сегодня они' станут также так  идолами.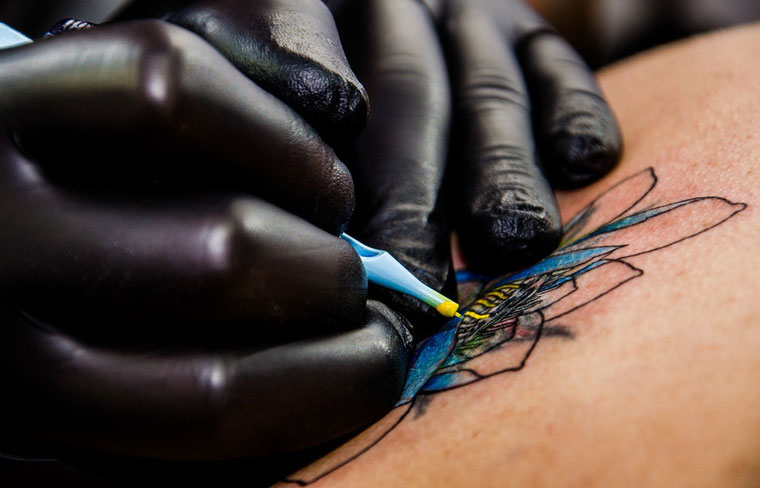 But in a time when nothing is made to last, from objects to relationships, the explosion of passion that rhymes with "forever" intrigues: sure, you can remove a tattoo, but in the era of fast & smart at all costs, the idea to undergo a lengthy treatment to remove the name of the love of youth, horrifies as much as the queue to the doctor. At the end of the day there is WhatsApp.
So green light to the stars on the wrists, and ladybugs on the neck and wings on foot, as newly messengers of gods: there always is time to repent. And on the calf of the nostalgic Neapolitan fan, the hieratic face of Diego Armando Maradona cannot miss. The Pibe de Oro is forever.
Ma in un tempo in cui più nulla è fatto per durare, dagli oggetti ai rapporti umani, incuriosisce l'esplosione di questa passione che fa rima con "per sempre": certo, rimuovere un tatuaggio è possibile, ma nell'era del fast & smart ad ogni costo, l'idea di sottoporsi a un lungo trattamento per rimuovere il nome dell'amore di gioventù, inorridisce almeno quanto la fila dal dottore. In fondo c'è WhatsApp.
E allora via libera a stelline sui polsi, coccinelle sulla nuca e ali ai piedi, come novelli messaggeri degli dei: per pentirsi c'è sempre tempo. E sul polpaccio del tifoso napoletano nostalgico, il volto ieratico di Diego Armando Maradona non può mancare. Il pibe de oro è per sempre.
© Francesca Lunanova per Because The Style
Sharing is caring!