PERCHÉ I FIORI SONO INUTILI
ПОЧЕМУ' ЦВЕТОВ БЕСПОЛЕЗНЫЕ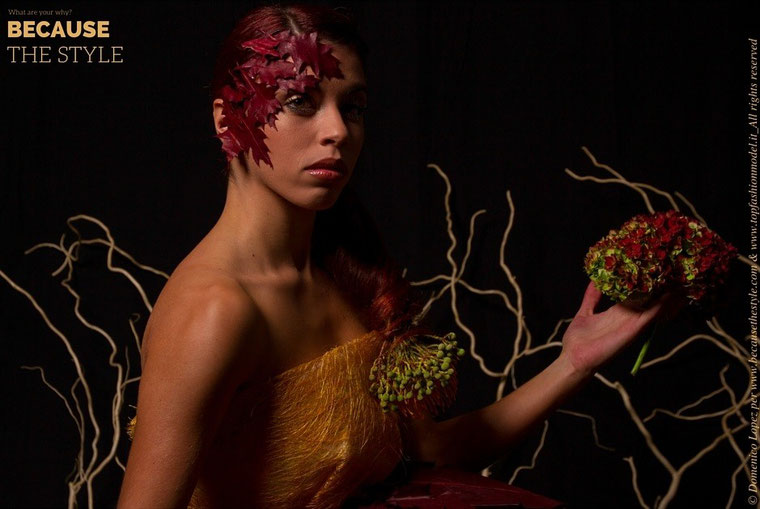 What great mystery the human being is, one of the weakest existing creatures: without a fur which protects him from cold, without strong claws or lethal jaws. His cleverness produces as much domination than the flowers beauty charmed his imaginary.
Quale grande mistero l'essere umano, una delle creature più deboli esistenti: senza una pelliccia che lo protegga dal freddo, senza artigli robusti o fauci micidiali. La sua intelligenza ha prodotto dominazione tanto quanto la bellezza dei fiori ha affascinato il suo immaginario.
Какая большая тайна человеческое существо, самый слабый созданий: без меха которая защищает его от холода, без сильных колотей или смертельных хглотк. Его' ум создовал так господство как красотой цветов очаровал его' воображение.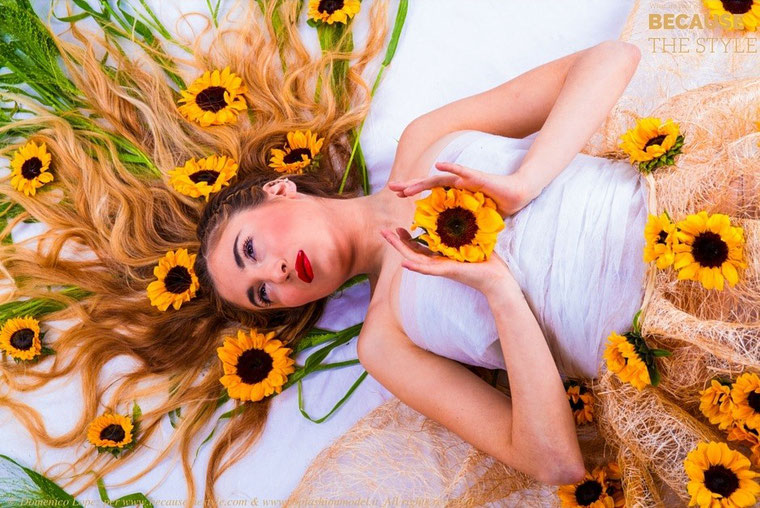 What use to have a palette of superb colours, shapes of perfect delicacy? Could a fifty models of flowers be enough? What is it useful  to have so many, what use to spend years of one's own life trying to create an hybrid? Someone wonders why spending money buying cut flowers which after a few days wither. But they exist (and it could not be otherwise) as much as music, poetry, fashion, art in general. And it could not be otherwise.
A che serve avere una palette di colori superbi, forme dalla delicatezza divina? Non bastavano una cinquantina di "modelli" di fiori? A che serve averne così tanti, a che serve passare anni della propria vita a cercare di creare un ibrido? C'è chi si chiede perché spendere denaro con l'acquisto di fiori recisi che nel giro di qualche giorno appassiscono. Eppure loro ci sono (e non potrebbe essere altrimenti) tanto quanto la poesia, la musica, la moda, l'arte in generale. E non potrebbe essere altrimenti.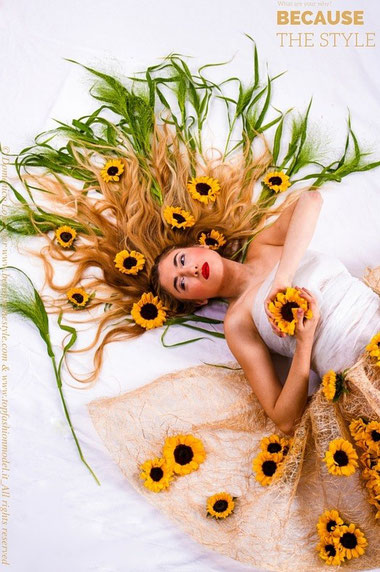 And which surreal charm to caress in every season, with flowers which turn to follow the sun, not even a ray can escape. They allow to be dried out to feed later.
Quale grande fascino surreale ma accarezzabile in ogni stagione, con fiori che ruotano per seguire il sole, nemmeno un raggio deve sfuggire. Lasciarsi seccare per poi nutrire.
And when you think that summer colours are going to extinguish, autumn appear, just from those leaves which the wind in a moment detaches away and makes crisp on the ground: yellow, red, you can see their veins, covering them in their entirety.
E quando poi si crede che i colori dell'estate si spengano, emerge l'autunno, proprio da quelle foglie che il vento in un attimo stacca via e rende croccanti a terra: gialle, rosse, puoi vederne le vene, percorrerle nella loro interezza.
Then winter comes, not at all a general of whatever army of coldness. White the colour, no colour which reflects all colours and which in certain ways contains them all.
Frost protects covering the ground but even burns, scalds exactly like the sun.
Poi giunge l'inverno, tutt'altro che un "generale" di chissà quale esercito del freddo. Bianco, il colore/non-colore che riflette tutti i colori e che, in qualche modo, tutti li contiene.
Il gelo protegge coprendo la terra ma anche brucia, ustiona, esattamente come il sole.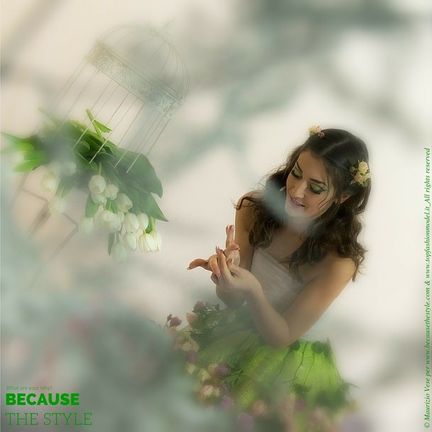 The hours of darkness increase, as in the Underworld from where Proserpina comes back to light every six monts, flower among flowers, stolen by the god of Underworld who tied her to him forever with six grains of love pomegranate.
The land of Sicily shivered under the strides of the raper's horse who pulled out the maid from the flowers she was gathering, in the despair of her mother Ceres who never more seeded.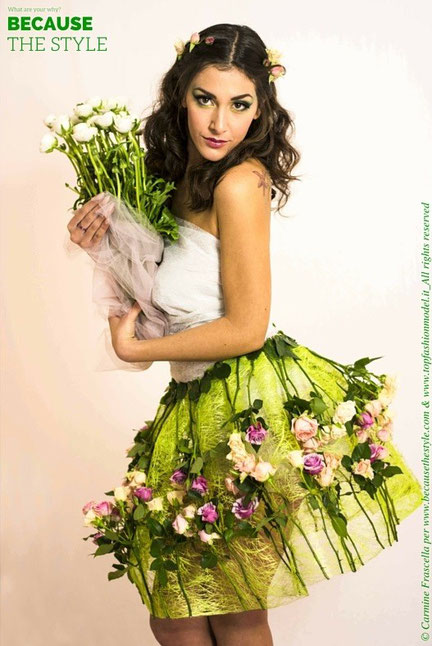 Aumentano le ore di buio, come negli inferi da cui riemerge ogni sei mesi Proserpina, "fiore tra i fiori", sottratta dal dio degli inferi che la lego a sé per sempre con sei chicchi di melograno d'amore.
Tremò la terra di Sicilia sotto le falcate del cavallo del rapitore che strappò via la fanciulla dai fiori che stava raccogliendo, nella disperazione della madre Cerere che più non seminò.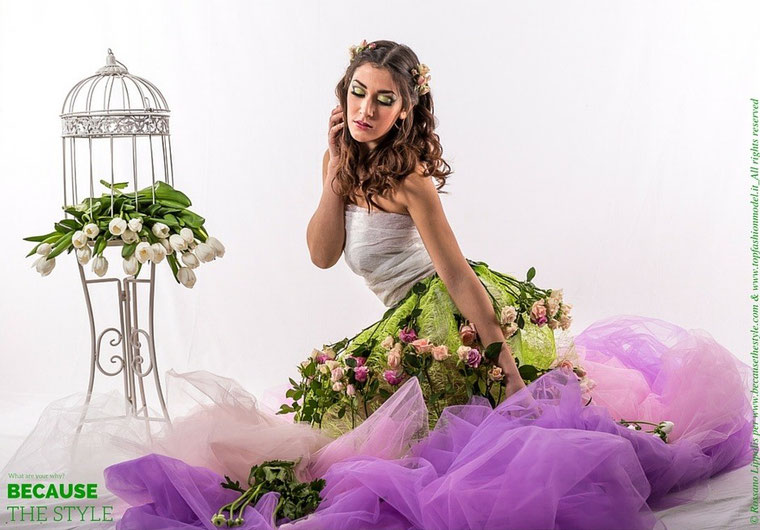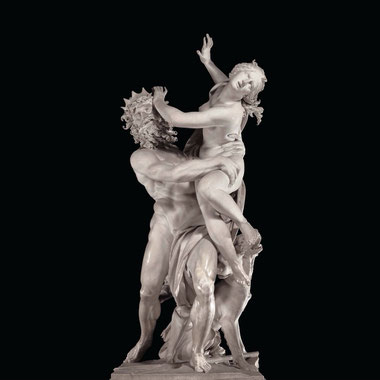 Ades and marble queen by Gian Lorenzo Bernini.
Regina dell'Ade e del marmo di Gian Lorenzo Bernini.
© Pitian per Because The Style