PERCHÉ CI PIACE ALAN RICKMAN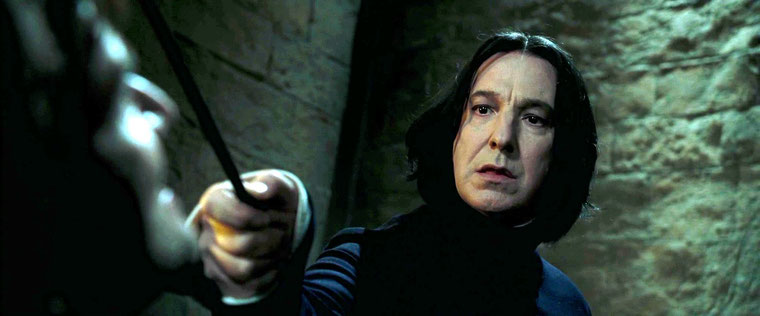 2016 started off with the last farewell to one of the most influential rock stars at the international level. On 10 January the press confirmed David Bowie's death and the news  left all his fans dejected. A few days later, on 14 January, someone else died at the age of 69: Alan Rickman. The name in itself does not say much, but the situation changes drastically if we think of Severus Snape, the role he played in the world-wide famous Harry Potter films. 
The role of the wicked wizard has appealed to grown-ups and children alike and the author of the book series, J. K. Rowling, has left her readers dumbfounded with an amazing unexpected turn of events: as it turns out, Severus Snape, the evil and wicked Potions teacher at Hogwarts School of Witchcraft and Wizardy, had been protecting young Harry out of his love for the young wizard's mother. 
Alan Rickman, however, is not just Severus Snape. We would like to remember him as the bewildered manager of a design agency in Love Actually  who has to deal with a provocative secretary and a midlife crisis. In this  film, Rickman leads a silent dance with himself: wavering in the face of temptation, he is about to be swallowed up when love, real and genuine love, takes him back to his loving wife whom he has never stopped loving. 
It seems that the roles played by Rickman in Harry Potter  and Love Actually share a common feature: the seductive allure of evil which, at the end, vanishes in front of the supreme good: love.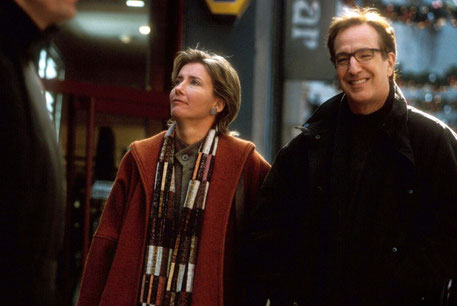 Il 2016 è iniziato con l'addio a uno dei musicisti rock più influenti del panorama internazionale. Era il 10 gennaio quando la stampa annunciava la morte di David Bowie, gettando nello sconforto i fan di tutti il mondo. Pochi giorni dopo, il 14 gennaio scorso, sempre all'età di 69 anni, muore anche Alan Rickman. Il nome, da solo, non dice molto, ma se gli affianchiamo quello di Severus Piton, il personaggio interpretato nella storica saga di Harry Potter, la situazione cambia notevolmente.
Il ruolo del mago cattivo ha appassionato tutti, grandi e piccoli, e l'autrice della saga, la brava J. K. Rowling, ha saputo stupire il suo pubblico con un grandioso colpo di coda finale: il cattivissimo e perfido Severus Piton, maestro di Pozioni e i Difesa contro le Arti Oscure nella scuola di magia di Hogwarts, in realtà aveva il compito di proteggere il giovane Harry Potter, in nome dell'amore che un tempo aveva provato nei confronti della madre del giovane mago.
Tuttavia, Alan Rickman non è solo Severus Piton. A noi piace ricordarlo come il confuso manager dell'agenzia di design di "Love Actually" alle prese con una provocante segretaria e una evidente crisi di mezza età. In questo film, Rickman conduce una danza silenziosa con se stesso: sfiorato dalla tentazione, sta per esserne inghiottito quando l'amore, quello vero e autentico, lo riporta a casa da una moglie che lo ha sempre amato e che lui stesso non ha mai smesso di amare.
Un comune denominatore sembra legare i personaggi interpretati da Rickman in "Harry Potter" e "Love Actually": la seduzione del male, attraente e invitante, che finisce con il dissolversi davanti al bene supremo: l'amore.
© Claudia Colagiovanni per Because The Style
Traduzione a cura di: Donatella Zepponi
Photocredits