PERCHÉ L'AMORE PUÒ RIVELARSI UNA DOMENICA PER CASO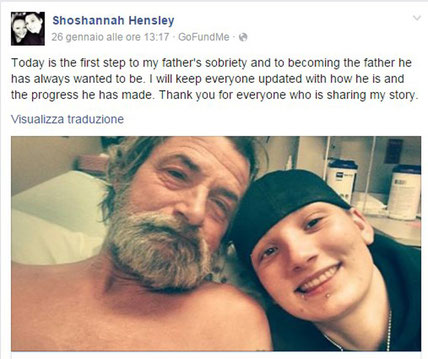 This is a story with a happy ending, one of those stories which, when you read them, seem to have been written purposely for moving you to tears.  This is not the case since the happy ending has not been planned, but it is part of that incredible inventive richness of life which Maupassant praised so much.
We are in Post Falls, a small town in Idaho. It is here that Shoshannah Hensley lives.  She is a 23-year old American girl who has grown up without her father who left home when she was only 3 years old.  She has been searching for him for a long time, but he seems to have vanished into thin air without leaving any trace behind.
On Sunday, 24 January Shoshannah is working her shift as a cashier at the fast food restaurant of one of the ten or so gas stations of that town.  A homeless man, one of the many that wander around town, has been walking aimlessly around that place for some time. On that Sunday he decides to walk into the restaurant.  He orders a sandwich.  At the time of paying, he presents his food stamp card.  Shoshannah takes the card and she looks at the owner's name written in block letters:  Brian Hensley. She shivers.  "Have you got a middle name?" she asks breathlessly.  "Eugene" is his answer.  She cannot hold back tears.  "You are my father!  I have been searching for you for over 20 years"  the girl cries. They hug each other through tears and emotion:  a meeting full of joy and astonishment.
Since that Sunday Shoshannah has been trying to help Eugene to rediscover himself and to build the self-esteem he has lost a long time ago.  She is raising funds through a crowdfunding site  since, deep in her heart, she feels that he deserves a second chance, both as a father and as a man.
Stories like this one kindle hope in those who are still searching for something or someone.  After all, what really matters, regardless of the outcome, is that we should never stop searching.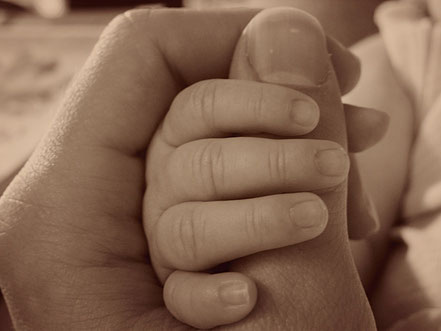 Questa è una storia a lieto fine, una di quelle che a leggerla sembra scritta apposta per commuovere il lettore. Invece no, perché l'epilogo, felice, non è costruito a tavolino, ma rientra nelle derive di quell'incredibile ricchezza d'invenzione della vita tanto decantata da Maupassant.
Siamo a Post Falls, piccola cittadina dell'Idaho. È qui che vive Shoshannah Hensley, una giovane americana di 23 anni cresciuta senza il padre, andato via di casa quando lei aveva solo 3 anni. Un padre inutilmente cercato, svanito nel nulla senza lasciare nessuna traccia dietro di sé.
Domenica 24 gennaio Shoshannah sta svolgendo il suo turno alla cassa, nel fast food di una delle decine di stazioni di servizio della città. Da qualche tempo lì intorno vaga un senzatetto, uno dei tanti che gira in città. Quella domenica l'uomo decide di entrare. Ordina un panino. Al momento di pagare, consegna alla ragazza la tessera che il Welfare americano mette a disposizione dei più bisognosi. Shoshannah prende la tessera e il suo sguardo cade su quel nome scritto in stampatello: Brian Hensley. Un brivido la scuote. "Ha un secondo nome?", chiede trafelata. "Sì, Eugene", risponde il senzatetto. Le lacrime cominciano a sgorgarle copiose e ininterrotte. "Tu sei mio padre! Ti cerco da oltre 20 anni!", urla la ragazza con tutto il fiato in gola. Padre e figlia si abbracciano tra lacrime ed emozione, in nome di un incontro che sa di gioia e stupore.
Da quella domenica Shoshannah sta cercando di aiutare Eugene a ritrovare se stesso e la sua dignità, da troppo perduta. Su una piattaforma di crowdfunding ha aperto una sottoscrizione per chiunque voglia aiutarlo, perché nel profondo del suo cuore, sente che merita una seconda possibilità, sia come padre che come uomo.
Storie come queste accendo una speranza in chi è ancora alla ricerca. Che poi, al di là dell'esito, certo o incerto che sia, solo questo conta: non smettere mai di cercare.
© Claudia Colagiovanni per Because The Style
traduzione a cura di: Donatella Zepponi
Photocredits
Sharing is caring!