PERCHÉ REVENANT VA VISTO SENZA TELECOMANDO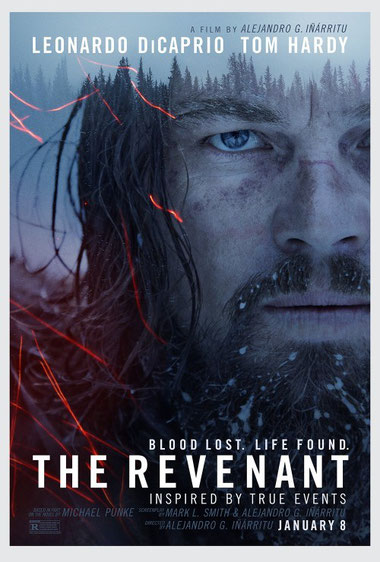 We were just a few at the 6 pm show. I got there two minutes late and screening had already started.  When I lifted the dark curtain, I saw a damp frozen thicket and a small group of hunters intent on curing pelts drenched in blood. I am not going to tell you the plot. There are plenty of reviews everywhere, with more or less bold forecasts. I just want to make three remarks.
First of all, The Revenant is an uncompromising movie because it keeps you waiting. It forces you to sit there and wait. Maybe, this is why some turn up their nose at the movie. At times, the spectator, prey and predator of the timeless time of the social media, feels like he wants to push the "FWD" button on his remote control. But he can't because he is sitting in his chair, row M, number 4, and from there he can only keep on watching the slow-paced unfolding of the story.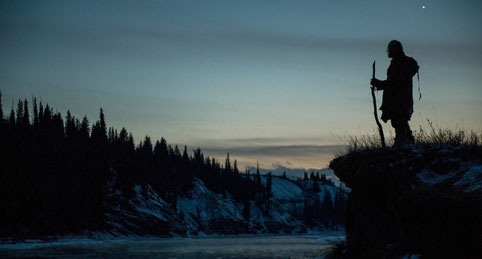 Allo spettacolo delle 18 eravamo in pochi. Sono arrivata due minuti in ritardo, il film era già iniziato. Sollevato il tendone scuro mi è apparso un bosco umido e gelato, popolato da uno sparuto gruppo di cacciatori intenti a conciare pelli sanguinanti. Ma non starò qui a raccontare la trama del film. Per quello ci sono decine di recensioni sparse ovunque, con pronostici più o meno azzardati. Giusto tre osservazioni.
Innanzitutto, Revenant è un film intransigente perché ti fa aspettare. Ti obbliga ad aspettare. Ecco perché qualcuno, forse, può stortcere il naso. Allo spettatore, preda e predatore del tempo disarcionato dei social, in certi momenti viene quasi voglia di premere il tasto "FWD". Ma non può, perché è seduto nella sua poltrona assegnata, fila M, posto 4, e da lì può solo continuare a fruire di un (indispensabilmente) lento avanzamento della storia.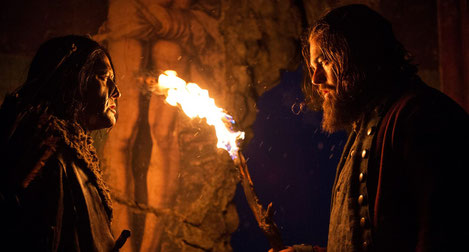 Then we get to THE SCENE: Di Caprio and the grizzly bear fight fiercely, soaking the ground with their blood. But the fighting does not end with just an attack. The bear mauls him again and then he leaves. Fear, a premonition that death is near. And the ferocious bear is back and attacks him once more. Then the bear leaves again.  Excruciating pain, awfully deep gashes. Certainty of death.  And the bear charges Hugh Glass over and again, leaving him lacerated, battered, with a rip in his throat. But he is alive while the bear is dead at last.
The most beautiful shots of the movie, however, are those which recur in at least two or three scenes: when the dying Glass, his body ice cold, crawls with his face stuck onto the movie camera. All the poetry, the grandeur and the truth of the movie is here: in his breath which mists up the camera lens while, at the same time, the spectator knows deep in his heart that Di Caprio is freezing to death. He is dying, he is freezing to death, but he is the Revenant.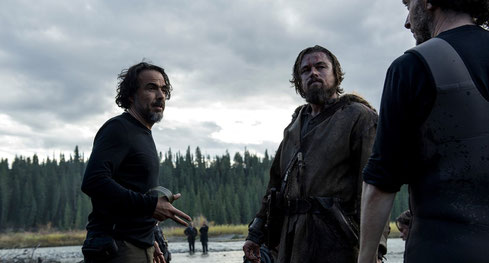 Poi c'è LA SCENA. Di Caprio e il grizzly che lottano ferocemente sul letto del bosco, insanguinandolo. Ma la lotta non si risolve in un unico attacco. No. L'orso lo aggredisce ferocemente, poi va via. Paura, presentimento della fine. Poi l'orso ritorna, lo aggredisce ancora. Poi va di nuovo via. Dolori lancinanti, squarci voraginosi. Certezza della morte. Infine ritorna, più feroce che mai, lasciando Hugh Glass lacero, semi-sgozzato, frantumato. Ma vivo. Mentre l'orso, alla fine, è morto.
Il momento più bello del film, però, è un altro. Un momento che in verità si ripete almeno in due, tre scene: quando Glass, agonizzante, infreddolito, prossimo alla morte, striscia nel sottobosco con il volto appiccicato alla telecamera. Tutta la poesia e la grandezza e la verità del film sta in questo: nel suo alito che gela lo specchio della telecamera, appannandolo e, nello stesso tempo, rivelando allo spettatore che lui, Di Caprio, stava morendo di freddo. Agonizzante, infreddolito, ma redivivo.
© Claudia Colagiovanni per Because The Style
traduzione a cura di: Donatella Zepponi
Photocredits
The Revenant - Official Movie Site
Sharing is caring!