PERCHÈ ENNIO MORRICONE FA PARLARE LA MUSICA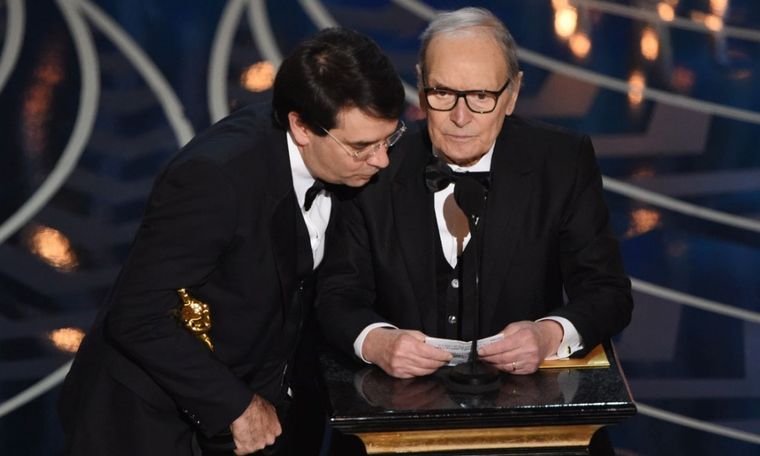 He has gone onto the stage of the Dolby Theater in Los Angeles with a crumpled slip of paper in his hands, thanking the Academy and dedicating that victory to his wife Maria, the companion of a lifetime.
After six nominations which have left him empty-handed and a honorary Oscar in 2007, finally Ennio Morricone has been awarded the golden statuette for composing the original score for "The Hateful Eight", the western directed by Quentin Tarantino and produced by Harvey Weinstein. How sweet it was to see him so deeply moved, delivering, with a faltering voice, very Italian words, as simple and immense as his art.
Only three days earlier he had been honored with the 2574th Star on the Hollywood Walk of Fame.
Morricone has composed hundreds of scores for movies and TV series, not to mention the many scores of contemporary music he wrote over the years. How could one forget the scores of Sergio Leone's westerns, or of award-winning movies like "the Untouchables", "Once Upon a Time in America" or the all-Italian "Nuovo Cinema Paradiso"? "Nuovo Cinema Paradiso", written and directed by Giuseppe Tornatore (the movie was awarded the Oscar as best foreign film in 1989) is the movie which expresses Morricone's talent at its best; it is here that the Master has exhibited all the nuances of his art.
È salito sul palco del Dolby Theatre di Los Angeles con un foglietto sgualcito tra le mani, ringraziando l'Academy e dedicando la vittoria alla moglie Maria, compagna di una vita. Dopo sei nomination andate a vuoto e un Oscar alla carriera vinto nel 2007, finalmente Ennio Morricone ha vinto la sua prima statuetta dorata per la colonna sonora del film "The Hateful Eight", il western diretto da Quentin Tarantino e prodotto da Harvey Weinstein. Che tenerezza vederlo commosso ed emozionato, con la voce tremolante che echeggiava sillabe italianissime, semplici e immense, come la sua arte. E pensare che solo tre giorni prima gli era stata attribuita la stella 2574 nella celebre Walk of Fame di Hollywood.
Morricone ha scritto centinaia di musiche per film e serie tv, senza dimenticare le tante opere di musica contemporanea. Come non ricordare le colonne sonore dei film western di Sergio Leone o di pellicole pluripremiate come "Gli intoccabili", "C'era una volta in America" o dell'italianissimo "Nuovo Cinema Paradiso"? Proprio quest'ultimo film, scritto e diretto da Giuseppe Tornatore (a cui è andato l'Oscar come miglior film straniero nel 1989), è particolarmente rappresentativo del talento di Morricone, perché è qui che il Maestro ha riversato tutte le declinazioni della sua arte.
In "Nuovo Cinema Paradiso" it is the music that does the talking, that fills the movie hall with vibrations. The score is, to a certain extent, also the screenplay. Words, faces, gestures animate the highly imaginative sound track. If we tried to separate what we see from what we hear, we would end up with unfinished elements which are full of untapped potential. In this movie Morricone has succeeded in using music to represent death and life, the pain for a loss and the excitement of passion, the fear to go back and the hope of a new beginning. Not only that: music, texts and images are separate entities which mutually enhance their identities thereby giving rise to a masterpiece. After all, Morricone said: "There cannot be great music without a great movie that inspires it". It is also true, however, that only great artists can capture the inspiration whispered by a great movie.
In "Nuovo Cinema Paradiso" è la musica a parlare, a riempire di vibrazioni la sala cinematografica. La colonna sonora del film è, in un certo senso, la sceneggiatura del film stesso. Le parole, i volti, i gesti animano la colonna immaginifica della traccia uditiva. Se provassimo a scindere ciò che vediamo da ciò che udiamo, non rimarrebbero che elementi incompiuti, carichi di potenziali inespressi. In questo film Morricone è riuscito a dare forma sonora alla morte e alla vita, al dolore della perdita e all'effervescenza della passione, alla paura del ritorno e alla speranza dell'inizio. Ma c'è di più: musica, testi e immagini sono entità divisibili che insieme, nella loro unione, rafforzano la propria identità, elevandosi a capolavoro. Del resto, Morricone l'ha detto: "non c'è una musica importante senza un grande film che la ispiri". Ma è anche vero che solo i grandi artisti sanno cogliere l'ispirazione sussurrata da un grande film.
© Claudia Colagiovanni per Because The Style
traduzione a cura di: Donatella Zepponi
Photocredit
Oscar Morricone