PERCHÉ ENTRARE NELLA "CITTÀ CHE MUORE": CIVITA DI BAGNOREGIO
  ПОЧЕМУ ВОЙТИ "В УМИРАЮЩИЙ ГОРОД" ЧИВИТА ДИ БАНЬОРЕДЖИО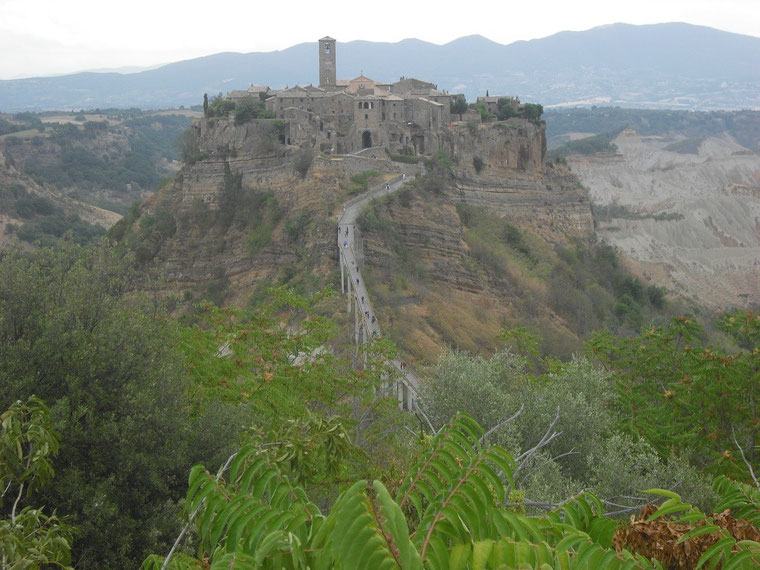 It can be reached only on foot along a bridge, also suspended in the air, three hundred meters long that ends before the ancient Porta Santa Maria, entry point into a small ancient world and enchanted gathered around the Church of St. Donato: a cluster of houses perched on top, which seem magical shelters of elves and fairies, with windows overlooking nothing and adorned with flower pots, overflowing secret gardens of flowers, window sills and covered with climbing walls, smoking chimneys, and paved streets of stone ending with low parapets overlooking the ravine below.
Si può raggiungere il borgo solo percorrendo a piedi un ponte sospeso nel vuoto e lungo trecento metri, che termina dinanzi all'antica Porta Santa Maria, punto d'ingresso di un piccolo mondo antico e incantato raccolto intorno alla Chiesa di S. Donato: un grappolo di case arroccate in cima, che paiono magici rifugi di elfi e fate, con le finestrelle affacciate sul nulla e adorne di vasi fioriti, giardinetti segreti traboccanti di fiori, davanzali e muri ricoperti di rampicanti, comignoli fumanti e stradine lastricate di pietra che terminano con bassi parapetti affacciati sul burrone sottostante.
Повисщое место во времении и пространстве: чивита ди Баньореджио, древний посёлок на провинции Витербо (Лацио-Италия), известний также как "умирающий город".Одинокое и почти безлюдное над мысом созданный древним землетрячением и непрерывной эрозией двух потока.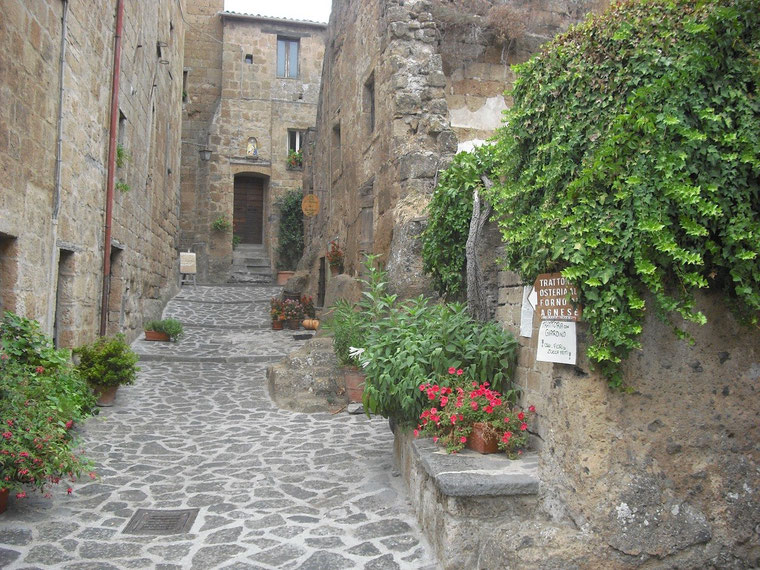 A destination for those who love the places suspended in time and space: Civita di Bagnoregio, an ancient village in the province of Viterbo (Lazio - Italy), also known as "The dying city". It stands isolated and almost uninhabited atop a promontory arisen thanks to the shattering of an ancient earthquake and relentless erosion of two streams (the turbid Rio and the Rio Chiaro) flowing to the base and that have shaped so insulate between precipices and deep ravines and steep, high candid badlands, barren cliffs and down into the valley, winding streets that are lost between the fields and meadows teeming with herds.
Una meta per chi ama i luoghi sospesi nel tempo e nello spazio: Civita di Bagnoregio, borgo antico in provincia di Viterbo (Lazio-Italia), noto anche come "La città che muore". Si erge isolato e ormai quasi disabitato sulla sommità di un promontorio creatosi grazie all'azione dirompente di un antico sisma e  all'erosione incessante di due torrentelli, il Rio Torbido e il Rio Chiaro, che scorrono alla base del promontorio e nel tempo lo hanno modellato, isolandolo da precipizi e burroni profondi e ripidi, alti calanchi candidi, brulli strapiombi e, giù nella valle, stradine tortuose che si perdono tra campi coltivati e pascoli brulicanti di armenti.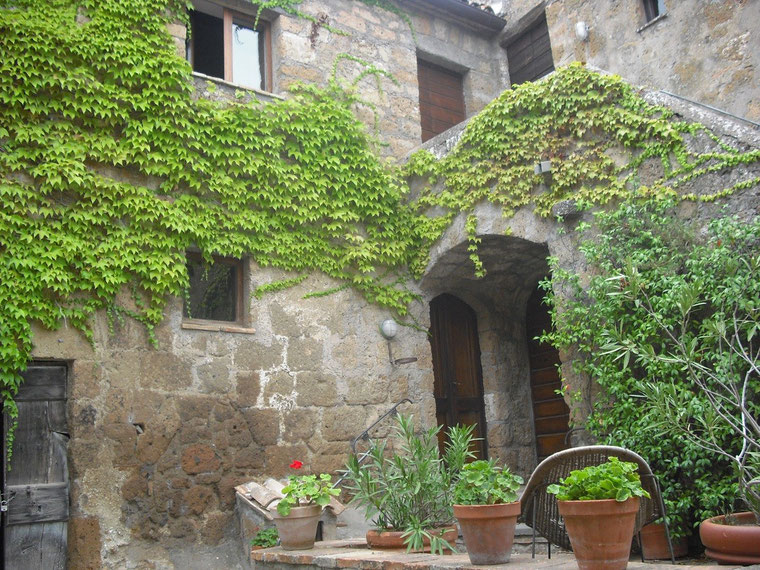 Fascinating in the days of fog and rainy ones, when the village seems to float on clouds, as if suspended in mid-air, as the promontory where out of sight enveloped by fog. Equally fascinating clear day when you can admire the colors that dress beauty rock formed by layers of different colored materials, volcanic dusts, clays and sands, which settled and compressed over the centuries have taken various colors and shades of ocher and brown.
An enchanted world away from the bustle and noise of civilization.
Civita di Bagnoregio è particolarmente affascinante nei giorni di nebbia e in quelli piovosi, quando il paesino sembra fluttuare tra le nuvole, come sospeso a mezz'aria e il promontorio su cui sorge scompare alla vista avvolto dalla nebbia. Ma è altrettanto affascinante nei giorni limpidi, quando è possibile ammirare i colori che vestono di bellezza la roccia formata da strati di materiali di diverso colore, polveri vulcaniche, argille e sabbie che, sedimentate e compresse nel corso dei secoli, hanno assunto varie colorazioni, con calde gradazioni di ocra e marrone.
Un mondo incantato lontano dal trambusto e dai rumori della civiltà.