PERCHÉ IL SESTO SENSO È QUELLO DI GOLLY PER I COLORI
ПOЧЕМУ ШЕСТОЙ ОРГАН ЧУВСТВ ГОЛЛЫ ДЛЯ ЦВЕТОВ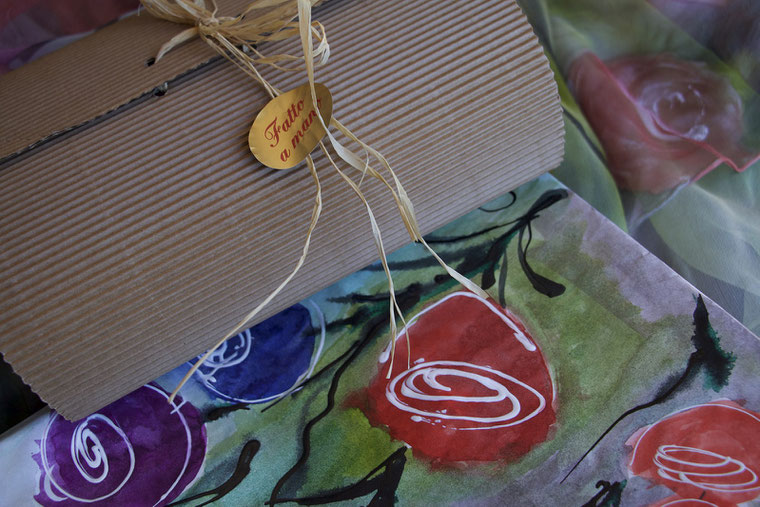 Liquid as the shiny colors on the palette and precious as the materials on which fantasy tries to define lines and shapes to gracefully dress a woman who looks for a distinctive trait of her style (coming from her time, choices, looks and smiles) in a detail, creations and foulards made in Italy of Golly are something deep, rich of art and passion that result in stylish items.
The capability of impressionists of dealing with light results in silk, satin and chiffon of vestment and scarf, where the freshness and the fragrance of colorful, bright and shimmering flowers are impressed in order to wrap the body and enhance it. Tissue curves give importance now to the drawings, always different, now to the wise choice of colors: every piece is unique and unrepeatable, as only a work of art knows how to be destined to make someone fall in love.
Liquidi, come colori ancora lucidi di impasto sulla tavolozza, preziosi, come i materiali su cui la fantasia si fa linee e forme per vestire di eleganza la donna che cerca in un dettaglio il tratto distintivo del proprio stile costruito dal tempo, dalle scelte, dagli sguardi, dai sorrisi: le creazioni, i foulard made in Italy di Golly sono materia viva, sono arte e passione, sono stile.
L'arte degli impressionisti di dialogare con la luce si poggia sulla seta, sul satin e lo chiffon delle stole e delle sciarpe per imprimervi la freschezza e il profumo di fiori variopinti, vividi e cangianti nel loro delicatissimo compito di avvolgere il corpo e di esaltarlo. Le curve del tessuto risaltano ora i disegni, sempre diversi, ora la sapiente scelta dei colori e maestria nell'imprimerli: ogni pezzo è unico e irripetibile, come sa esserlo solo un'opera d'arte destinata a far innamorare.
Каждый платок Голлы это едиственный кусок, настоящее произведение искусства родилось из страсти её авторши которая училась в школe высокой моды мэд ин итали. В месон Версаче и Армани: результат это микс большого класса, который сразу делает стиль.
Artist, designer, woman has passion for painting and a long story in the fashion world. Inspired by Versace and Armani, icons of the best Italian fashion manufacturing companies, they have learnt everything about textile and that hard work can create an inimitable style.
This all results in Golly's creations: its refined and elegant accessories are not only suitable for basic looks and for "special occasion" ones, but  also appropriate for the little piece of femininity chosen by sportswomen.
L'artista, la stilista, la donna fonde in sé una grande passione per la pittura e una lunga storia nel mondo della moda, "alla corte" di icone del made in Italy come Versace e Armani, dove ha calcato i backstage delle sfilate, ha imparato a conoscere i tessuti, a capire che solo con un lavoro intenso si costruisce uno stile che sia davvero inimitabile.
Tutto questo si concentra nelle sue creazioni, nei suoi accessori raffinati ed eleganti adatti a caratterizzare i look più semplici, così come quelli destinati alle occasioni più speciali, senza trascurare il gusto di un tocco di femminilità anche per le più sportive.
Accessories make the difference and escape from the current social media fashion trends, which are already too far from the concept of buying as the final step of a precious alchemy that started at the moment you cross the doorstep of a boutique: Golly's creations have class and the taste of an original and authentic style.
Gli accessori fanno la differenza e sfuggono la serialità di una moda troppo social e ormai lontana dalle boutique dove l'acquisto era la risultante di un'alchimia preziosa che cominciava non appena si varcava la soglia: le creazioni di Golly hanno la classe e il sapore delle autentiche scelte di stile.
©Francesca Lunanova per Because The Style
Photocredit
Per saperne di più sulla designer Gladys, visita il sito di I Think Magazine che l'ha intervistata.
Sharing is caring!