PERCHÉ SE MIO PADRE DIPINGE, IO (LO) SCRIVO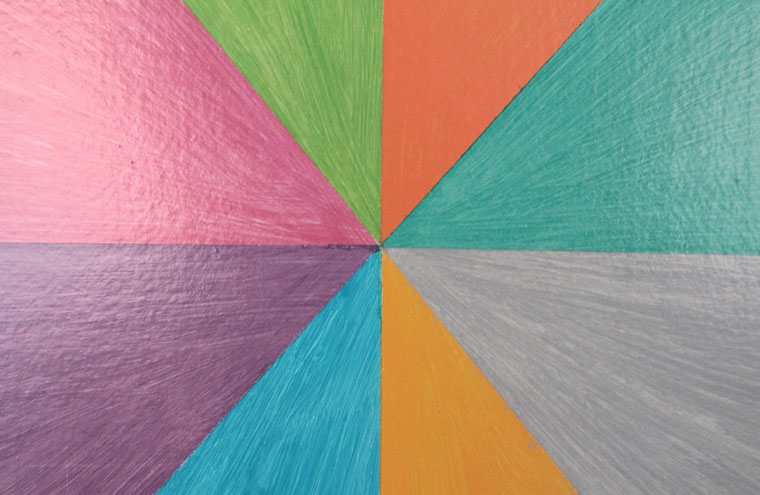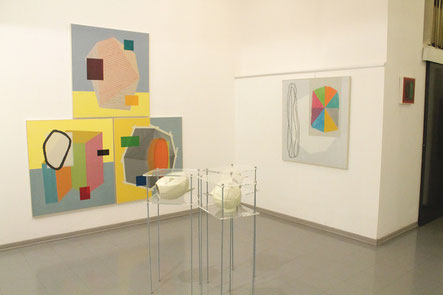 Artists narrate tales and portions of time with fixed pictures and supports on which they impress their longstanding relationship with colors, scratches and related techniques.
All of this fits in the Diario cromatico, the most recent solo exhibition by Paolo Lunanova, a renowned artist (since the 70s) who comes from the famous art gallery of Marilena Bonomo, one of the major art ladies from Bari.
From the figurative origins to the geometrical haven, the most typical traits of Lunanova are the steady dialogue with color and the approach to the canvas as an unconditional space where the represented object feeds itself with color and escapes from any boundary to totally shine: the artist is constantly searching for new colour effects that both return the extremely rationalized artwork and impose itself in his own identity by an impassive painting.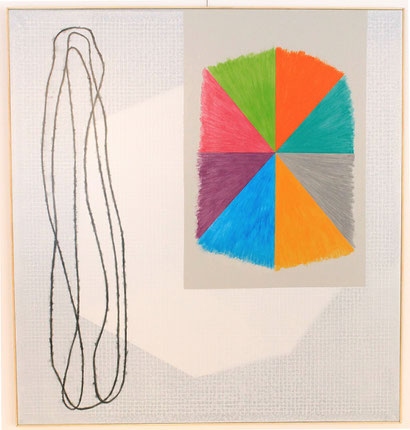 Gli artisti raccontano storie, segmenti del tempo, con immagini ferme e supporti su cui imprimere il loro rapporto col colore, col segno, le tecniche lungo una vita.
Questo il Diario cromatico di Paolo Lunanova, l'ultima personale in termini cronologici dell'artista molfettese, nome storico - sin dagli anni '70 - della celebre galleria d'arte barese di una delle più grandi "signore dell'arte" del nostro paese, Marilena Bonomo.
Dalle origini figurative all'approdo geometrico, caratteristico di Lunanova è il dialogo costante con il colore e l'approccio alla tela come fosse uno spazio incondizionato in cui l'oggetto rappresentato, che di quel colore si nutre, sfugge ogni confine per darsi all'occhio nella sua perfetta totalità: l'artista si dice costantemente alla ricerca di nuove soluzioni cromatiche che restituiscano l'oggetto d'arte estremamente razionalizzato e che, attraverso una pittura fredda che non cerca empatie con l'osservatore, a lui si imponga netta nella sua identità.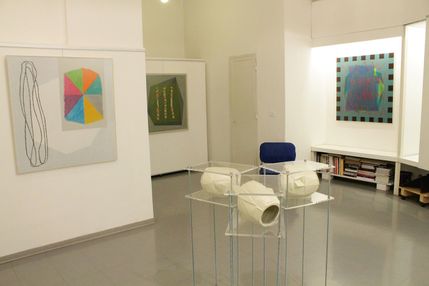 Shapes and scratches never forerun the color study, the main character: the paintings adorn the walls of the gorgeous "Itinerari", the art gallery located in Bari, devoting theirselves to visitors in all their beauty while the artist doesn't avoid showing himself with the typical creator's vivid passion and the placidity of solid experience.
Among the exposed artworks, the attention is caught by the three terra-cotta heads set down in the middle of the room: they are three of the seven (already realized) – he explains – one for every decade of his life. One is linked to the concept of self achievement, symbolized by the initials replacing the ears, while the other one represents the young and cheerful Pinocchio at the very beginning of his life, before becoming a superhero.
I don't know if I have ever looked at my father with him in mind as a superhero, nevertheless, I have never stop finding myself inside the reflection of his great greatness.
Le forme, il segno, non precedono mai lo studio sul colore, il vero protagonista: i quadri vestono le pareti della deliziosa galleria d'arte 'Itinerari' di Bari, offrendosi ai visitatori in tutta la loro diretta bellezza e l'artista non si sottrae, con la passione mai sopita del creatore e la pacatezza della solida esperienza. Curiose, tra le opere esposte, le tre teste in terracotta dipinta, coricate al centro dello spazio: sono tre delle sette finora realizzate – spiega – una per ogni decennio della sua vita. C'è quella dell'affermazione dell'io, con le iniziali al posto delle orecchie, e quella del giovane Pinocchio spensierato che si affaccia alla vita prima di trasformarsi in supereroe.
Non so se ho mai guardato mio padre pensando a lui come un supereroe, di certo non ho mai smesso di cercarmi dentro il riflesso della sua distinta grandezza.
©Francesca Lunanova per Because The Style
Traduzione a cura di: Rossella De Toma
Photocredit
Paolo Lunanova
Itinerari Arte Contemporanea, via Bozzi 17, Bari - dal 23/04/2016 al 15/05/2016 - orari: 18.30 - 20.30
Sharing is caring!