PERCHÉ LA MODA SI FA COMPAGNA DI BELLEZZA E STILE
ПОЧЕМУ МОДА СТАНОВИТСЯ ПАДРУГОЙ КРАСОТЫ И СТИЛЯ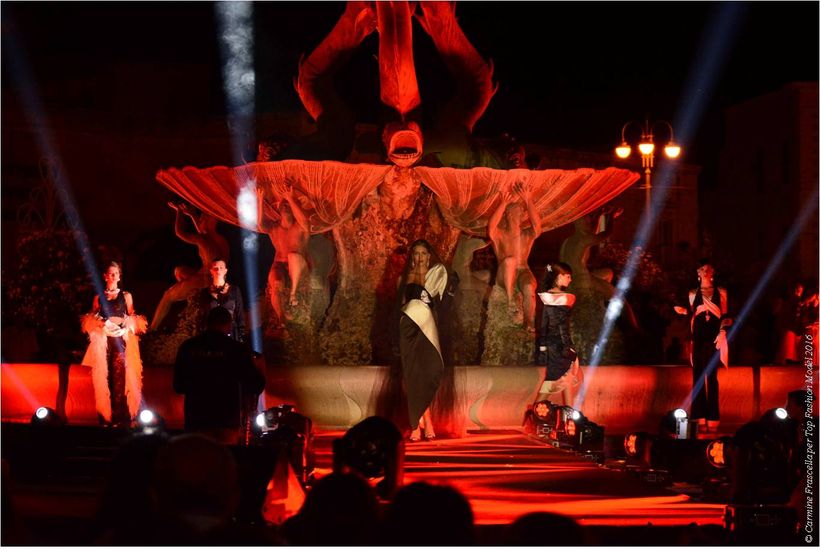 Sensory experiences enhanced by femininity which is never vulgar: this was the main event at the 28 August final of the Top Fashion Model Award organized by Carmen Martorana and directed by Roberto Guarducci, of which we were a media partner.
Esperienze sensoriali declinate all'insegna della femminilità mai volgare: questo è stato l'evento che ha segnato anche quest'anno la finale del premio Top Fashion Model del 28 agosto, organizzato da Carmen Martorana e diretto da Roberto Guarducci, di cui siamo stati media partner.
Сенсорные опыты которые опираются сходный по форме на женственность никогда не вульгарный: это былo соытие что обозначал также в этом году финал премииТоп Фешион Модел 28 августа, организоване карменом Мартораной и управляне Роберто Гуардуччи, которого мы были мидиа патнер.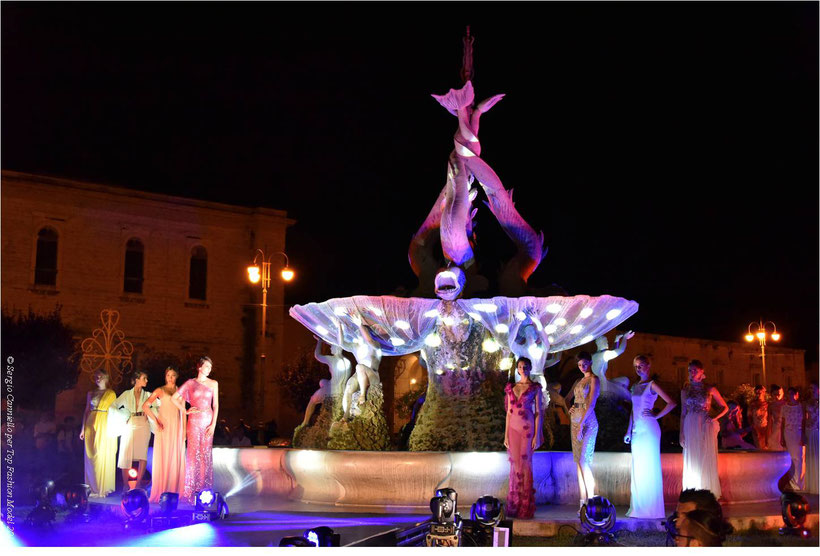 From the very beginning, models wearing Guarducci's sensuous and sophisticated clothes were well aware of the fact that it was not a beauty contest, but rather a taste of models' way of life where beauty is not sufficient to achieve professional success. No provocative intent – Guardacci asserts – only gentle and romantic women who are still capable of dreaming.
Sin dal loro primo avvicendarsi in passerella con gli abiti sofisticati e sensuali proprio di Guarducci, le modelle sono apparse ben consapevoli del fatto che non si trattava di un concorso di bellezza, ma di uno spaccato di vita da modelle per la quale non è sufficiente la bellezza per imporsi professionalmente. Nessuna provocazione, conferma Guarducci, solo dolcezza all'insegna di un femminile romantico capace ancora di sognare.
The perfect wedding dress is by definition the "dream" of many women: thus the master tailors of Bianca Sposa in Putignano open the doors of their workshop for Puntidivista, a group of wedding photographers who want to propose a kind of "wedding box", designing also the wedding dresses for their brides. Romantic mermaids wearing elasticized nude effect dresses enhancing their shapes walk the catwalk, accompanied by the delightful presence of Daniela Mazzacane from TgNorba.
Quale sogno per antonomasia per molte donne quello dell'abito da sposa perfetto: all'opera dunque i maestri di Bianca Sposa di Putignano che aprono le porte del loro atelier a Puntidivista, gruppo di fotografi di matrimoni che intendono proporre una specie di "wedding box", disegnando anche gli abiti per le loro spose. Sirene romantiche elasticizzate con forme in risalto ed effetto nude si alternano accompagnati dalla deliziosa presenza di Daniela Mazzacane, volto noto del TgNorba.
Make-up and hairdos are the impeccable work of Elisabetta Tansella and Salvo Binetti, respectively. Both have been protagonists and charmers, rather than bit players. Their wise suggestions are: do not apply too much makeup, especially in case you lack experience; a sober hairstyle is always elegant.
Rosa Ladisa's collection of ironic costume jewelry made mostly of coral proves that coral can be worn at any time during the day.
Impeccabili trucco e parrucco, rispettivamente curati da Elisabetta Tansella e Salvo Binetti, che certamente non sono stati complementari né di cornice, ma protagonisti ed ammaliatori. I loro saggi consigli: evitare di calcare la mano col trucco soprattutto se si è privi di esperienza; un'acconciatura sobria è puntualmente elegante.
Ironici e divertenti i bijoux di Rosa Ladisa che propone una collezione che ruota attorno al corallo, dedicando una particolare attenzione alla sua indossabilità anche nella quotidianità.
Antonio Corposanto has opted for a minimal line although sometimes his ruches add a touch of cocky romanticism. Sexy slashes, deep V-necklines, crepe fabrics and chamois do not allow for any degree of insecurity.
Minimal line per Antonio Corposanto, sebbene le rouches talvolta strizzino l'occhio ad un gusto un po' romanticamente spavaldo. Aperture sexy, scollature profonde, tessuti crepe e camosci dai tagli decisi non lasciano spazio alle insicurezze.
Tatoo mood for Maria Pia Eramo featuring black and red chiffon and tulle.
Mood tatoo per Maria Pia Eramo, tra chiffon e tulle immersi nei suggestivi neri e rossi.
After two years it is a pleasure to meet Gianni Sapone again. Flimsy sleeves which seem to take in bits of the sky and make the woman look like a queen, her own empress.
Ritroviamo con piacere a distanza di due anni Gianni Sapone. Maniche vaporose che vogliono raccogliere porzioni di cielo, elevano la donna al grado di maestà, imperatrice di se stessa.
Gerardo Sacco's charming and nostalgic jewels lend an almost magic atmosphere to the catwalk. His jewels are part of the history of film, having been worn by stars like Glenn Close and Liz Taylor.
Affascinanti e dal retrogusto nostalgico, le opere di Gerardo Sacco che porta magia in passerella coi suoi gioielli che fanno parte della storia del cinema, indossati da dive del calibro di Glenn Close e Liz Taylor.
Accompanied by Gabriella Aruanno's voice and featuring the classic ballet performance of Mattia Ignomiriello and the Giovinazzo Dance Team, the two-day event has been conceived as a tribute to fashion, beauty and, above all, style. On the second day, the fashion show ended at the evocative port of Giovinazzo where the young models presented selected clothing lines and accessories.
Undoubtedly, tireless Carmen Martorana is already getting ready for the next edition; for the time being, she is working with us in view of the forthcoming shooting of Because The Style featuring Ilaria Petruccelli, the model selected by the editorial staff as well as the winner of the fashion award.
L'evento, accompagnato dalla voce di Gabriella Aruanno, dall'esibizione di danza classica di Mattia Ignomiriello e dei ballerini della scuola di danza Dance Team di Giovinazzo, è stato concepito all'insegna della moda, della bellezza ma soprattutto dello stile e si è concluso il giorno seguente presso il suggestivo porto di Giovinazzo, dove le giovani modelle hanno indossato selezionate linee di abbigliamento e accessori. Sicuramente l'instancabile Carmen Martorana è già all'opera per la prossima edizione, mentre assieme a noi collaborerà per l'imminente shooting di Because The Style che vedrà protagonista la modella individuata dalla redazione, Ilaria Petruccelli, nonché vincitrice del primo premio del fashion award.
© Pitian per Because The Style