PERCHÉ LA NATURA SA SORPRENDERE SEMPRE: LA GOLA DI PARTNACH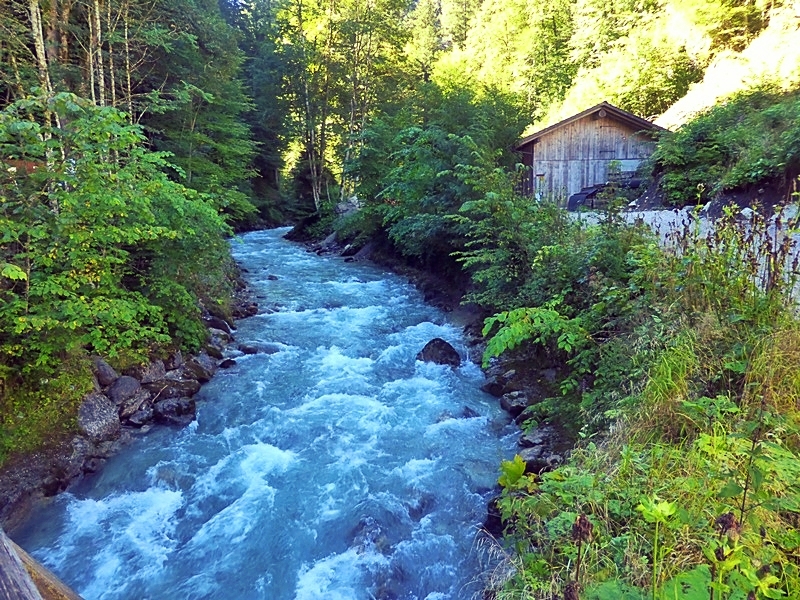 Garmisch (Germany): Partnach Gorge. With bus or car you get comfortably up to a parking lot surrounded by the beautiful nature of the Bavarian mountains, just in front of the Olympic Stadium. To reach the entrance of the Gorges, walk or nice carriages drawn to horses and drivers dressed in the typical clothes of Tyrol, you have to undertake take a relaxing walk of a couple of kilometers in magnificent woods and meadows embraced by green hills along the river Partnach that makes its way, impetuous, among the rocks and vegetation.
Garmisch (Germania): Gole di Partnach. Col pullman o con l'auto si arriva comodamente fino ad un parcheggio immerso nella Natura splendida delle montagne Bavaresi, proprio di fronte allo Stadio Olimpico. Per giungere all'ingresso delle Gole, a piedi o su simpatiche carrozze trainate da cavalli e conducenti abbigliati con i tipici abiti del Tirolo, bisogna intraprendere una passeggiata rilassante di un paio di chilometri tra magnifici boschi e prati abbracciati da monti verdeggianti lungo il fiume Partnach che si fa strada, impetuoso, tra le rocce e la vegetazione.
A dark tunnel leads into a world where water and rocks are the masters ... Going through narrow tunnels dug into the mountainside we can admire amazed at the mighty and tumultuous path of the river which over thousands of years has carved and molded these steep rocky walls towering over 70 meters, making jumps, waterfalls, streams and a rare charm, sometimes penetrated by the sun's rays that barely come up down the gorge making its way through the foliage of the vegetation that grows in the most high part of the rocky walls.
The route takes in the Gorge twenty minutes and at the end you can go backwards or face a magnificent path that leads to high altitude through woods, meadows and gentle bucolic landscapes.
Un buio tunnel immette in un mondo in cui l'acqua e le rocce la fanno da padrone…Percorrendo strette gallerie e cunicoli, scavati nel fianco della montagna è possibile ammirare stupiti il percorso tumultuoso del fiume che nel corso di millenni ha scavato e modellato queste ripide pareti rocciose alte più di 70 metri, creando salti, cascatelle, rivoli e scenari di rara suggestione, penetrati a tratti dai raggi del sole che a stento giungono fino in fondo alla Gola, facendosi strada tra le fronde della vegetazione che cresce nella parte più alta delle pareti rocciose.
Il percorso nelle Gole dura una ventina di minuti e al termine lo si può ripercorrere a ritroso oppure affrontare un magnifico sentiero che porta in alta quota, tra boschi, pascoli e dolci paesaggi bucolici.
© Carmela Linsalata per Because The Style
Photocredit
Carmela Linsalata