PERCHÈ L'ABITO DA SPOSA È BIANCO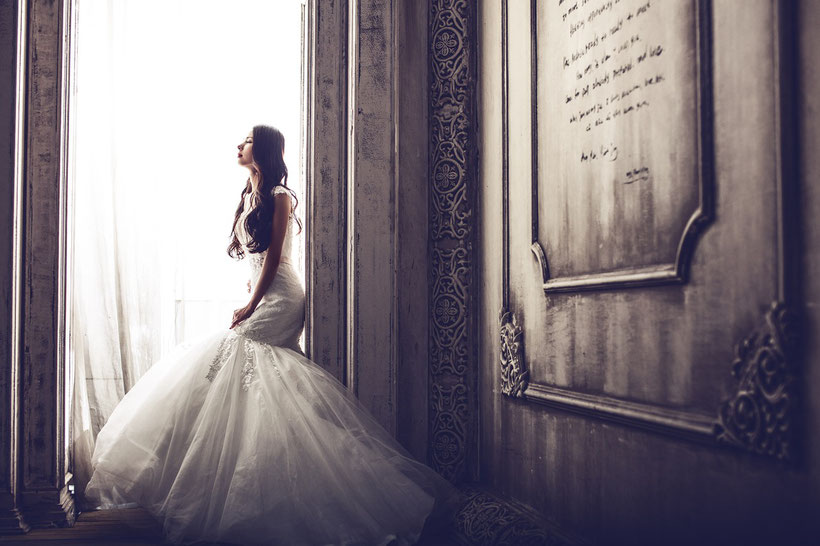 Did you ever wonder why, at a certain point in history, brides started to wear white gowns? It is common knowledge that in the Middle Ages, as well as in the following ages, wedding gowns were not totally white, but rather a combination of various hues. From the 19th
century onwards, wedding gowns were fully white. The trend of wearing White spread from the middle-class to the lower classes.
Vi siete mai chiesti come mai ad un certo punto della storia l'abito della sposa sia diventato bianco? Sicuramente alcuni sanno che nel Medioevo, ed anche nelle epoche successive, l'abito della sposa non era totalmente bianco, ma aveva accostamenti di colori diversi. Solo nell'800 l'abito da sposa divenne completamente bianco, prima nella borghesia e poi a livello popolare.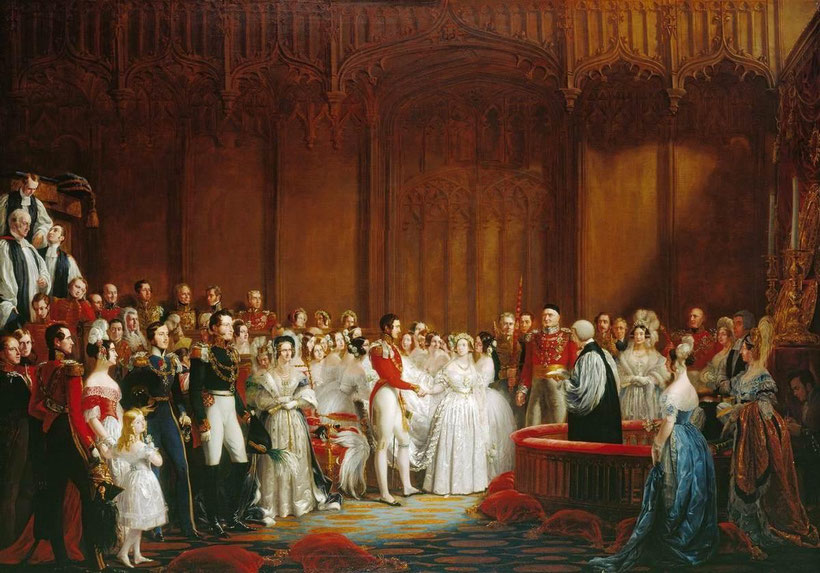 At the beginning, white did not represent purity: it rather had a political meaning. The reason was that, in 1803, Napoleon Bonaparte put a stop to the flow of dyes to continental Europe in an attempt to undermine British economy.
It was only after the Restoration that white came to represent purity and chastity. Before then, however, a woman chose to wear a white wedding gown even though it was not a tradition: Mary Stuart when she married King Francis II.
White became the most fitting hue for a bride in 1840, after the wedding of Queen Victoria to Prince Albert. Pictures showing her stunning white dress inspired thousands of common people to follow suit. Thereafter, however, White took on a different meaning, that is, purity and chastity. At present, it is standard for brides to wear white.
Inizialmente non stava ad indicare l'integrità fisica e morale della fanciulla che lo avrebbe indossato, ma aveva un valore politico. Già, perché nel 1803 Napoleone Bonaparte bloccò l'afflusso di materiali coloranti verso l'Europa continentale, volendo colpire gli interessi inglesi. Fu solo dopo il periodo della Restaurazione che il bianco assunse un valore simbolico, come codice di purezza e castità. Prima di questo periodo storico, però, una donna c'è stata che ha scelto di indossare un abito da sposa bianco, per sua scelta non per tradizione: Maria Stuarda quando sposò Francesco II di Francia.
Fu invece dal 1840 che l'abito da sposa bianco divenne d'uso popolare, in particolare dopo il matrimonio della regina Vittoria con Alberto di Sassonia-Coburdo-Gotha, il cui abito da sposa è documentato da alcune foto dell'epoca. Queste stesse foto ebbero grande diffusione e fu questo il motivo per il quale l'abito bianco ebbe forte risonanza, fin ai nostri giorni. Col tempo però il "bianco" assunse un significato diverso, ovvero di candore e verginità della fanciulla.
Attualmente l'abito bianco da sposa è solo una scelta tradizionale per il matrimonio.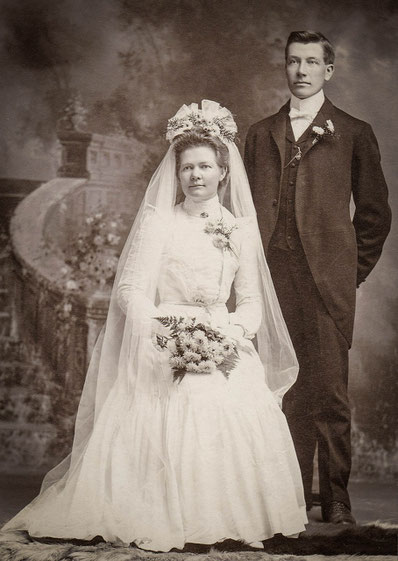 "In forma dunque di candida rosa
 mi si mostrava la milizia santa
 che nel suo sangue Cristo fece sposa...
 Le facce tutte avean di fiamma viva,
 e l'ali d'oro, e l'altro tanto bianco,
 che nulla neve a quel termine arriva" 
(Dante Alighieri, Divina Commedia, Paradiso,  XXXI)
"In fashion, as a snow white rose, lay then

Before my view the saintly multitude,
Which in His own blood Christ espoused ....
(Dante Alighieri, The Divine Comedy – Paradise,  XXXI)