PERCHÉ LA SUGGESTIONE DEL PRESEPE È SEMPRE VIVA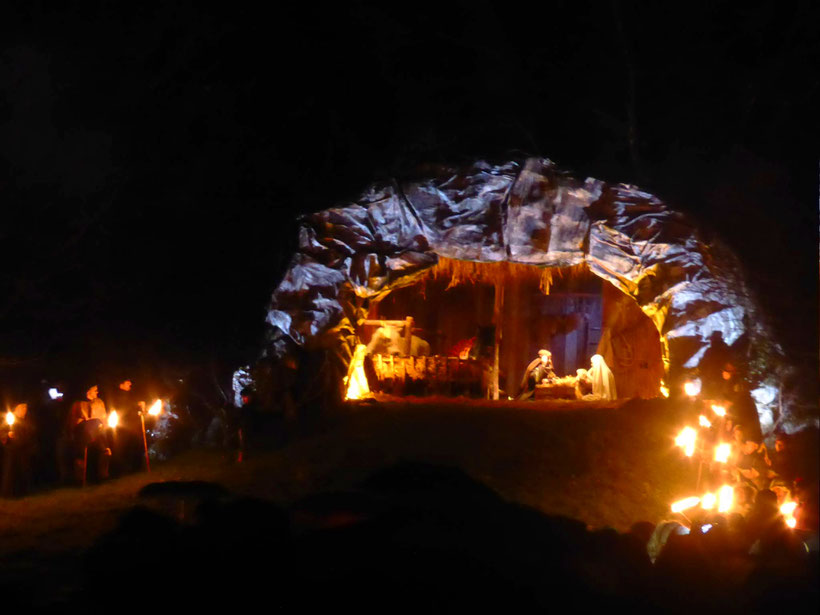 Il 3 e 4 gennaio 2017 si è svolta a Morcone la Trentatreesima Edizione del "Presepe nel Presepe", una rievocazione della Natività di Gesù.
Morcone, è un paesello arroccato in cima ad una dolce, agevole salita sulle falde del Monte Mucre (Campania) che domina la Valle del Tammaro: un via vai di stradine, scale, muretti, piazze, archi, abitazioni segnate dal tempo e l'animazione gioiosa dei visitatori in pellegrinaggio tra le ambientazioni del passato fedelmente ricostruite con fuocherelli accesi nei bracieri, poveri deschi su cui sono adagiati canestri colmi di erbe aromatiche, frutti, legumi, vecchi arnesi da lavoro, personaggi che sembrano usciti da racconti del passato, lavandaie, vinai, panettieri, mercanti, schiavi, arrotini, fabbri, cestai, sarte, bambini intenti in giochi ormai desueti.
On 3 and 4 January 2017 took place in Morcone Thirty-third edition of "Presepe nel Presepe", a re-enactment of the Nativity of Jesus.
Morcone, is a village perched on top of a sweet, easy climb on the slopes of Mount Mucre (South of Italy) which dominates the Valley of the Tammaro: a bustle of streets, stairs, walls, squares, arcs, housing marked by time and the joyful animation of visitors in pilgrimage among the environments of the past faithfully reconstructed with little fires lit in braziers, poor dinner tables on which are laid baskets filled with herbs, fruits, legumes, old work tools, characters straight out of the past stories, laundresses, winemakers, bakers, merchants, slaves, knife sharpeners, blacksmiths,  basket weavers, seamstresses, children playing in games now obsolete.
Tanti colori, sapori, profumi perduti mentre il suono delle zampogne accompagna verso il fragoroso ruscello che si apre la strada tra rupi sapientemente illuminate in una suggestiva atmosfera che prepara il visitatore all'attesa trepidante e gioiosa della Natività.
Ed infatti, superato il ruscello percorrendo un ponticello, si entra in un'ampia radura in fondo alla quale si trova la grande Grotta. I boschi intorno e le montagne che l'abbracciano sono completamente al buio, debolmente illuminati da focherelli accesi con legna umida che emana un acre odore di fumo.
La rappresentazione della Natività dura una cinquantina di minuti con le scene dell'Annunciazione, il viaggio di Maria e Giuseppe, l'arrivo dei Magi che si svolgono in punti diversi sulle rupi intorno, volta per volta evidenziate da fasci di luce. Il momento culminante è l'arrivo dei pastori che scendono dalla montagna con le torce accese seguendo tortuosi sentieri in mezzo al bosco e poi la fiaccolata finale con grandi, lunghe torce caricate sulle spalle.
So many colors, flavours, scents lost as the sound of bagpipes accompanies to the roaring creek that opens the road between rocks skillfully illuminated in a suggestive atmosphere that prepares the visitor to the anxious and joyful expectation of the Nativity.
And in fact, exceeded the stream across a bridge, you enter into a large clearing in the bottom of which is the large cave. The woods around and the mountains that embrace it are completely in the dark, dimly illuminated by fires lit with damp wood that gives off an acrid smell of smoke.
The representation of the Nativity lasts fifty minutes with scenes of Annunciation, the journey of Mary and Joseph, the arrival of the Magi that take place at different points on the cliffs around, each time marked by beams of light. The highlight is the arrival of the shepherds coming down from the mountain with torches lit along winding paths through the woods and then the final torchlight procession with large, long torches loaded on the shoulders.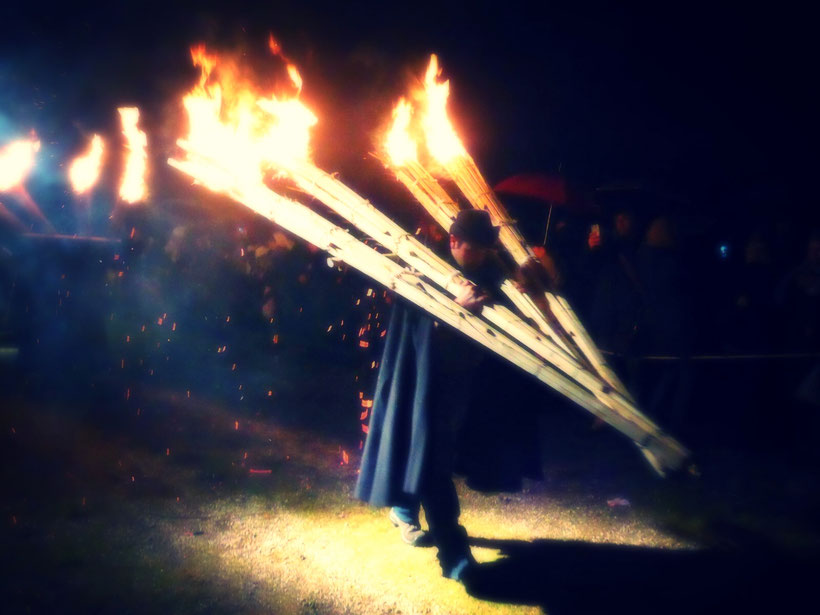 © Carmela Linsalata per Because The Style
Photocredits
Carmela Linsalata