PERCHÉ L'INVERNO PUGLIESE SI COLORA CON I FAMOSI FISCHIETTI IN TERRACOTTA
ПОЧЕМУ АПУЛИЙНСКАЯ ЗИМА ОКРАШИВАЕТСЯ С ИЗВЕСТНЫМИ ДУДКАМИ ТЕРРАКОТЫ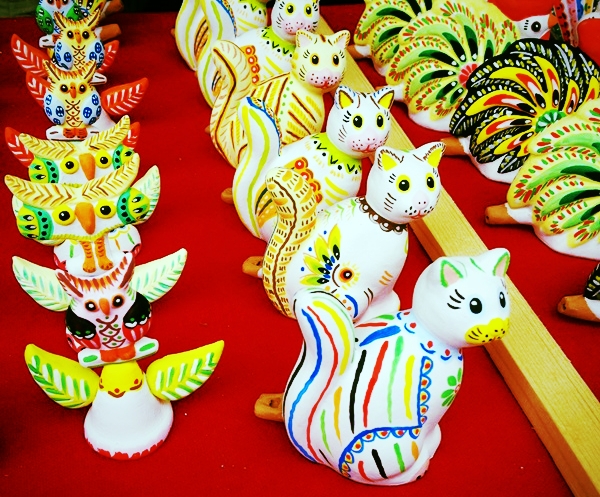 Nel cuore dell'inverno, il 17 gennaio, Rutigliano, graziosa cittadina dell'entroterra pugliese, celebra la tradizionale festa di Sant'Antonio Abate, protettore degli animali e l'annessa Fiera del Fischietto in Terracotta: quest'anno si è svolta il 17 , 21 e 22 gennaio. In occasione di questi eventi il paese si anima con i fischi acuti di bellissimi manufatti in terracotta, creati dalla fantasia dei figuli locali che, con maestria ed arte, riproducono figure di animali e personaggi diversi secondo un'antichissima tradizione.
Tra gli animali raffigurati non può mancare il gallo, protagonista assoluto di questa festa, tanto che secondo un'antichissima usanza gli uomini lo regalano alle loro fidanzate come dichiarazione d'amore e simbolo di fecondità. Tra i personaggi la tradizione vuole statuette raffiguranti carabinieri, preti, signore prosperose con l'ombrellino e il seno generosamente scoperto, o statuette di Sant'Antonio Abate circondato dai suoi animali o di San Nicola. E poiché il 17 gennaio inizia ufficialmente il Carnevale, non mancano anche rappresentazioni ironiche e caricaturali di personaggi  politici e del mondo dello spettacolo, dello sport o comunque di spicco sia a livello locale che nazionale.
In the heart of Winter, January 17, Rutigliano, a pretty inland town Pugliese (Italy), celebrates the traditional feast of Saint Anthony Abate, the patron saint of animals and the adjoining Fair of Terracotta Whistle: this year will take place on 17, 21 and 22 January. During such events the village comes alive with the shrill whistles of beautiful terracotta artifacts, created by the imagination of the local potters, who with skill and art reproduce figures of animals and different characters according to an ancient tradition.
Among the depicted animals can not miss the cock, the absolute protagonist of this festival, so much so that according to an ancient custom, the men give it to their girlfriends as a declaration of love and a symbol of fertility. Among the characters to tradition wills figurines which represent carabinieri, priests, prosperous ladies with the parasol and breasts generously discovered, or statuettes of Saint Anthony Abate surrounded by his animals or St. Nicholas. And, since January 17 officially begins the Carnival, there are also ironic and caricatures of political figures or the world of entertainment, sport or otherwise prominent both locally and nationally.

В разгаре зимы, 17 января, Рутильияно, живописная горoжанка местности Aпулии (Италия), праздновает традиционный праздник святого Антоний Абате, защтник животных и базар рудки терракоты. По случаю этих событий горожанка оживляется пронзителных гудоков очень красивых ручных терракоты, что создала фантазия местных гончаров которые с мастерством и искусством производят фигуры животных и различных персонажих по очень древней традиции.
Tutti i manufatti sono creati e decorati a mano, in un tripudio di forme e colori e dotati di un fischietto modellato anch'esso in terracotta. I colori accesi si mescolano a quelli dei mandarini, della frutta secca e di altre golosità riprese dalle antiche tradizioni locali, come fichi secchi farciti di mandorle o cioccolato, pomodori essiccati, lupini, miele.
Alla manifestazione è collegato anche un Concorso Nazionale del Fischietto in terracotta, al quale partecipano figuli ed artisti di ogni parte d'Italia, giunto quest'anno alla ventinovesima edizione.
All the artifacts are created and decorated by hand, in a riot of shapes and colors and equipped with a whistle also it modeled in terracotta. Their bright colors are mixed with those of oranges, dried fruit and other goodies shooting from the ancient local traditions, as dried figs stuffed with almonds or chocolate, dried tomatoes, lupins, honey.
At the event is also attached a Whistle National Competition in terracotta, with the participation of potters and artists from every part of Italy, now in its twenty-ninth edition.
© Carmela Linsalata per Because The Style
Sharing is caring!