PERCHÉ TUTTE LE DONNE HANNO IL DIRITTO DI CONTARE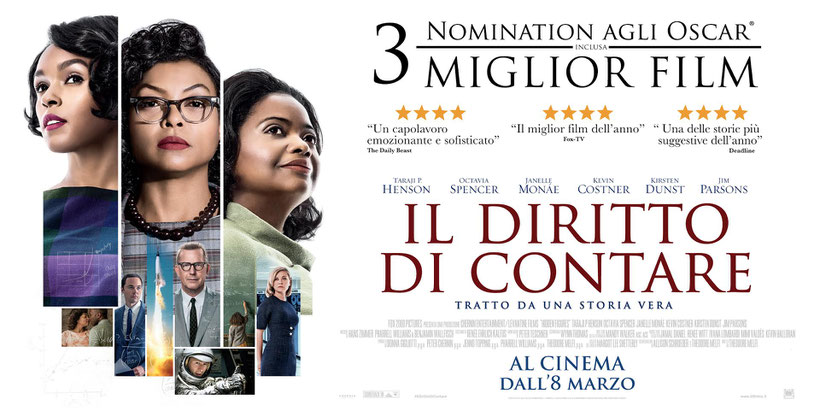 In programmazione in Italia dall'otto marzo, data scelta non a caso, il film Il diritto di contare diretto da Theodore Melfi, racconta di una storia vera che ruota intorno a tre donne eccezionali.
Siamo in Virginia nel 1961 e le tre protagoniste lavorano come matematiche alla NASA. Ma oltre a essere valenti, le tre hanno due gravi "difetti": sono donne e, soprattutto, nere in uno stato segregazionista.
La pellicola mostra le tangibili difficoltà di affermazione, ma anche il godimento dei più basilari bisogni che una donna nera doveva subire in quell'epoca. Solo grazie alle loro incontestabili capacità, le tre protagoniste riescono ad andare avanti e ad ottenere, quasi a pieno, il diritto di contare, ma va da sé che oltre all'incomprensibile freddezza da parte dei bianchi, donne comprese, le protagoniste devono affermarsi anche all'interno della loro comunità, gestendo i turni massacranti sul posto di lavoro assieme alla cura della loro famiglia.
In schedule in Italy from the eighth of March, date not casually chosen, Hidden figures (italian title: The right to count) directed by Theodore Melfi, tells a true story that revolves around three exceptional women.
We are in Virginia in 1961 and the three protagonists as mathematicals work at NASA.
But in addition to being talented the three have two serious flaws: they are women, and especially black in an Apartheid state.
The film shows the tangible problems of affirmation, but also the enjoyment of the most basic needs that a black woman had to undergo at that time.
Only thanks to their unimpeachable ability the three manage to move forward and get almost their full right to count, but it goes without saying that in addition to the incomprehensible coldness by whites, including women, the protagonists must establish themselves within their communities managing exhausting shifts at work with the care of their family.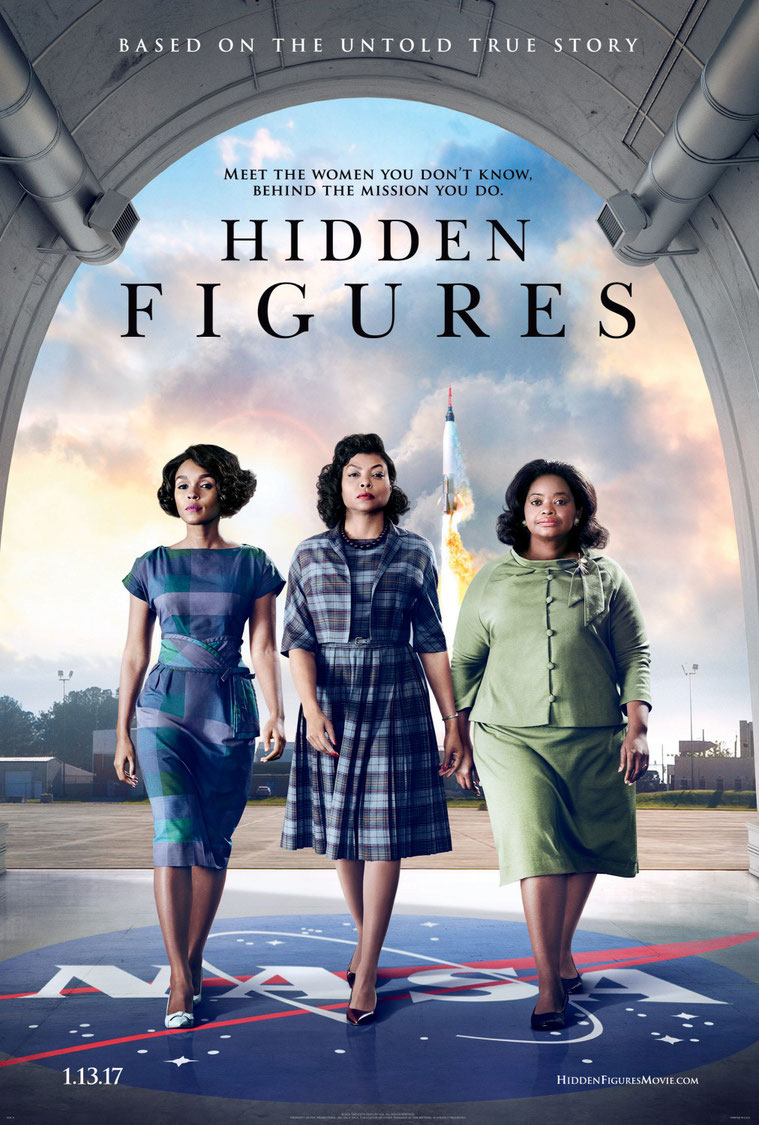 Passati oltre cinquant'anni, la comunità di colore ha visto anche un presidente afro-americano, ma non ha comunque ottenuto piena parità negli Stati Uniti e stessa cosa può dirsi per i diritti delle donne nel mondo perché sempre ci si trova a lottare per l'affermazione del proprio diritto di contare, lavorando di più per affermarsi sul posto di lavoro e anche a casa per non venire meno alla seconda vita familiare.
Il cammino è ancora lungo, molto si è ottenuto ma si è ancora a metà del percorso che porterà alla parità di tutti e a far comprendere che nel mondo siamo tutti uguali ma diversi.
Past fifty years the black community has also seen an African-American president but has not, however, achieved full equality in the United States, and the same thing can be said for women's rights in the world because they are always struggling for affirmation its right to rely working harder to succeed in the workplace and at home to not fail the second family life.
The road is still long, much has been achieved but it is still in the middle of the path that will lead to equality for all and to help people understand that in the world we are all equal but different.
© Francesca Barile per Because the Style
Sharing is caring!