PERCHÉ UN ORATORIO È ANCHE UN PUB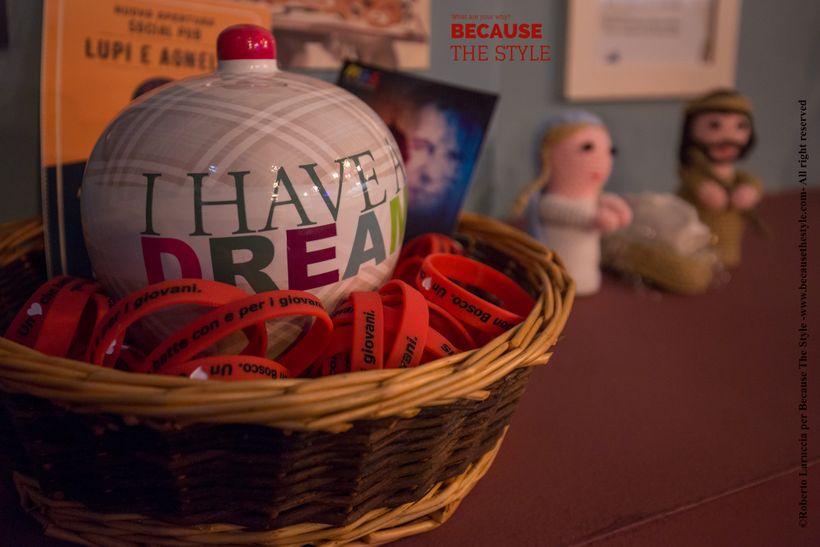 Non siamo i soli ad esser lì quella sera a berci una birra. Contemporaneamente una nota troupe televisiva intervistava i protagonisti di una nuova attività commerciale nata nel quartiere Libertà di Bari a seguito di un bando comunale che ha cofinanziato con quarantamila euro la nascita di un pub sociale dal nome significativo: "Lupi e Agnelli".
We were not the only ones to be there having a beer that night. A well-known TV crew was interviewing the owners of a new business set up in the Libertà district in Bari, following a city council's call for proposals under which Euro 40,000 were granted to co-finance a social pub with a highly meaningful name:  "Wolves and Lambs". 
Pronti a preparare aperitivi sfiziosi, giovani disoccupati e studenti universitari accolgono con entusiasmo chiunque varchi la soglia di quello che di giorno è un oratorio, noto in città come "Il Redentore di Don Bosco".
Curato e dallo stile accattivante, il pub non lascia spazio al "bigottismo" di una "fede parcheggiata che non si sporca le mani", come ci testimonia Francesco Preite, sacerdote direttore e amministratore. "Pane, lavoro, paradiso" sono le tre parole-chiave attorno a cui ruota l'idea imprenditoriale che vede dietro al bancone Alessandro De Bari, studente di Scienze Politiche e coordinatore delle attività dell'oratorio, che descrive il pub come un locale "dove parlare di temi vicini ai ragazzi, educandoli alla società stessa", nonché ad un consumo responsabile.
While ready to prepare delicious appetizers, unemployed young men and university students welcome whoever crosses the threshold of the place that during the day is a parish youth club known by the name of "il Redentore di Don Bosco". 
Well-kept and with a captivating style, the pub does not leave any room for the "bigotry" of a "faith that does not get its hands dirty", as stated by Francesco Preite, priest, director and manager. "Bread, work, paradise" are the keywords at the basis of the entrepreneurial idea that places behind the counter Alessandro De Bari, a student of Political Sciences and the coordinator of the activities of the parish youth club. He describes the pub as a place "where one can talk about topics young people are interested in, educating them to live within the society", as well as to drink responsibly. 
In un quartiere non sempre facile ma vivace e ricco di storia, di cui via Manzoni rappresentava una validissima alternativa a Corso Cavour per lo shopping, il Comune sta cercando anche con queste azioni di ridare luce e opportunità; il nome del pub sicuramente è calzante, tanto quanto il richiamo ad un sogno raccontato da Don Bosco: "Volsi allora lo sguardo ed ecco, invece di animali feroci, apparvero altrettanti mansueti agnelli".
Through such initiatives, the city council is trying to create new opportunities in a district that is not always easy to live in, but lively and with a long history, in which Via Manzoni is a valid alternative to Corso Cavour from the point of view of shopping. The pub's name is certainly appropriate as much as the reference to a dream told by Don Bosco: "I turned my eyes and, instead of wild animals, meek lambs appeared".
©  Pitian per Because The Style
Traduzione a cura di Donatella Zepponi
Photocredits
Roberto Laruccia