PERCHÉ I CAPELLI SI TINGONO COME I DESIDERI
La primavera comincia ad aleggiare nell'aria, frizza sulla pelle una sensazione di nuova vita che graffia, fino a strappare il torpore del pesante mantello invernale. Dolci note avvolgenti, rossi profumi inebrianti, verdi contatti di rinascita: i colori esplodono in maniera prepotente nella mente. Pantoni dalle tinte forti, dolci gamme di colori pastello fanno sfoggio della loro brillantezza sui cataloghi dei coiffeurs come un arcobaleno che si inarca tra i pensieri.
Sbocciano teste tinteggiate, screziate e superbe nelle loro improbabili tonalità. Giallo solare, lucente e luminoso; rosso passionale, aggressivo e sanguigno; verde prato alternativo e anticonformista; blu come il cielo terso e nel mezzo nuance sfumate. Sono chiome variopinte come ali di farfalla che sembrano voler imporre un cambiamento e risvegliare qualche ricordo ancestrale.
Spring is in the air, the feeling of a new life tingles our skin, tearing away the torpor of the heavy winter cloak. All around us, there are sweet notes, red intoxicating scents, and green expectations of rebirth: colors burst powerfully in our minds. Vivid colors, soft pastel hues and shades show off their brightness in coiffeurs' catalogs like a rainbow spanning over one's thoughts.
Heads with tinted, highlighted hair are superb in their improbable shades. Shiny and bright sunlight-like yellow; passionate and aggressive blood-like red; alternative and offbeat meadow-green; blue like a clear sky with soft nuances. Hair is multicolored like butterfly wings that seem to demand a change, stirring up some ancient memory.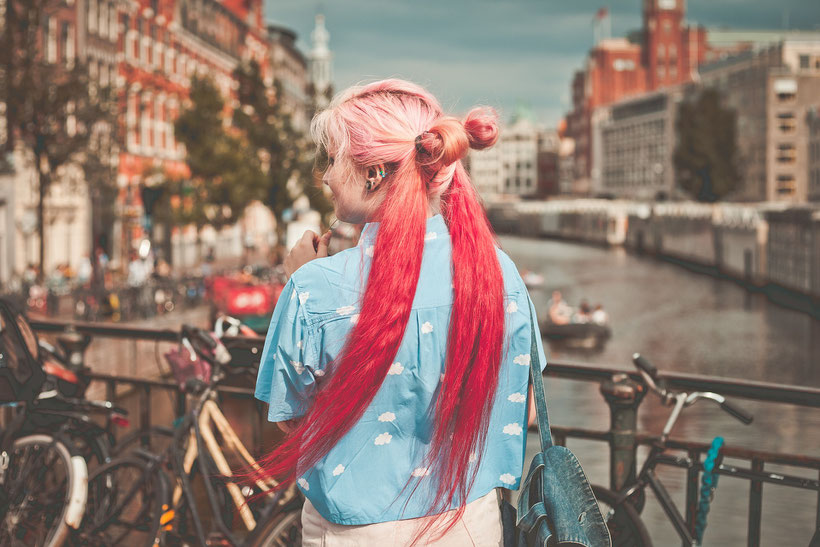 La natura è stata fonte di ispirazione e ha fornito sin dai tempi più remoti tinture vegetali per colorare le chiome: terre ocra, gialle e rosse ed henné utilizzate nell'antico Egitto. Ovidio racconta che tra le antiche romane l'azzurro fosse molto trendy. Il biondo delle donne provenienti dalla Gallia e dalla Germania, ottenuto trattando i capelli con calce viva, fece moda fino al Rinascimento, quando il Rosso Tiziano ammaliò anche Beatrice Sforza che asciugava al sole i suoi biondi capelli ramati grazie ad una mistura contenente zafferano. 
Colorarsi i capelli, dunque, per coprire fili d'argento e mascherare i segni dell'età, per distinguersi dall'anonimato di vite troppo uniformi, per piacere agli altri o per piacere a se stessi o semplicemente perché i desideri devono essere colorati.
Nature has always been a source of inspiration and has provided natural dyes since ancient times:  the ancient Egyptians used ochre, yellow, red earth pigments and henna as hair dyes. According to Ovid, light blue was very trendy among the Roman women of the past. The blond women coming from Gaul and Germany treated their hair with quicklime. Blond hair was fashionable up to the Renaissance when titian hair bewitched also Beatrice Sforza. She used a saffron dye to get auburn hair that she used to dry in the sunlight. 
You can dye your hair to hide silver strands and disguise the signs of aging, to stand out in the anonymity of monotonous lives, to be liked by others or to be comfortable with yourself or just because wishes have to be colored.
© Antonella Achille per Because The Style
Traduzione a cura di Donatella Zepponi
Sharing is caring!