PERCHÉ IL BIKINI C'ERA ANCHE NEL PASSATO
ПОЧЕМУ БИКИНИ БЫЛ ТОЖЕ В ПРОШЛОМ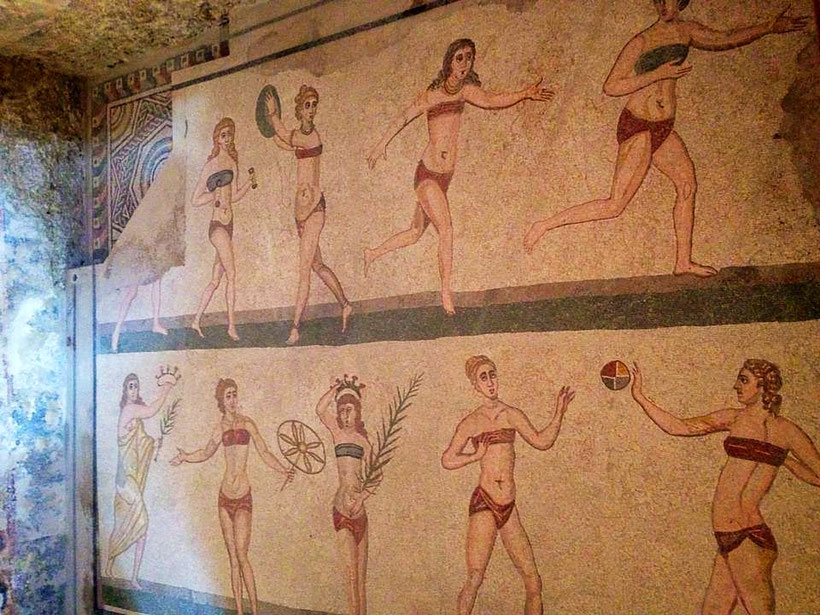 Pensate che  il bikini sia frutto di una moda dei nostri tempi? Ebbene, dovete ricredervi! Esso infatti ha origini antichissime, come testimoniano alcuni mosaici  risalenti al III  o IV secolo d. C. rinvenuti nella Villa Romana del Casale a Piazza Armerina, in provincia di Enna, proprio nel cuore della Sicilia. Chi ha la fortuna  di recarsi a visitare questo sito archeologico, dichiarato nel 1997  Patrimonio dell'Umanità dall'Unesco, potrà ammirare ben 3.500 mq di pavimenti mosaicati, perfettamente conservati,  realizzati con miriadi di minuscoli tasselli colorati di pietre e marmi provenienti dal Nord Africa, dalla zona di Cartagine, città all'avanguardia nell'Impero Romano d'Occidente. 
Do you think the bikini is the result of a fashion of our time? Well, you have to get rid of it! It has ancient origins, as evidenced by some mosaics dating to the 3rd or 4th century d. C. found in the Villa Romana del Casale in Piazza Armerina, in the province of Enna, right in the heart of Sicily (Italy)! Those who are fortunate enough to visit this archaeological site, declared UNESCO World Heritage Site in 1997, will be able to admire 3,500 sq. M. of mosaic floors, mostly perfectly preserved, made with myriads of tiny colorful dots of stones and marbles from North Africa, the area of Carthage, a state-of-the-art city in the Roman Empire of the West.
Началo бикини очень старый, как  утверждают некоторые икон  третьего или четвёртого века однарижных нa Виллe Романе Дел Казалe нa Пияддцу Армерину, на провинции Энны, на центре Сицилии, Достояние Человечества УНЕСКО.
Come fossero preziosi tappeti, i pavimenti di ogni ambiente sfoggiano elaborati mosaici che rappresentano per lo più scene di pesca e di caccia, ghirlande di fiori e frutta, disegni geometrici, cortei di personaggi famosi, episodi mitologici e … fanciulle in bikini! Queste ultime le troviamo nella cosiddetta sala delle Palestrite, dove sul pavimento sono riprodotte, sempre con la tecnica del mosaico, alcune giovani atlete impegnate in diversi sport (i pesi, il lancio del disco, la corsa, la palla a mano, oltre alla vincitrice che regge la palma della vittoria):  tutte  indossano un top (stropkion) ed un paio di mutandine (subligar), un bikini, appunto. La sala, all'epoca, era adibita a palestra per le figlie del 'dominus'. 
Questo mosaico, è meno elaborato e di fattura meno raffinata  rispetto a quelli di caccia, pesca e scene di vita presenti in altri ambienti, molto più curati nei dettagli, minuziosi e che risentono dell'influenza di lavori simili rinvenuti in Tunisia ed Algeria, tanto da far supporre che siano opera di maestranze  africane.
Like a carpet the rugs of every room feature elaborate mosaics that represent mostly fishing and hunting scenes, flower and fruit garlands, geometric designs, celebrities of famous characters, mythological episodes and ... bikini girls! The latter are in the so-called Palestrite Hall, where on the floor are reproduced, with the technique of the mosaic, some young athletes dedicated to different sports (weights, disc launch, racing, handball, winning athlete holding the victory palm): they all wear a top (stropkion) and a pair of panties (subligar), a bikini, in fact. The room at the time was used as a gym for the daughters of the 'dominus'.
This mosaic is less elaborate and less refined than hunting, fishing and  scenes of life  present in other environments, much more detailed  in particulars, and affecting the influence of similar works found in Tunisia and Algeria, so much to be supposed that they are the work of African maestrances.
© Carmela Linsalata per Because The Style
Photocredits
Carmela Linsalata
Sharing is caring!